Posted on
Thu, Jun 13, 2013 : 3:12 p.m.
Mayor says attracting young professionals key to continued economic growth
By Ben Freed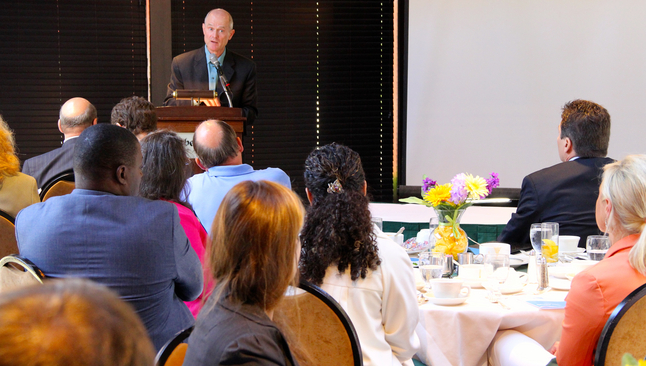 Ben Freed | AnnArbor.com
Giving his
second unofficial "state of the city" address in two days
, Mayor
John Hieftje
told the
Ann Arbor/Ypsilanti Chamber of Commerce
Ann Arbor has turned the corner in its economic recovery.
The mayor said Ann Arbor's recent population growth and strong job numbers have been buffeted by people staying in the city after college graduation, a time when many have traditionally moved away.
"One of the gaps we've had in Ann Arbor for years and years is we have University of Michigan students who are here but then leave town and then we have people 40 and over raising families," Hieftje said. "But we need to attract young families and people who are starting their careers here in town."
One key to attracting the millennial demographic simply has been making more jobs available, Hieftje said. The attraction of Google and other major technology companies to the downtown area has helped spurred the growth of a sector that tends to draw younger employees.
"The tech boom we're experiencing with the new tech campus we have downtown and with new tech companies around the edges of the city as well are bringing in those workers who are 25 to 40 years old," he said. "I think that's going to be a real boost for us."
Younger professionals also might help alleviate one of the challenges Hieftje said the city will have to overcome in order to stay on the right track.
"Right now, we've been building a lot of parking structures, but we're going to have gridlock on our downtown streets by 2020 or 2025," he said.
"We have to figure this transit problem out or jobs that could come here will go elsewhere because of those issues."
Hieftje believes recent college graduates rely less on traditional forms of transportation and seek out places possessing a strong alternative transportation infrastructure.
"What I've seen in surveys is that is people in that younger age cohort are not interested in commuting to work in a car," he said.
"They want to use transit, they want to live in close to where they work, they want to be around people and it's just a different mindset."
Many of the new downtown high-rises are geared towards Ann Arbor's student population. However, The desire of young professionals coming to live in an "urban core" environment is encouraging developers to focus on a broader age-range.
"We have young professional-style buildings going up right now," Hieftje said.
"Even one of the large ones that was just approved [at 413 E. Huron St.]. People think of it as student housing but, 62 percent of the building will be one and two bedroom housing, so I think you'll see working people move into there."
The mayor cautioned that Ann Arbor likely will not turn into a metropolis any time soon. He has committed to explore and expand transit options to help ease the pressures on downtown parking and transportation infrastructure, but new building projects only can take the city so far.
"There is a limit in downtown Ann Arbor because only about 40 percent of it can ever be redeveloped," he said.
"There are historic districts down there and we're not going to give those up, those are very important. So there's a limit on what can change."
Ben Freed covers business for AnnArbor.com. You can sign up here to receive Business Review updates every week. Get in touch with Ben at 734-623-2528 or email him at benfreed@annarbor.com. Follow him on twitter @BFreedinA2