Posted on
Mon, Mar 26, 2012 : 10:05 a.m.
Michigan's A123 Systems acknowledges possibly 'defective' batteries
By Nathan Bomey
Battery maker A123 Systems this morning reported that it would have to spend $55 million to fix batteries "that may contain defective" cells.
The news marks the latest in a series of blows to the Massachusetts-based manufacturer, which employs about 700 people at its battery plants in Romulus and Livonia and about 40 at its research and government solutions division in Ann Arbor.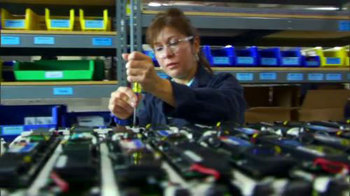 Photo courtesy of A123 Systems
The company
temporarily laid off about 125 workers
last fall after one of its top customers, California electric vehicle startup
Fisker Automotive
, delayed a key product.
Separately, A123 in December acknowledged a manufacturing error in the hose clamps in the internal cooling system of up to 50 battery packs.
The company reported a net loss of $85 million in the fourth quarter of 2011, up from $45.7 million a year earlier.
Today, the company said it had already begun manufacturing battery modules and packs to replace the possibly defective products shipped to its customers. The problem was traced back to A123's Livonia facility.
"We have isolated the root cause of the defective cells and we are confident that we have pinpointed the source of the defect and corrected it," A123 CEO David Vieau said in a statement. As a result of engineering analysis and testing, we believe this is not a safety issue, and we have determined the root cause and have taken corrective actions."
Vieau also acknowledged "near-term operational challenges" associated with the fast expansion of manufacturing capacity at its Michigan plants but said he was "confident" the company would overcome its early problems.
Investors punished shares of A123 (NASDAQ: AONE) after this morning's news. The stock fell 11.8 percent to $1.50 within less than half an hour of the market's opening.
A recent AnnArbor.com review of A123 filings with the U.S. Securities and Exchange Commission showed that the company gets 51 percent of its revenue from two customers, including Fisker. Government contracts and subcontracts make up another 12.3 percent of A123's revenue.
The company is actively trying to diversify its revenue base by winning more contracts for electric vehicle batteries and electric grid applications.
A123 landed a $249.1 million economic stimulus grant from the U.S. DOE in August 2009. That came after the battery manufacturer won $125 million in tax credits and incentives from the Michigan Economic Development Corp. in spring 2009 and a $10 million cash grant from the state in fall 2008.
Contact AnnArbor.com's Nathan Bomey at (734) 623-2587 or nathanbomey@annarbor.com. You can also follow him on Twitter or subscribe to AnnArbor.com's newsletters.