Posted on
Wed, Apr 11, 2012 : 5:57 a.m.
New retail shop moving into ex-16 Hands on South Main Street in downtown Ann Arbor
By Lizzy Alfs
The owners of a retail shop in Tecumseh recently signed a lease to open a new location on South Main Street in downtown Ann Arbor.
The store, Rock Paper Scissors, plans to open in the former 16 Hands galley space at 216 S. Main St. by June 1, said co-owner Lisa Roberts.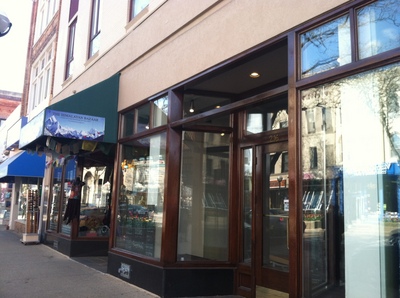 Lizzy Alfs | AnnArbor.com
Roberts described Rock Paper Scissors as a gift shop with an eclectic mix of products. From wine glasses with a chalkboard base to personalized stationery and wedding invitations, Roberts said the store keeps it "fun and fresh."
"We don't have a lot of stuff that other people would carry," she said. "We pride ourselves on finding unique and fun items. We have a sense of humor, too."
The roughly 2,300-square-foot space has been vacant since last summer when 16 Hands moved to a new location in Kerrytown Market & Shops after 20 years on Main Street. The gallery now shares a second-floor space with Hollander's Kitchen & Home.
Jim Curtis of Curtis Commercial LLC, the landlord of the Main Street space, said he took time to ensure the right tenant took over this "prime location."
The right tenant, he said, was a non-food user because of the already extensive mix of restaurants in the downtown Ann Arbor area.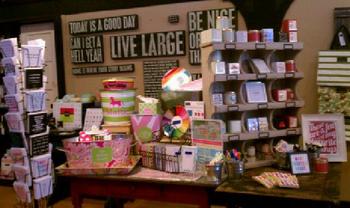 Photo courtesy of Rock Paper Scissors
"We have been very selective of the next tenant within this space," Curtis said. "Our objective was non-food and a product line that would enhance the downtown, be different and unique, as well as secure the space with a quality tenant."
Curtis said Lisa, along with her mother Ann Mattison, met all of these "necessary elements."
Roberts — who is the daughter of Michigan football defensive coordinator Greg Mattison — grew up in Ann Arbor and went to Pioneer High School.
She opened her first Rock Paper Scissors location in October 2011 in Tecumseh, where she now lives with her husband and daughter. Since opening, Roberts said sales have far exceeded her expectations.
"If you would have asked me last October if we'd open two stores in one calendar year, I would not have said yes," Roberts said. "But we've had a good run in Tecumseh, and it just seemed like the right time and the right location."
She added: "The foot traffic, the quality of other businesses that are downtown (Ann Arbor), the energy and the excitement make it seem like such a perfect fit."
Renovations are currently under way at the Main Street space, including installing new floors, painting and other basic changes.
Roberts said she plans to hire three additional employees to work at the store.
Lizzy Alfs is a business reporter for AnnArbor.com. Reach her at 734-623-2584 or email her at lizzyalfs@annarbor.com. Follow her on Twitter at http://twitter.com/lizzyalfs.