Posted on
Tue, Mar 6, 2012 : 5:59 a.m.
Noodles & Co., Tim Hortons site plans on Ann Arbor Planning Commission's agenda this week
By Lizzy Alfs
Ann Arbor City Planning Commission will consider four requests for business developments at its meeting Tuesday night, including a site plan for a Noodles & Co. restaurant on West Stadium Boulevard and a plan for a Tim Hortons on South State Street.
The Noodles & Co. proposal calls to demolish the former Sze-Chuan West restaurant at 2161 W. Stadium - which closed in February 2011 - and construct a 2,679-square-foot building with a reconfigured parking lot, outdoor patio and additional landscaping.
Chuck Gallup of Gallup Properties owns the property.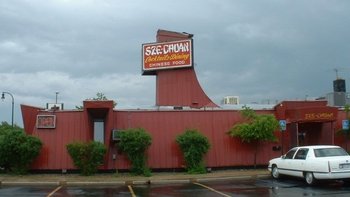 Photo courtesy of Sarah Rigg
Another item on the agenda is a request from Tim Hortons to build a restaurant at the site of the former Enzo's Sports Bar on South State Street.
The site plan, which was submitted in September 2011, calls to build a 1,950-square-foot Tim Hortons drive-through, with both interior and exterior seating for dining.
Tim Hortons hopes to begin construction this spring and open for business this summer, according to city documents.
The plans will leave the property owner, First Martin Corporation, with room to build a second retail building on the site.
Other items on the agenda:
--A request from the AAA branch at 1200 S. Main St. to demolish its existing 9,320-square-foot building and construct a new 5,443-square-foot one on an adjacent parcel, which is currently used for AAA parking. The project will also reduce the number of parking spaces from 95 to 36.
--A request from the owner of the Shell gas station and convenience store at 2679 Ann Arbor-Saline Road to convert the 900-square-foot carwash area into new retail space and construct an addition. The plans include a provision for a coffee and pastry shop.
City planning officials are recommending approval of the Noodles & Co. Tim Hortons and AAA plans, and postponement of the Shell gas station plan. After a Planning Commission public hearing and vote, the plans will go to Ann Arbor City Council for approval.
Lizzy Alfs is a business reporter for AnnArbor.com. Reach her at 734-623-2584 or email her at lizzyalfs@annarbor.com. Follow her on Twitter at http://twitter.com/lizzyalfs.