Posted on
Tue, Apr 3, 2012 : 9:35 a.m.
Noodles & Co. to take place of closed Sze-Chuan West on Ann Arbor's west side
By Ryan J. Stanton
Previous coverage: Noodles & Co. wants to build restaurant at site of former Sze-Chuan West
The planned Noodles & Co. restaurant is officially on its way to Ann Arbor's west side following a 10-0 vote Monday night by the City Council.
The approved site plan calls for demolishing the former Sze-Chuan West restaurant — a 4,300-square-foot building at 2161 W. Stadium Blvd. — and constructing a 2,679-square-foot building with a reconfigured parking lot, outdoor patio and additional landscaping.
Sze-Chuan West closed last year.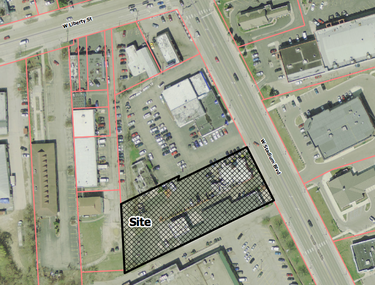 Courtesy of City of Ann Arbor
The existing building is on the same parcel as the Big M car wash at 2151 West Stadium and a land division is under review to divide the two parcels. The 1.15-acre site is located on the west side of West Stadium just south of Liberty.
According to a planning staff report, the existing restaurant was constructed in 1962. A site plan for a 570-square-foot addition was approved in 1973 and constructed in 1974.
The proposed single-story building will rise 22 feet, which is less than half the four-story or 55-foot maximum allowed under the C3 zoning.
The existing site has 24 automobile parking spaces and no bicycle parking spaces. The site plan calls for 27 automobile parking spaces and four bicycle parking spaces.
Bicycle lanes were added to West Stadium in front of the site as part of improvements completed in the summer of 2006.
A 15-foot by 40-foot patio will be located along the front of the building. There also will be a 10-foot-wide landscaped area between the patio and the sidewalk along West Stadium.
Noodles & Co. already has locations on Washtenaw Avenue near US-23 and on South State Street in downtown Ann Arbor.
Council Member Marcia Higgins, D-4th Ward, was absent.
Ryan J. Stanton covers government and politics for AnnArbor.com. Reach him at ryanstanton@annarbor.com or 734-623-2529. You also can follow him on Twitter or subscribe to AnnArbor.com's email newsletters.