Posted on
Mon, Jul 15, 2013 : 5:59 a.m.
Old German bar and 'bierkeller' to open in downtown Ann Arbor this week
By Lizzy Alfs
Downtown Arbor's newest basement bar, the Old German, plans to start serving its craft-brewed German-style beers and chicken schnitzel sandwiches this week.
The bar, located in the basement of Grizzly Peak Brewing Company on West Washington Street, is set to open at 4 p.m. Tuesday, July 16.
Customers will find a new spin on Ann Arbor's original Old German: a German restaurant that first opened downtown in 1928. Bud Metzger closed the Old German in 1995, when Jon Carlson and Chet Czaplicka bought the building and business to open Grizzly Peak.
Carlson and Czaplicka, along with their business partner Greg Lobdell, are opening the Old German.
"This is a tribute back to the Old German and that heritage of Ann Arbor," Czaplicka said. "Bud (Metzger) was a really nice guy."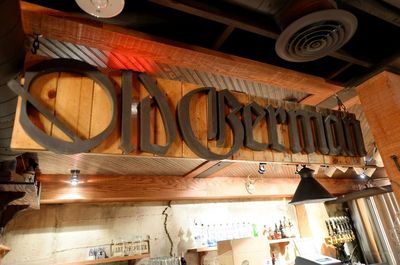 Melanie Maxwell | AnnArbor.com
German artifacts and beer signs line the walls of the new bar and "bierkeller," which is 2,400 square feet and seats about 100 people. The bar has one wood table from the original Old German, and the former Old German sign is displayed.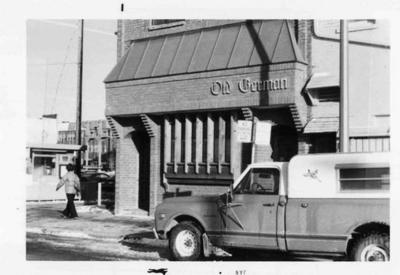 Ann Arbor District Library archives
Two rotating "kellerbiers" will be poured straight from conditioning tanks behind the bar, and Grizzly Peak's beers will be offered on draft. The Old German also will offer a mug club.
From the Old German's beer menu: "Kellerbiers: two seasonal German-style beers - sometimes lager, sometimes not, but always brewed here, conditioned in our cellar and served right out of the tank."
The Old German also has a full bar and "eis shooters" — alcohol served in ice shot glasses.
The food menu includes: beer cheese soup, baked soft pretzels, German potato pancakes, kale salad, a charcuterie platter, bacon and beer bratwurst, chicken pesto bratwurst, German potato salad, a chicken schnitzel sandwich and a hasenpfeffer sandwich.
Grizzly Peak general manager Chris Carrington said he hired a few additional employees, but most of the Old German staff will come from Grizzly Peak.
The restaurant's regular hours will be 4 p.m. to 12 a.m. Sunday through Wednesday, and 4 p.m. to 2 a.m. Thursday, Friday and Saturday.
After the soft opening on Tuesday, there will be a grand opening celebration starting at 7 p.m. Wednesday, July 17, with a cash bar and complimentary appetizers. There is a suggested donation of $25, and all proceeds will benefit the Vada Murray Fund for Cancer Research.
Lizzy Alfs is a business reporter for AnnArbor.com. Reach her at 734-623-2584 or email her at lizzyalfs@annarbor.com. Follow her on Twitter at http://twitter.com/lizzyalfs.