Posted on
Mon, Sep 19, 2011 : 12:39 p.m.
Poshh boutique to close after a decade in downtown Ann Arbor, creating another vacancy on Liberty Street
By Lizzy Alfs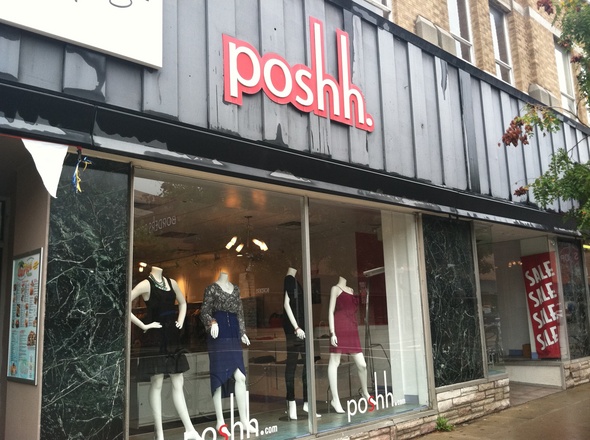 Lizzy Alfs | AnnArbor.com
Poshh
, an upscale women's clothing boutique in downtown Ann Arbor, plans to close in October after 10 years on East Liberty Street.
Owner Wendy Batiste-Johnson announced today that she will not renew her lease for her space at 535 E. Liberty St. and the boutique will close on Oct. 30.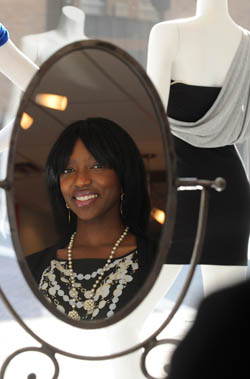 "This is a decision I've been struggling with for probably a year," she said. "I wish Poshh could remain a vital part of Ann Arbor, and this decision was heart-wrenching for me to make."
Batiste-Johnson said several factors brought her to the decision to close, including an unstable economy, the neighboring Borders flagship store closing and personal reasons.
"The timing was perfect to close," she said. "It was our 10th year, I would like to spend more time with my children, and in my opinion, the street seems a bit shaky. If there was ever a time to bow out gracefully, it would be now."
The news comes a week after Borders closed its 40,000-square-foot flagship store in downtown Ann Arbor as part of its liquidation. It also comes a few months after a new restaurant chain concept called @burger closed its only restaurant a few hundred feet to the west on Liberty Street.
Although Poshh is an upscale boutique and the price-point is on the higher end, Batiste-Johnson said that she doesn't think her prices scared customers away. In fact, she said customer demand helped her store evolve into what it is today.
"My job is to make my customers happy, and my customers told me the items they wanted to see in the store," she said. "But the economy hit everyone and people have taken a step back to reassess their spending habits."
As a 22-year-old recent graduate from Cornell University, Batiste-Johnson opened the high-fashion, upscale boutique 10 years ago, at a time when she said downtown Ann Arbor was "drastically" different.
Now, she said high rents, increasing safety concerns and high tenant turnover rates are driving both retail tenants and customers away from downtown Ann Arbor.
"When I came to Ann Arbor, it was listed as one of the safest cities in this country," she said. "You could feel a sense of safety. Now, there's a huge homeless problem on Liberty Street and let's be honest, it's driving customers away and affects my business."
During her time on East Liberty Street, Batiste-Johnson said there has been a lack of consistent retail presence, with many tenants unable to make it longer than a couple years.
"Even though I've been a staple in that area for 10 years, I've had like six different neighbors," she said. "Part of it is that the rent prices are completely inflated and unnecessarily."
She also points to the increasing number of restaurants downtown as a factor that negatively affected her business and other retailers, because she said fewer people are coming downtown to shop.
"I think the downtown area is too flooded with food," she said. "Before realtors put more food in every open space, I think they should look to see what they can do to make the area more attractive to locals, and retail helps that."
Mike Giraud of Swisher Commercial, who is marketing the 1,350-square-foot space on East Liberty Street, said retailers are having difficulty everywhere, not just downtown Ann Arbor.
"I think retail is difficult wherever you are," he said. "It's dependent on market trends and the economy. But I think the fact that Poshh has been open 10 years is indicative that retail can make it there."
Although the store is closing, he credits Batiste-Johnson, who he describes as a "spectacular business woman," for helping to make State and Liberty a retail corridor.
Giraud said he's now marketing the space and has already received interest for both retail and food uses.
"From a leasing perspective, our goal is to fill it as quickly as we can to the strongest possible tenant, and we also want it to be something that benefits the area," he said.
Batiste-Johnson said she worries about the future of East Liberty Street, and offered advice to current and future tenants: Work together to try and draw more traffic to the area.
"I feel bad for new people who are coming in, because I fear that if they don't take an initiative to draw their own traffic, there just won't be any. There is a big question mark as to what will happen on that street, and it's posing a problem for all the businesses in the area," she said.
After Poshh closes on Oct. 30, Batiste-Johnson said she plans to take a few months off to spend time with her family, and then she'll dive into some other retail project.
"I'm closing my brick and mortar, but I have every intention to be a part of retail in some shape or form," she said.
Lizzy Alfs is a business reporter for AnnArbor.com. Reach her at 734-623-2584 or email her at lizzyalfs@annarbor.com. Follow her on Twitter at http://twitter.com/lizzyalfs.