Posted on
Wed, Sep 7, 2011 : 5:52 p.m.
Possible new tenant for Borders store in downtown Ann Arbor emerges
By Lizzy Alfs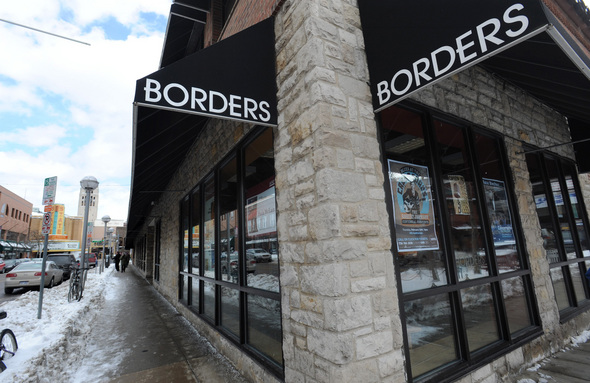 Melanie Maxwell | AnnArbor.com
No bids were submitted by the 3 p.m. deadline today for the two remaining
Borders
leases in Washtenaw County, but a prospective tenant for the flagship store in downtown Ann Arbor has emerged, a real estate agent confirmed today.
DJM Realty, a unit of Borders asset liquidator Gordon Brothers Group LLC, has been auctioning off the Borders leases for the remaining 399 stores in two rounds.
The bid due date for the two remaining Ann Arbor area leases was this afternoon, and no bids were received for either location, Andy Graiser, president of DJM Realty, confirmed in an email.
The lease for the flagship store on Liberty and Maynard streets in downtown Ann Arbor was signed through 2025, according to a DJM listing. The lease for the Lohr Road location was set to expire in 2019.
Since no bids were received, the existing leases will be terminated, and landlords can begin seeking tenants to start a brand new lease.
Michael Lippitt and Bruce Simon of Landmark Commercial Services have already been marketing the downtown property — and Lippitt said today that Landmark is in discussions with a possible tenant for the space.
"We have received a legitimate letter of intent that we are reviewing," he said. "I hope we can announce it soon."
Lippitt declined to reveal any details about the prospective tenant. But he said it would fit "very, very well" with the needs of the community.
It is unclear whether the tenant would occupy the entire 42,000-square-foot store, or just parts of the building.
The Landmark Commercial listing has the property separated into three potential spaces: the 18,683-square-foot first floor, the 18,236-square-foot second floor and the 6,311-square-foot basement.
The annual asking rate ranges between $18 and $35 per square foot.
The downtown Ann Arbor retail building has multiple ownership entities, including a family trust and Agree Realty Corp., which has controlled the property after a complex series of leases and land leases.
Local developer Tom Goldberg is an owner of the 28,500-square-foot Lohr Road property, which is located in the Waters Place Shopping Center.
Meanwhile, Borders announced that the flagship store will close for good on Monday.
Lizzy Alfs is a business reporter for AnnArbor.com. Reach her at 734-623-2584 or email her at lizzyalfs@annarbor.com. Follow her on Twitter at http://twitter.com/lizzyalfs.