Posted on
Wed, Sep 7, 2011 : 5:57 a.m.
Reincarnations Resale shop to open in downtown Saline
By Laura Blodgett
A new consignment shop called Reincarnations Resale is coming to downtown Saline with a focus on antiques and vintage clothing.
This is the latest entry into the Merchant Square Building at 109 W. Michigan Ave., which contains seven commercial units including Downtown Diner and the Saline Area Chamber of Commerce as well as 15 second-floor apartments, all currently occupied.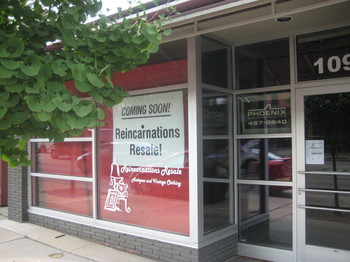 Previously housing a bridal shop, the space had been vacant since owner
Bill Kinley
bought the building in 2005. The 2,000 square-foot space with full basement is currently under construction and is estimated to open by the end of September.
"I'm very pleased because we were looking specifically for retail," said Kinley. "We are really encouraging retail in downtown Saline to encourage more foot traffic."
Reincarnations Resale owner Michele Ingalls is a stay-at-home mom and Manchester resident who also runs umichiganpoker.com, a website she founded eight years ago that promotes charity poker games across the state.
"I've always been an antiquer," said Ingalls. "I love the hunt for the cool antiques."
Although Pineapple House on the corner sells a few antiques, Ingalls says there is no longer an antique shop in Saline anymore since Salt City Antiques moved to Ypsilanti.
"There used to five or six antique shops in Saline, but now there is none," said Ingalls. "I'm hoping that means there is plenty of room for me."
She hopes her store will serve as a shopping destination along with next-door neighbor The Resale Boutique, which sells contemporary women's clothing and accessories, and The Bling Thing.
In addition to resale staples such as furniture and jewelry, Ingalls plans to use vintage chandeliers down the middle of the store both for lighting and for sale as merchandise. She also plans to carry what she calls "mantiques"—items geared for men such as advertising signs for gas stations and tools.
"It's not all doilies and teacups," she said.
The store will work on consignment, with sellers getting between 50 to 65 percent of an item's selling price, depending on its cost. A lower-priced item will be a 50-50 split, a larger item 60-40 split and sellers will receive 65 percent of items priced $300 and over.
Ingalls wants to make sure her prices are competitive. "We want things to sell," she said. "Nobody makes any money unless it sells."
Although it depends on what people bring in, Ingalls envisions her store as carrying more mid-century items than Victorian. She is excited about a lava lamp she is selling as well as a collection of vintage coats.
"I just want it to be a friendly, kitschy place," said Ingalls. "I don't see it being very high priced. I'm just not that kind of person."
She plans to have regular 30-day markdowns on items and stressed that the merchandise will change often throughout the store.
"It will be different every time you come in. We will have a 90-day consignment period so if items don't sell, we will pull them." Consignors will have the choice to either retrieve the unsold item or donate it to charity.
Ingalls will open a few days early for people to bring in items for consignment before she opens her doors.
Kids are welcome in the store, which will have a play area, and she plans to bring in her own kids on occasion.
"I want people to have fun when they come in," said Ingalls. "I want people to say, 'Wow, I've never seen one of these before' or 'I remember when I had one of these as a kid.'"