Posted on
Wed, Aug 8, 2012 : 12:30 p.m.
Rising rents, competition drive owner of decades-old White Market to close Ann Arbor store
By Lizzy Alfs
Citing high rental rates and retail competition, the owner of downtown Ann Arbor's White Market plans to close his store at the end of the month.
Dave Jones, who purchased the business at 609 E. William St. in 1984, said the landlord of the building did not renew White Market's lease after finding a new tenant for the space.
"(The owner of the building) was able to get a tenant that pays more than twice what we were paying," Jones said. "I have been working all year to try and find another location and I failed. We have to be out; there is no other choice."
AnnArbor.com file photo
The 6,500-square-foot building at 607-609 E. William St. — which also includes the former College Shoe Repair space and five student apartments on the second-floor — was sold in September 2011.
According to city documents, Costas Boutsikakis purchased the building for $1.5 million.
For years, the building was owned through a partnership between the owners of the College Shoe Repair and the former owners of The White Market. College Shoe Repair went out of business in December 2010, and the building was listed for sale for $2.5 million with Colliers International's Ann Arbor office.
Jones said he was hoping to work out a deal with the new landlord, even though his rental rates remained low in the high-rent South State Street retail corridor adjacent to the University of Michigan campus. He was aware the new landlord was considering other tenant options.
Ann Arbor News file photo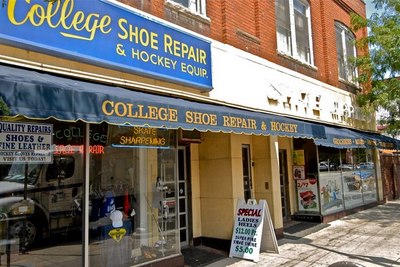 Photo from Colliers
Jones estimated he was paying $20 to $25-per-square-foot. Colliers listed both the former College Shoe Repair and White Market spaces for $40 per square foot.
In a downtown area with top-paying tenants like Starbucks and 7-Eleven, Jones' rental rate is significantly lower than the average $35 to $45-per-square-foot many tenants in the area pay. Just down the street, the first-floor of student high-rise Zaragon West was listed for $42-per-square-foot.
"I mean, (the landlord) would have taken some loss on the whole building to have kept (White Market) at a reasonable rental rate, but that's his prerogative," Jones said. "What are you going to do? I don't like it, but he certainly has that right."
Boutsikakis and Jim Chaconas of Colliers International did not respond to requests for comment. It's unclear what type of tenant may replace White Market.
Permits pulled with the City of Ann Arbor indicate there is some activity at the former College Shoe Repair space, which was cleared out, and had garbage removed and windows replaced, according to documents.
White Market was able to survive decades in downtown Ann Arbor, even as the retail market changed considerably in that neighborhood.
It has become a prime area for student traffic with the opening of University of Michigan's North Quad in 2010, and the most recent opening of Zaragon West just down the street from the market.
Businesses such as Pitaya clothing boutique, Five Guys Burgers and Fries, 7-Eleven and CVS all opened in the past couple years. Ritz Camera and Cosi closed.
Jones said business at White Market — which was once one of the only full-service stores in downtown Ann Arbor — fell as more competition opened nearby, including the CVS, Tower Mini Market and babo. Tower Mini Market, located on Maynard Street, has since closed.
But he said he's experienced a rebound in sales the past couple months.
"We have people coming in," he said. "It's not from a lack of business. Business could be better, but sales were starting to come back. We were actually up in sales for June a little bit."
The plan, he said, was to either sell his business or find a new, smaller location — both of which didn't work out.
"I guess I was optimistic to the end that we would come up with an alternative," he said. "I had a plan in place to continue this operation way beyond me, but it was totally predicated on getting a space, which I guess just wasn't meant to be."
A sign at the business says it will close on Aug. 25, but Jones said he could remain open for a week after that depending on how things go.
Reflecting on his many years in business, Jones said he'd like to thank the countless customers who have supported him.
Lizzy Alfs is a business reporter for AnnArbor.com. Reach her at 734-623-2584 or email her at lizzyalfs@annarbor.com. Follow her on Twitter at http://twitter.com/lizzyalfs. "I've always enjoyed coming to work almost every day and I've loved it," he said. "Our customers have always been exciting and we've enjoyed it."