Posted on
Thu, Jul 11, 2013 : 4:10 p.m.
Seva Restaurant to leave downtown Ann Arbor for west side shopping center
By Lizzy Alfs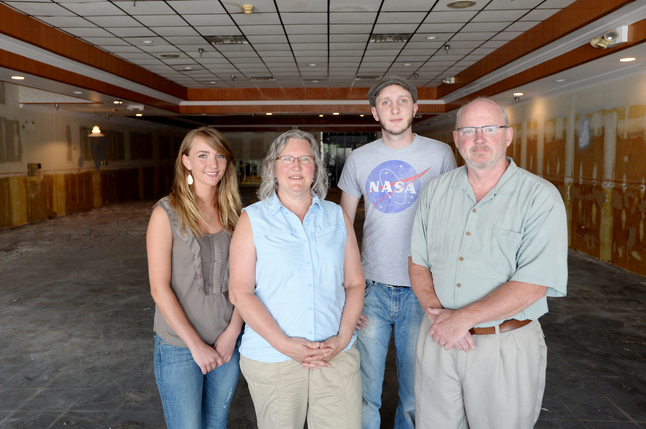 Melanie Maxwell | AnnArbor.com
After 40 years,
Seva Restaurant
plans to vacate its building on downtown Ann Arbor's East Liberty Street and move to a shopping center on the west side.
Seva owners Maren and Jeff Jackson signed a lease for a 5,500-square-foot space in the Westgate Shopping Center at Maple and Jackson roads. Previously occupied by Great Shanghai Restaurant, the space is situated between Hallmark Gold Crown and SVS Vision.
"I'll be happy to go downtown as a consumer, and be out here as a worker," Maren said. "We hope to make it a really smooth transition."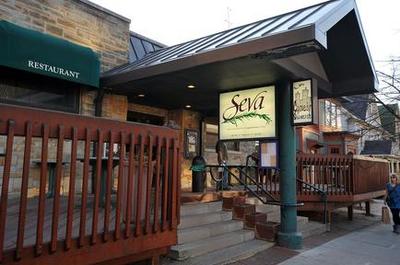 AnnArbor.com file
Finalizing the deal this month ended the Jackson's two-and-a-half-year search for real estate in Ann Arbor. They started looking for a new home for their vegetarian restaurant after they were told their rent in the VFW Hall building at 314 E. Liberty would increase by more than 50 percent.
When nothing was working out in the downtown area, the Jacksons turned to Westgate. Jim Chaconas of Colliers International's Ann Arbor office — the company that brokered the Seva deal — said a number of national companies also were interested in the former Great Shanghai Restaurant space.
"Nothing (downtown) was fitting our needs," Jeff said. "We have a big menu and we need a big kitchen. Plus, (Westgate) has free parking."
Seva opened in 1973 on East Liberty Street, gathering a loyal following over the years with its strictly vegetarian menu, fresh juices and full bar. Maren started her career with the restaurant in 1979, and 18 years later, the Jacksons purchased Seva from Steve Bellock.
In 2011, the Jacksons opened a Seva location in Midtown Detroit, close to Wayne State University and the Detroit Medical Center.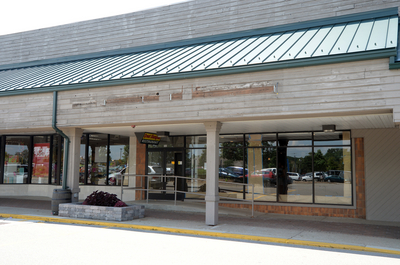 Melanie Maxwell | AnnArbor.com
"The Detroit restaurant is just booming," Maren said.
Not too much will change when Seva relocates its Ann Arbor restaurant, the Jacksons said, and the heart of the business — its extensive vegetarian menu — will stay the same.
Some differences will include: the new location won't have an outdoor patio, but it will have a private events space. It will also have an updated look and the same employees.
"We probably won't have booth seating at all," Jeff said.
"We'll probably have some of our stained glass pieces on the walls, but no more 1970s macrame look," Maren joked.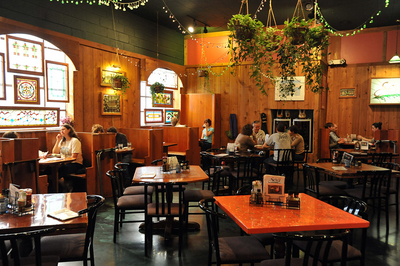 Angela J. Cesere | AnnArbor.com
The goal is to open the restaurant in Westgate in December once renovations are completed. The downtown restaurant will close shortly before the Westgate location opens.
"I'm not sad in the least," Jeff said.
"I believe our business will improve because it will be easier to get to us," he continued. "(Customers) are going to come. They'll find us and we'll make it work."
Seva's 4,600-square-foot space on East Liberty Street is being marketed for lease with Colliers for an annual $27.50 per square foot. Chaconas said negotiations are underway with two restaurant users interested in leasing the building.
The Ann Arbor Comedy Showcase, located in the basement of the VFW Hall building since 1987, also is looking for a new location.
Lizzy Alfs is a business reporter for AnnArbor.com. Reach her at 734-623-2584 or email her at lizzyalfs@annarbor.com. Follow her on Twitter at http://twitter.com/lizzyalfs.