Posted on
Sun, Mar 10, 2013 : 5:59 a.m.
'Shockingly' low inventory of homes for sale in Ann Arbor area as market heats up
By Lizzy Alfs
Courtney Sacco | AnnArbor.com
Tired of his commute from Canton to Ann Arbor every workday,
Devesh Srivastava
started looking for a home to buy in Washtenaw County about three months ago.
He has browsed hundreds of property listings online and toured about 25 homes in the Ann Arbor area. But mostly, he's felt a lot of pressure from competing buyers.
"Inventory of good houses is low," he said. "Even as they come (on the market), they go within less than a week. It's usually a couple days."
Srivastava is not alone in his experience: Activity in the Ann Arbor area housing market has accelerated in the past several months as more buyers look for homes and inventory shrinks.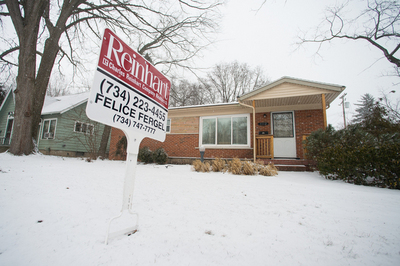 Courtney Sacco | AnnArbor.com
According to data compiled by the Ann Arbor Area Board of Realtors, there were 319 residential listings entered in January across the county, a 20 percent drop from January 2012.
In many of the county's larger subdivisions — like Foxfire, Arbor Hills, Briar Hill and Arbor Pointe — only one or two homes are currently listed for sale. Data pulled by Keller Williams' Martin Bouma shows that of nearly 2,000 homes in 10 subdivisions, nine are listed for sale and five of those are under contract.
"I don't recall ever seeing this kind of frenzy that we're seeing right now," Bouma said.
Rick Taylor of Charles Reinhart Company added: "It's shockingly low inventory. It's the sellers who have the power right now."
In January, Ann Arbor residents Jen Pakravan and her husband, Kevin, amped up their search for a home in the area. After finding a house they "fell in love with," they made an offer for $1,000 below listing price.
"We came to find out that other buyers offered more than asking price and they did so without even seeing the house first. That's the market we're in right now," Jen wrote in an email interview.
The Pakravans' experience reflects trends happening nationwide: The National Association of Realtors reports housing inventory in January was down 4.9 percent from January 2011.
"Buyer traffic is continuing to pick up, while seller traffic is holding steady," said Lawrence Yun, the group's chief economist. "In fact, buyer traffic is 40 percent above a year ago, so there is plenty of demand but insufficient inventory to improve sales more strongly. We've transitioned into a seller's market in much of the country."
Realtors are attributing the low inventory in Washtenaw County to several factors, including:
More buyers are entering the market thanks to improving economic factors and job growth in the county
Sellers who were upside down on their mortgages have been unable to sell their homes
Buyers want to take advantage of historically low interest rates
The number of foreclosed-property listings is declining
People considering selling their homes are concerned they won't find something to buy
Bouma said it's common to have multiple offers — and even sight unseen offers — above listing price on homes in Washtenaw County right now. He said a house in the Fleming Creek subdivision northeast of Ann Arbor recently had a half dozen competing offers and sold for $30,000 above the $389,900 listing price. He's also getting multiple full-priced offers on houses in the Lincoln school district, he said.
That's reflected in year-end home sale data from the Ann Arbor Area Board of Realtors, which shows home sale prices in the county were up 9.2 percent in 2012 over 2011. In January, home sales in the county were up 33.7 percent over the same period in 2011. Still, the average 2012 sale price of $210,616 is well below the average sale prices a decade ago, and appraisals haven't caught up with what buyers are willing to pay.
But with the low inventory and high demand, Realtors say prices will continue to rise.
"If you're a seller, this is the time to sell," Bouma said. "It's definitely a very strong sellers' market."
Matt Dejanovich of Real Estate One said his advice to house hunters is to tour a house as soon as the listing hits the market. Otherwise, he said, "the house may very well be sold." He said buyers can find homes for sale in the county, but they may have to compromise on some desired features.
"Certainly, the homes that come on the market that are picture perfect, that are flawless in most every way, those homes are selling quickly at or above the asking price with lots of interest…I've been able to find some options (for buyers) if they're willing to compromise on maybe a thing or two."
For some house hunters, like Jonathon Njus and his wife, Nori Flautner, the lack of housing inventory is leading them to consider renting instead.
The couple recently moved to Ann Arbor from the Washington D.C. area and they are struggling to find the right house for sale in the Ann Arbor school district that's in their price range. Along with their two daughters, they are currently living at Flautner's mother's house until they find a home.
"At some point, if we don't have a house by the summer, then we're going to have to rent a house…which we don't want to do," Njus said.
Bouma anticipates that as the county enters the busy spring market, buyers could see a wave of new listings. He also thinks the thousands of homes that were converted to rentals during the recession will be listed for sale as the market continues to improve.
"I think (the market) is going to flip the other way just as quickly," he said. "I honestly believe that within four to eight weeks, we're going to have a lot more inventory."
Lizzy Alfs is a business reporter for AnnArbor.com. Reach her at 734-623-2584 or email her at lizzyalfs@annarbor.com. Follow her on Twitter at http://twitter.com/lizzyalfs.