Posted on
Fri, May 13, 2011 : 9:49 a.m.
So, the Michigan Business Tax is dead. Will the changes create jobs?
By Nathan Bomey
Rest in peace, Michigan Business Tax.
The widely despised MBT — created as a replacement for the similarly reviled Single Business Tax — died Thursday. It was four years old.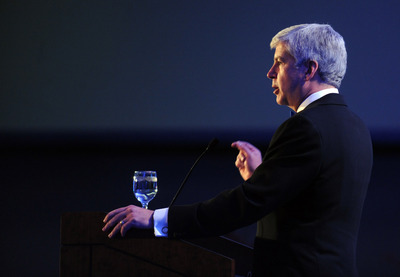 Melanie Maxwell | AnnArbor.com
The tax's demise was the product of a
relentless
assault by Gov.
Rick Snyder
, who hammered the tax as a "job killer" from
before he even announced his unlikely bid
for governor in summer 2009.
In the four months since he took office, Snyder has systematically assembled a list of legislative allies to axe the wildly complex MBT once and for all. The Michigan Legislature on Thursday voted to eliminate the MBT and replace it with a 6 percent corporate income tax that exempts most small businesses, equaling an estimated business tax cut of about $1.7 billion.
Now, most small business owners in Michigan will only pay taxes on their business profits through their personal income tax return, where they're taxed at a flat rate of 4.35 percent.
In the end, the Senate split evenly on the vote — and Lt. Gov. Brian Calley had to cast a vote to break the tie.
To pay for the business tax cut, the Legislature also approved Snyder's recommended phase-in pension tax, a massive reduction in tax credits for the poor and other income tax code changes. Snyder now needs to get the Legislature to approve big cuts in K-12 funding, higher education funding, municipal revenue sharing and other sources.
During his campaign to kill the MBT, Snyder's approval ratings dropped precipitously as critics have decried a shift of the tax burden from businesses to individuals.
"I firmly believe that we need to invest in our schools, our cities and our citizenry if we are to move forward as a state, but I cannot support this tax increase because of the undue burden it places on our children, needy families and seniors," state Sen. Rebekah Warren, D-Ann Arbor, said in a statement. "This legislation provides a windfall tax break for businesses without any promise of creating jobs, all at the expense of Michigan's most vulnerable citizens."
All along, Snyder defended his proposals by saying that the state must adopt increased taxes on senior citizens to pay for government services as our population shifts.
And, of course, he argued that a simpler, lower business tax would create jobs and grow the economy, making it all worthwhile.
"We are making the tough decisions and taking the bold actions necessary to put our state on the path to prosperity," Snyder said in a statement Thursday. "Michigan's complex, unwieldy and unfair tax structure has been a major impediment to economic growth. By bringing greater fairness and simplicity to the system, we are correcting longstanding inequities, protecting low-income families and paving the way for economic expansion."
Now, we ask you: Will the death of the MBT create jobs?
We're asking that question this morning to businesses in the Ann Arbor region, but we want to hear from you.
Is job growth next?
Contact AnnArbor.com's Nathan Bomey at (734) 623-2587 or nathanbomey@annarbor.com. You can also follow him on Twitter or subscribe to AnnArbor.com's newsletters.