Posted on
Thu, Jul 26, 2012 : 5:59 a.m.
South State Street corridor study: Residents propose aesthetic, transportation, land use improvements
By Lizzy Alfs
Plant trees. Develop parks, Install bike paths and maybe a few pieces of art.
Those were some of the ideas put forth Wednesday night at the City of Ann Arbor's second public input session for its South State Street corridor study.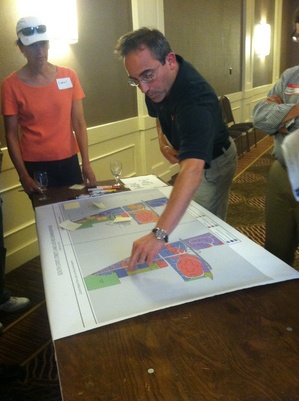 Lizzy Alfs | AnnArbor.com
The planning study, launched last year, is examining the potential for future development and land use on the 2.15-mile stretch of State Street from Stimson south to Ellsworth Road. The study's director, Kristin Baja, said the end result likely would be a new chapter added to the city's master plan.
About 20 Ann Arbor residents, workers and business owners came to Wednesday's public input session, and most attendees agreed: South State Street is a critical gateway into Ann Arbor.
"I think most of what I've noticed with the State Street corridor is the aesthetics," said Ann Arbor resident Jason Morgan, who lives near the South State and Granger intersection. "It's a great area and a great part of the city, but we need to make it a little more welcoming."
Prior to the public input sessions, the planning process included conversations and surveys with various "stakeholders" in the corridor.
Among them: University of Michigan, which owns several properties along the corridor, Briarwood Mall, Research Park, Produce Station, McMullen Properties, and Hidden Valley Club apartments.
Baja said a lot of the feedback the city has received has been focused on the aesthetics of the corridor.
Some of the suggestions proposed at the meeting on Wednesday included planting more trees, creating parks, making the area more bike-friendly and installing some sort of art or signage.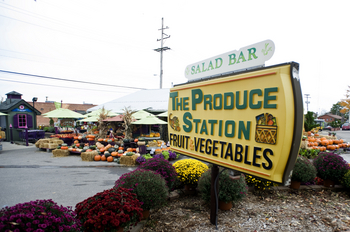 AnnArbor.com file photo
"We need some sort of gateway or welcome art or public signage; something that is a symbolic welcome to the city," said
Andrew Selinger
, a market analyst for Ann Arbor-based real estate company
Oxford Cos
. Oxford owns or manages about 400,000 square feet of office space near the State Street corridor area.
According to city documents, South State Street is Ann Arbor's "primary office, research and light industrial corridor." The area has about 900,000 square feet of office space and 580,000 square feet of industrial and light manufacturing space — more than any other area of Ann Arbor.
Commercial and residential uses also are present in the corridor, but constitute a smaller percentage of land use.
Matt Toschlog, who lives near Ann Arbor's Burns Park neighborhood, said he thinks there is room for commercial development in the Stimson and South State area.
"There's a lot of housing in that area right at the southern end of Burns Park, and I think it's a good spot for more commercial," he said. "There's Produce Station, a CVS pharmacy and Biercamp, but there's room for more."
He added: "I think it's good walking access for a lot of people in that area."
He also expressed interest in non-motorized enhancements along South State Street.
"I'm interested in better bike access, especially going over (I-94) where I feel like I'm taking my life in my hands anytime I bike over it. There could be better bike and pedestrian access by the mall and the Interstate," he said.
Baja said it's this type of input from the public and stakeholders that will drive the plan's recommendations.
"What we're trying to do is take all the recommendations and feedback and draft our recommendations based on that feedback," she said. "We're continuing to try and gather community input and make sure we're following along the path of what people want along this corridor."
She said the study is in its third phase. Once the draft recommendations are developed, the fourth phase includes public hearings with Ann Arbor's Planning Commission and City Council. The final phase is implementation.
As the corridor study moves along, the city's planning staff plans to post all materials, reports, maps and plan drafts on a new city webpage at www.a2gov.org/southstate.
Anyone interested in providing feedback and unable to attend Wednesday's input session can contact Kristin Baja at SouthState@a2gov.org or 734-794-6000 ext. 42653.
Lizzy Alfs is a business reporter for AnnArbor.com. Reach her at 734-623-2584 or email her at lizzyalfs@annarbor.com. Follow her on Twitter at http://twitter.com/lizzyalfs.