Posted on
Mon, Jan 3, 2011 : 3:12 p.m.
Stung by delayed payments, book publishers still want Ann Arbor-based Borders to survive
By Nathan Bomey
Publishers that have not received payments for books they shipped in recent days to Borders Group Inc. know it's in their best interests to make financial concessions to the Ann Arbor-based book store chain, an industry expert said.
Borders acknowledged last week that it had stopped paying some of its suppliers for books and is seeking to restructure its vendor financing agreements.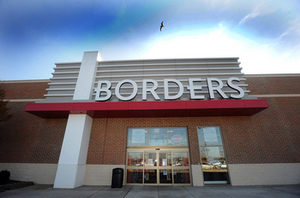 That means Borders wants some publishers to accept debt in exchange for books that have already been shipped to the retailer.
In an ideal world, publishers would demand and receive cash payments immediately. But publishers have no interest in making demands that would force Borders into a more severe financial situation, said Michael Norris, a publishing industry analyst for Maryland-based Simba Information.
"They probably realize that an even worse situation is for Borders to not be there at all," Norris said. "If publishers wake up in a world without retailers that are committed to the future of books, they are going to be in serious trouble."
Borders has said it needs to secure new bank financing and vending agreements to avoid a cash crunch in early 2011.
The trade journal Publishers Weekly is reporting this afternoon that Borders believes it has arranged new financing but that, as part of the deal, publishers would have to accept a promise for payments at a later date. The publication also said the new lender wants "a bigger financial commitment to Borders' debt service from Bennett LeBow, the retail chain's largest shareholder" and CEO.
A new vendor financing arrangement and a new source of bank financing would buy Borders some time to pursue what Borders executive Mike Edwards has called "transformation of the Borders brand."
But restructuring expert Jim McTevia of Bingham Farms-based McTevia & Associates said Borders' decision to suspend some payments to vendors is an indicator of broader troubles.
"I sense that the fact of the matter is the liquidity problem probably goes well beyond just a vendor issue," he told AnnArbor.com. "Extending vendor payments is usually an indication that they're out of cash and are mashalling the cash or preserving the cash for other reasons."
Borders employs about 600 workers at its Ann Arbor headquarters and about 19,000 overall.
The firm's stock (NYSE: BGP) was trading at $0.92 at 2:56 p.m., up $0.02 for the day but down $0.24 since Thursday.
Contact AnnArbor.com's Nathan Bomey at (734) 623-2587 or nathanbomey@annarbor.com. You can also follow him on Twitter, follow him on Tumblr and subscribe to AnnArbor.com's free newsletters.