Posted on
Wed, Mar 31, 2010 : 5:55 p.m.
Borders pays back loan, renegotiates credit agreement despite sales problems
By Nathan Bomey
Distressed Ann Arbor-based book store chain Borders Group Inc. said late this afternoon that it had paid off a loan that was due April 1 and renegotiated a revolving credit line.
The financial moves are meant to give Borders extra runway to devise a turnaround strategy, which analysts say is critical to the company's long-term survival.
Borders said it had paid off a $42.5 million loan due to New York hedge fund Pershing Square Capital Management, whose manager, William Ackman, had already renegotiated the loan three times. Ackman doubles as Borders' largest individual shareholder.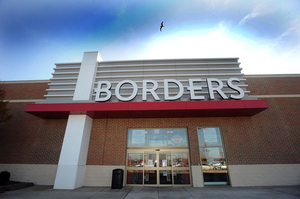 Borders also renegotiated its senior-secured asset-based revolving credit agreement, which was supposed to mature in July 2011. Instead, the new $700 million credit facility will mature in March 2014. Banc of America Securities LLC, Wells Fargo Retail Finance LLC, J.P. Morgan Securities Inc. and GE Capital Markets are providing the financing, and Bank of America N.A. will administrate the loan.
Revolving credit is crucial to sustaining day-to-day operations of major global retailers like Borders, which has been starving for cash over the last 18 months.
"Restoring the financial health and profitability of the company remains our top priority," Borders interim CEO Mike Edwards said in a statement. "We took important steps toward this goal with the long-term extension of our existing credit facility and the additional capital provided by the new term loan."
Investors applauded the moves in after-hours trading, pushing the stock price (NYSE: BGP) up 33 percent to $2.27 a share.

Borders' ability to pay back the Ackman loan is likely to temporarily encourage investors previously concerned about the possibility that Borders is headed toward a bankruptcy filing.
"We have made significant operational and financial improvements and will maintain those disciplines as we shift our focus now to growing market share by acquiring, engaging and retaining customers through a transformation of the Borders brand," Edwards said. "I'm pleased with the cooperation we have received from our bank group, lenders, vendors, partners and associates who share our vision for a successful Borders."
Meanwhile, the firm also said today that sales at Borders super stores open at least a year dropped 14.0 percent for the firm's fiscal fourth quarter, which ended Jan. 30.
Borders posted a net loss of $109.4 million for the 2009 fiscal year, down from a loss of $186.7 million in 2008. The firm reported net income of $59.9 million in the fourth quarter.
Borders also said it had negotiated with Banc of America Securities a separate $90 million term-loan, which matures in March 2014. Of that, $10 million, however, will be paid off over four months this fall. GA Capital is the administrator on the loan.

Borders said other lenders participating in the loan would be "an affiliate of Stone Tower Capital LLC, a $39 billion credit focused asset management firm; funds managed by Tennenbaum Capital Partners LLC, a Santa Monica-based special situations investment firm; and Gordon Brothers Merchant Partners."
"We are pleased to have the continued support of our lending group and term loan investors," Borders Chief Financial Officer Mark Bierley said in a statement. "With the completion of these transactions, the company can turn its focus to driving sales growth and improving profitability."
Still, experts have said they're not convinced Borders can reverse its long-term problem issue: a consistent revenue slide.
"Borders is a classic example of a company that is struggling for survival," said Jim McTevia, managing partner of Bingham Farms-based turnaround consultancy McTevia & Associates, in an interview earlier this month. "I would say that if somebody doesn't buy Borders and merge them into an operation that Borders will probably fail and liquidate."
Borders said it closed seven super stores during the 2009 fiscal year and now has 508 internationally. The firm closed 212 Waldenbooks stores and now has about 130 of its mall-based specialty book shop.
The company reported consolidated sales of $2.8 billion for the 2009 fiscal year, reflecting a decline of 13.9 percent from 2008. Borders reported consolidated sales of $937.3 million for the fourth quarter, a decline of 13.3 percent from the fourth quarter of 2008.
Contact AnnArbor.com's Nathan Bomey at (734) 623-2587 or nathanbomey@annarbor.com or follow him on Twitter. You can also subscribe to AnnArbor.com Business Review's weekly e-newsletter or the upcoming breaking business news e-newsletter.