Posted on
Fri, Mar 19, 2010 : 12:15 p.m.
Terumo's Scio Township expansion reflects global potential of its medical device technology
By Nathan Bomey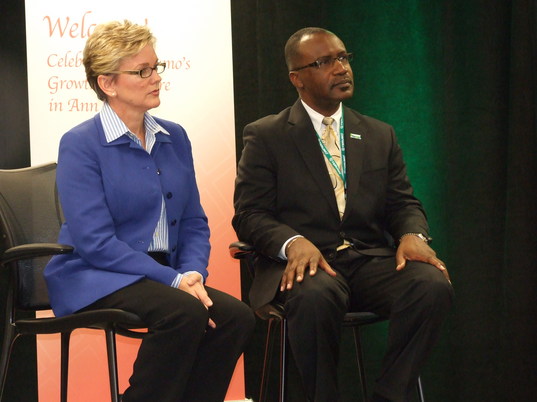 Nathan Bomey | AnnArbor.com
Japanese medical device maker Terumo Medical Corp.'s campus in Scio Township is a sprawling illustration of a growth pathway for global life sciences companies in the Ann Arbor region.
Terumo's global sales success forced the company to expand its 55-acre campus on Jackson Road - a $3.5 million move officials marked today with a grand opening celebration.

The firm's Terumo Cardiovascular Systems division now employs 367 workers in Scio and its Terumo Heart division now employs 130. Overall, both subsidiaries, collectively among Washtenaw County's top 25 employers, have added more than 60 new employees over the last 18 months.
"Terumo is kind of a secret in a way," said Mark Sutter, CEO of Terumo CVS. "We've been here for many years and we don't talk about ourselves a lot. We could not exist without the great, great support we have in this community and in the state."
Michael Finney, CEO of Ann Arbor SPARK, said Terumo's growth could make the company the region's biggest private sector employer within 10 years.
Terumo's latest expansion, which began in 2008, paves the way for the company to offer its DuraHeart product to the U.S. market. The device, which assists the heart's left ventricular chamber in open-heart surgeries, was approved for sale in Europe in 2007 and is under consideration for approval in the U.S.
Bill Pinon, CEO of Terumo Heart, said the firm expects the market for similar heart devices to expand from $240 million to more than $2 billion within five to seven years. He said Terumo is targeting U.S. approval for the device within two to three years.
"We look forward to taking Terumo Heart to the next level," Pinon said.
Gov. Jennifer Granholm, visiting the complex this morning to celebrate the expansion, said Terumo is "an example of where Michigan is going." She used the opportunity to defend the state's tax credits strategy as valuable, because Terumo in 2008 received a 7-year, $855,000 tax credit from the Michigan Economic Development Corp. to support its expansion and hiring plan.
Nathan Bomey | AnnArbor.com
The firm, Michigan's second largest medical device maker behind Kalamazoo-based Stryker Corp., is capitalizing on the economic downturn. Sutter said 50 percent of the company's hiring over the last two years has come from automotive industry - and several key executives came directly from Ann Arbor region's shuttered Pfizer campus.
"This area is a fantastic place for a medical device company," Sutter said. "The engineers for the auto industry know systems. They're excellent systems engineers."
That experience is mirrored in some of the Ann Arbor region's hottest medical device startups. Pittsfield Township-based University of Michigan spinoff HandyLab, for example, was sold in November to New Jersey-based Becton, Dickinson and Co. in a blockbuster $275 million deal. And Scio Township-based Accuri Cytometers topped $10 million in sales in 2009 for its cell analysis device.
Finney said the medical device industry offers opportunity for displaced automotive engineers and manufacturing employees.
"The tens of thousands of automotive workers that have been displaced over the last few years could be quit the tragedy for the state," he said. "The fact that we have companies like Terumo in our state creates a great opportunity to transition those workers into a different type of work."
The expansion included 14,000 square feet in new manufacturing capabilities, testing facilities and clean-room space, in addition to various upgrades to existing facilities.
The move came after Terumo in 2005 and 2008 consolidated manufacturing facilities in Mexico, Indiana and California and shifted the work to Ann Arbor. The firm launched Terumo CVS, which sells various medical device products, in 1999 after acquiring Sarns-3M.
Ann Arbor entrepreneur Dick Sarns started Sarns Inc. in the 1960 and it was sold to 3M in the 1980s.
Terumo, an 80-year-old company, has some $3 billion in sales and 13,000 employees worldwide.
Contact AnnArbor.com's Nathan Bomey at (734) 623-2587 or nathanbomey@annarbor.com or follow him on Twitter. You can also subscribe to AnnArbor.com Business Review's weekly e-newsletter or the upcoming breaking business news e-newsletter.