Posted on
Sun, Jun 24, 2012 : 5:59 a.m.
Top 5: Economic impacts of the new Costco store in Pittsfield Township
By Lizzy Alfs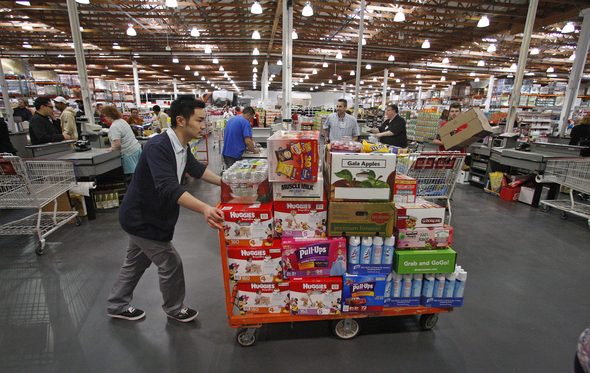 AP Photo | Rick Bowmer
The
Costco Wholesale
store opening in
Pittsfield Township
this week is going to bring more than discounted engagement rings and bulk-packaged toilet paper to the Ann Arbor area.
The opening of the 150,000-square-foot discount store near the corner of State and Ellsworth roads — planned for 8 a.m. on June 29 — is sure to have local economic impacts beyond saving consumers money.
The store took 10 months to build after its plans were approved by Pittsfield Township in August 2011. Costco purchased the 17-acre site in the Airport Plaza industrial park from local developer Jake Haas for $7.34 million.
Eight office buildings in the industrial park were demolished to make way for the store, gas station and 720 parking spaces.
The membership-only warehouse club will likely draw shoppers from across the region, with the area's closest Costco stores located in Brighton and Livonia.
Representatives from Costco have been marketing in the area — including at a kiosk in Briarwood Mall — selling memberships that range from $55 to $110 annually.
As of 2010, Costco had 58 million members worldwide at its 602 warehouse stores. A typical store does about $150 million annually in sales, and the company is valued at about $39.41 billion based on a Wednesday stock price of $91.09.
From road construction projects to job creation, here are five ways the Costco store will impact the local economy:
1) Job creation
When Costco announced it planned to mass hire 180 employees to work at its new store, the company's website was flooded with applications shortly after, said warehouse manager Bill Linfield.
Ten days after Costco began accepting applications, more than 1,000 people had applied.
Angela Cesere | AnnArbor.com
The company is known for its employee perks, including compensation and career advancement. In 2010, Costco was ranked the top retailer to work for by its employees, with an average wage of $17 per hour, according to data collected by
CareerBliss
.
And fortunately for Washtenaw County — which currently has the lowest unemployment rate in the state at 5 percent — much of the hiring was done locally.
Pittsfield Township Supervisor Mandy Grewal said the hiring will also bring a concentration of people to the area, where she hopes employees will "choose to live and work."
During the 10 months it took to build Costco, the project also provided dozens of construction-related jobs at a time when the real estate market — particularly new construction — was still struggling to recover.
2) Traffic increase
Costco customers are willing to travel long distances to shop at discounted prices.
The new store is expected to bring hundreds of people a day to the State and Ellsworth intersection — an intersection that already experiences traffic counts of about 3,500 cars a day.
Mark McCulloch, project engineer for a new roundabout planned for State and Ellsworth, said traffic in the area is "heavy now and is expected to increase by 20 percent over the next 20 years."
Several road improvement projects were undertaken to account for the increase in traffic, including reconfiguring Airport Boulevard as a three-lane road and adding a new traffic signal at the Airport and Ellsworth intersection.
The roundabout planned at State and Ellsworth is estimated to cost about $2.5 million. Construction is expected to begin in 2013 and last from April or May through Labor Day.
The cost of the roundabout is being financed in an agreement between Costco, the Washtenaw County Road Commission and the City of Ann Arbor.
Tom Goldberg, an owner of several shopping centers in Pittsfield Township, said the increase in traffic to the area could benefit neighboring businesses.
"In terms of some of the adjacent properties, Costco might be a new opportunity for them because of the amount of customers that will be driving to the Costco location," he said.
But local commercial real estate broker Jim Chaconas is more cautious: he said Costco is a destination store that people will drive to and then go straight home.
"You take a Walmart, Costco, Sam's Club — they are destinations and people go there and shop and go home," he said. "You go and get great meat or dairy and you have to get back to your refrigerator."
3) Future development
Development often begets development.
That's how one local developer — who has plans to build a 15,750-square-foot retail center near the State and Ellsworth intersection — views the new Costco store.
Howard Frehsee plans to build the center, which includes a 5,000-square-foot free-standing outlot building, on a 5.75-acre parcel just east of the intersection's southeast corner.
His plans date back several years, but were stalled because of the economy. He received township approval for his project in 2010 and said he still plans to move forward when the timing is right.
With the Costco opening nearby, Frehsee sees the potential it could have on his center.
"I see Costco being a very good draw for potential customers, and I think that we will definitely have some positive spinoff from that," he said. "People go to a destination-type center and they may or may not stop at something else next door, but certainly there's a greater likelihood that they will."
He believes that corridor, which he calls a "great location with great potential," is short on retail. He said his development would have a sit-down restaurant, carryout food and convenience-oriented retail.
At the same time, he said the real estate market is still struggling and it's difficult for small business owners to get financing, putting his project on hold.
There are several other recent or planned developments in the area surrounding Costco, and many developers and township officials have long forecast more commercial possibilities.
To the north of the new store, Tim Hortons plans to build a drive-thru at the site of the former Enzo's Sports Bar. Plans were approved by Ann Arbor City Council in April to demolish the existing structure and construct a 1,953-square-foot restaurant.
Another nearby site — the former Pinter's Flowerland at 3930 S. State — has been listed for sale for years. The township has approved a 9,200-square-foot retail center for the corner property.
In 2010, a new Speedway gas station and convenience store was rebuilt on the southeast corner of the intersection.
The owners of Tyner Furniture — located in a former Kmart at 3900 S. State St. just northeast of Costco — have talked about redeveloping their property or using a portion of the store's unused parking lot for an additional project.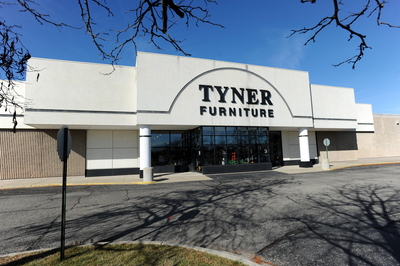 Lon Horwedel | AnnArbor.com
Grewal said whether there will be continued activity at nearby sites remains to be seen, but said the township's Master Plan strikes a balance between development and land preservation in the area.
4) Retail competition
The opening of Costco could present a challenge to Washtenaw County's existing retailers — particularly grocers and the competing Sam's Club in Pittsfield Township at Michigan Avenue and Carpenter Road.
But because Costco is a warehouse store and sells in bulk, some industry experts say the store won't pull customers from nearby grocers and those stores usually don't try to go head-to-head with Costco's low prices.
According to a study by the National Bureau of Economic Research, the drab aesthetic of Costco's warehouse stores offer nearby grocers a different competitive advantage: attracting consumers based on convenience and experience.
Chaconas said to expect "some crossover" with the Walmart Supercenter located a few miles south on East Michigan Avenue. But Walmart, unlike Costco, is a one-stop-shop for most people, he said.
Goldberg, who has both a Whole Foods market and a Target at his retail centers on Ann Arbor-Saline Road, said he's not worried about the competition from Costco.
"Most of the very capable and large retailers that you see in Ann Arbor coexist nicely," he said. "I think (Costco) is very much complementary. From a developer's perspective, I think it's positive."
Other retailers that the new Costco store could threaten are those in the gasoline industry.
According to a recent survey by Consumer research firm Market Force, Costco ranked as consumers' favorite place to fill up their tanks.
The reason: gas at Costco is often about 10 cents cheaper than local averages, and even though the lines are usually longer, people are willing to wait.
Frehsee, who played a key role in redeveloping the Speedway station adjacent to his property, said the station has the benefit of being convenient for shoppers in a hurry.
"Yes, you'll have a lot of people go to Costco to get gas," he said, "but on a day-to-day basis, when you don't want to wait in a line at Costco, where are you going to pull in to get gas?"
5) Community Impact
According to township documents, Costco paid $169,729 in property taxes in 2011. That figure will increase when the property is reassessed now that the building has been constructed, Grewal said.
In comparison, the Walmart store in Pittsfield Township paid $430,129 in property taxes in the 2011 tax year, according to township documents. Property taxes are divided between a number of entities, including the township, the state of Michigan and the school system.
Once the Costco store is reassessed, Grewal said, it is projected to generate $35,000 a year in taxes that will go directly to the township.
Grewal also hopes and anticipates the store will increase neighboring property values.
"I believe property values will be positively affected with more development as it comes into the region," she said.
"I do believe that Costco, and the planned improvements that are going hand-in-hand with Costco ... will bring more vibrancy to the region...(and) contribute significantly in increasing the property values for our residents in Pittsfield Township," she said.

View Washtenaw County Business News 2012 in a larger map
Lizzy Alfs is a business reporter for AnnArbor.com. Reach her at 734-623-2584 or email her at lizzyalfs@annarbor.com. Follow her on Twitter at http://twitter.com/lizzyalfs.