Posted on
Sat, May 12, 2012 : 5:59 a.m.
Two retail tenants sign deals to open in Arborland's former Borders store
By Lizzy Alfs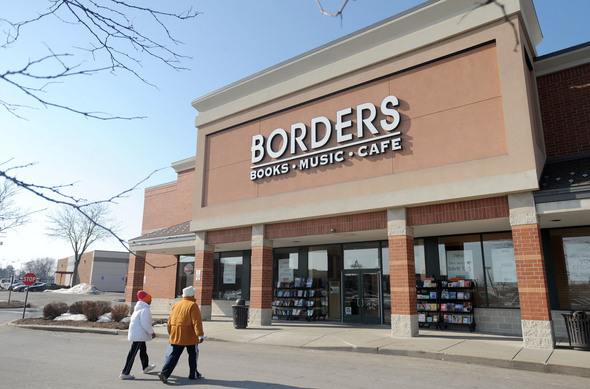 Angela Cesere | AnnArbor.com
Related story: New retailer will move into ex-Borders store near Ann Arbor
Renovations are under way at the former Borders store in Ann Arbor's Arborland Center, making way for two retail chains to open this fall.
Five Below, a discount retailer that targets teen and pre-teen customers, and beauty superstore Ulta recently signed leases to split the 22,941-square-foot space, said Arborland listing broker Michael Lippitt of Landmark Commercial Services.
The news comes more than a year after the Arborland Borders store closed —which was on the bookstore chain's initial 200-store closing list after it filed for Chapter 11 bankruptcy.
It also comes one day after Tom Goldberg, an owner of the Water Place Shopping Center, announced closeout retailer Big Lots plans to open in the former Borders space on Lohr Road.
Philadelphia-based Five Below carries a variety of items priced from $1 to $5. The merchandise, which primarily targets teens and pre-teens, includes sporting goods, games, fashion accessories, snacks, room decor and books.
The company has been expanding rapidly in the past year, with 50 U.S. store openings planned for 2012. Sales in 2011 topped $297 million, up from $125 million in 2009. There are about 200 stores currently open, including eight in southeastern Michigan.
Illinois-based Ulta is a salon and beauty superstore chain, with about 500 stores in 42 states. The retailer has announced it plans to grow to more than 1,000 U.S. stores.
Denise DiMeglio, a spokeswoman for Five Below, said the store will open sometime this fall. A representative from Ulta could not immediately be reached for comment, but Lippitt said it will likely open by November.
The space had an annual asking price of $14 per square foot, according to a listing by Landmark.
Lippitt said splitting a vacant big-box space for two tenants is common in Michigan right now — something that works well for "junior anchor" tenants.
"If you look around Metro Detroit or even Michigan, we have seven or eight examples of splitting vacant boxes. It's a good combination; they help each other," he said.
He said interest in the space vacated by Borders was strong, adding, "Clearly, the economy has been improving and retail real estate is very strong, especially in Michigan."
Lizzy Alfs is a business reporter for AnnArbor.com. Reach her at 734-623-2584 or email her at lizzyalfs@annarbor.com. Follow her on Twitter at http://twitter.com/lizzyalfs.