Posted on
Sun, Oct 7, 2012 : 5:57 a.m.
Unfinished West Towne Condominium project in Ann Arbor revived under new owners
By Lizzy Alfs
Rendering from architect Brad Moore
The unfinished
West Towne Condominiums
project in Ann Arbor is being revived — with a new name and altered plans — after a local building company purchased the property last year.
One building stands on the property, located on the northwest corner of West Liberty and South Maple streets, where developer Michael Concannon proposed an eight-building, 87-unit condo development in 2005.
Financing issues and the economic downturn stalled the project, and then lender Fifth Third Bank sold the loan to Ann Arbor-based Norfolk Development Co., who foreclosed on the note last year. The site plan for the original project has expired.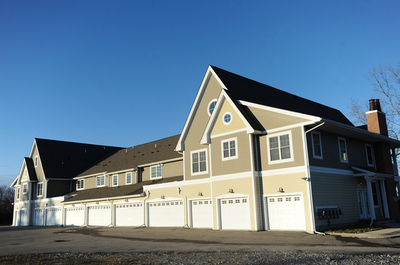 Melanie Maxwell | AnnArbor.com
Since Norfolk purchased the property, it has made aesthetic improvements, turned the condos into rentals and leased nine out of the 11 units. It also changed the name from West Towne Condos to Blue Heron Pond.
Now, the company is seeking city approval to finish building on the property.
The group wants to pare down Concannon's original plans: taking the 87 units down to 65, and decreasing the building footprints in an effort to provide more parking and open space. Each unit would also have an attached garage.
"We didn't think that there was appropriate space for accessory parking on site…it was too dense of a use," said Jim Franke of Norfolk Development Co.
Instead of condos, the development, if approved, would consist of mostly two and three bedroom rentals, according to city documents. Franke said rents would range from $1,500 to $1,800 per unit, which is the price range of the existing units.
He said the company has had success with leasing nine of the existing 11 units on the site, leading him to believe there is additional demand in the market.
"We have been extremely successful or lucky in getting rentals, or tenants, without any marketing at all," he said. "We think the demand is very high."
The project's architect is Brad Moore of J Bradley Moore & Associates.
There will be a citizens participation meeting for the project from 6:30 to 8 p.m. Oct. 15 at Weber's Inn Hotel on Jackson Road, during which the design team will solicit feedback and answer questions from neighboring residents. A revised site plan will then be submitted to the city and the plans will go before Ann Arbor's Planning Commission and City Council.
Norfolk has developed several residential projects in Washtenaw County, including Summerfield Glen, located just to the west on Liberty. It also has projects in Alabama and Tennessee.
Lizzy Alfs is a business reporter for AnnArbor.com. Reach her at 734-623-2584 or email her at lizzyalfs@annarbor.com. Follow her on Twitter at http://twitter.com/lizzyalfs.