Posted on
Thu, Nov 15, 2012 : 5:57 a.m.
Unity Vibration seeks to increase beer production, expand into new markets
By Katrease Stafford
Unity Vibration Living Kombucha Tea in Ypsilanti Township is expanding its reach across the country and increasing production to accommodate the growing demand for its products.
"We're expanding in the markets because we need to," said co-owner Rachel Kanaan. "We need to support our space."
To meet the need, Rachel and business co-owner Tarek Kanaan, her husband, are using a crowdfunding platform, indiegogo, to raise $60,000 by Nov. 18 to purchase the items they need to increase production. A portion of the proceeds from the campaign will go toward the local Ypsilanti-based nonprofit Growing Hope.
Unity Vibration is a three-year-old Kombucha Tea company and a one-year-old microbrewery. The products are composed of 95 percent organic ingredients and the beers are gluten-free, raw and vegan.
Unity moved into a new space at 93 Emerick Road near Ecorse Road in April. Unity is one of at least five new businesses to move into the Ecorse Road area over the course of the past several months.
"What we're trying to do is raise funds for a number of things," Rachel Kanaan said. "We only have 10 kegs right now. We're aiming at under 250 kegs. Kegs can be expensive. ... We would really appreciate people donating; it's for a good cause."
In the early days of the business, Tarek Kanaan said, they were limited to producing around 120 cases of the beer per month. Now, they produce on average 350 cases a month.
He said the goal is to produce the beer at full capacity, which would be 1,600 cases a month. "We want to be able to max out our capacity," Tarek Kanaan said. "In order to up the new markets, we need the inventory."
In addition to more kegs, which would allow them to reach more than 150 new and current retailers, Rachel Kanaan said the funds would also aid their plans to create a small cellar for aging barrels and a small tasting room. She said the 2,400-square-foot location is large enough to accommodate both.
"We've seen an increase in interest from people that are coming here to visit here from different states and out of the county who have enjoyed the beer," she said.
That increase in interest has allowed the company to expand the number of accounts it has in Michigan to 60 and to other states such as New York and California. Tarek Kanaan said the couple has also seen interest from a distributor in Maine. Locally, Unity Vibration products are offered in Whole Foods Markets, various food co-ops, wine specialty stores and smaller niche stores that serve people looking for vegan or gluten-free products.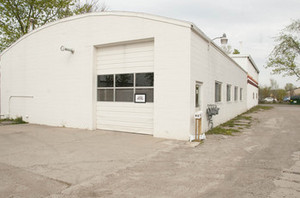 Tom Perkins | For AnnArbor.com
"We're meeting with a distributor from Florida," Rachel Kanaan said. "We get calls all of the time and we're looking at what's feasible for us. We definitely have intentions of spreading our message and products to as many places as possible.
"At some point, we'll have to slow down, but we're trying to fill that capacity and need. We like being small, but we definitely have bigger plans and we definitely want to keep growing."
When the business began, the only employees were Rachel, Tarek and one other part-time person working out of a house on Oak Street in Ypsilanti.
Now the couple has one full-time brewer and four part-time employees. Rachel Kanaan said as the business continues to expand, they may hire more.
"We would definitely hire more people or at least increase the part-time people to full time," she said. "There's definitely potential for that, especially when the distributors are ordering steadily."
Seeing the business evolve over the years has been rewarding for the couple, Rachel Kanaan said.
"We don't have a lot of time to think of our success, but it's really pretty amazing for us," she said. "It's really rewarding when we can go to a beer fest and see what the customers have to say. That's the best thing."
Rachel Kanaan said as a business owner, she has seen a momentum in creativity in the Ypsilanti area, with new businesses opening and current ones expanding.
"All these great shops are popping up," she said. "It's more of a destination ... It's a lot different than surrounding communities ... It's a really entrepreneurial city."
Katrease Stafford covers Ypsilanti for AnnArbor.com.Reach her at katreasestafford@annarbor.com or 734-623-2548 and follow her on twitter.