Posted on
Thu, Jun 3, 2010 : 1:36 p.m.
University of Michigan Credit Union buys ex-Ann Arbor News building
By Paula Gardner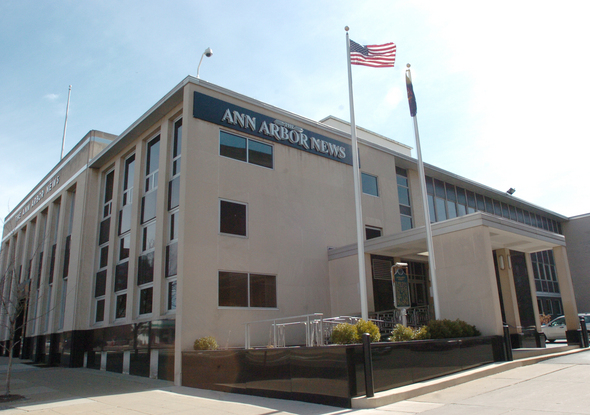 File photo | AnnArbor.com
The
University of Michigan Credit Union
finalized
its purchase of the former Ann Arbor News building in downtown Ann Arbor today.
Credit union officials said the 58,000-square-feet of office space in the building will become administrative offices for the credit union. None of its 7 branches will be closed.
"It's an incredible building," said Jeff Schillag, UMCU's vice president of marketing and community relations. "It really did fit our space needs very well."
An undetermined number of administrative staff will be moved to the building, Schillag said, with no timing determined yet.
However, the employees will come from offices in south Ann Arbor, the East William Street headquarters, and the branch on Jackson Road.
By moving employees from leased space into a building the UMCU owns, the credit union is getting more value for its operations costs, Schillag said.
He declined to release the purchase price of the building, which was listed at $9.3 million.
However, Schillag said, "we were able to take advantage of the record-low property prices" seen in Ann Arbor.
The credit union originally had planned to consolidate its adminstrative staff into a new building - possibly on land it owns behind its branch on Jackson Road - but Schillag said the purchase price was less than the cost of new construction.
According to a notice sent to credit union members, "After a detailed cost analysis, the current real estate market allowed your credit union to purchase the former Ann Arbor News building for around half of what it would have cost to build with the same square footage. In addition, the downtown location provides UMCU with great visibility and allows us to maintain our close proximity to the University of Michigan."
According to a statement from said Jeff Trapp, president and CEO: "By relocating our employees from leased properties and more effectively controlling our costs, we believe this purchase will be in our members' best long-term interest and will provide room for the credit union to grow."
The building in downtown Ann Arbor - located on the corner of South Division and East Huron Street - had been vacant since the Ann Arbor News closed in July. The building was owned by the Herald Publishing Co. LLC, which also has ownership ties to AnnArbor.com.
The building came onto the market in October, with co-listing broker Jim Chaconas of Colliers International describing the property as suitable either for an owner-occupant or a development opportunity.
"It's a beautiful building and a flexible building," Chaconas said this afternoon.
That flexibility will help the credit union make it into offices that will feel customized for them, he added.
The three-story, Art Deco office also came with adjacent parking and a second parking lot with an entrance a block north on Ann Street. The estimated market value based on the total assessed value of the combined parcels and building was $10.6 million.
In addition to the office space in the building, a pressroom remains in the lower level.
Herald Publishing paid just short of $170,000 in property taxes on the building in 2009, according to city records. The credit union - affiliated with U-M but a separate, member-owned non-profit - will pay property taxes.
Chaconas said three potential buyers emerged as serious contenders for the property. In addition to the credit union, one was a company looking to move downtown and the third was an Oakland County development team.
"It's nice to see the building stay locally owned," Chaconas said.
Co-listing broker Mike Giraud of Collier's represented the credit union in the deal.
The credit union has over 46,000 members and its net income was $1,852,573 in 2009, according to Schillag. It has about 130 employees, according to IRS filings.