Posted on
Thu, Feb 24, 2011 : 5:55 a.m.
Washtenaw County residential home values appear poised to level off, according to 2011 data
By Paula Gardner
The 2011 residential property assessments for Washtenaw County's municipalities paint a picture of still-falling home values that appear to be stabilizing in many communities after two years of double-digits drops.
No community in Washtenaw County lost more than 10 percent of its residential value, according to data released by the county's equalization department. In 2009, 14 of the county's 25 communities recorded double-digit value losses.
"I think our (housing) market is leveling off," said Raman Patel, the county's equalization director.
Three areas show increases in residential property values: Chelsea (0.8), Salem Township (2.6) and York Township (1.7), while two communities recorded minor drops in value: Ann Arbor (-0.5 percent) and Ann Arbor Township (-0.8 percent).
Hardest hit were three outlying townships: Augusta (-8.3), Manchester (-9.6) and Sylvan (-9.2). All three also posted steeper declines in 2011 than in 2010.
Even with those declines, Washtenaw County's changes in residential value — which overall averaged a 4-percent drop — compare favorably to Metro Detroit.
Steeper value drops were recorded in Wayne County (8.73 percent), Oakland County (7.5 percent) and Macomb County (9 percent).
"We still have a very good market compared to surrounding areas," Patel said.
The assessment changes reflect overall community trends based on home sales figures from 2010.
They offer a guide for homeowners and also set the taxable values for communities, so they directly impact tax collections. Homeowners will receive the new assessments this month and then have the opportunity to appeal them through Board of Review meetings in March.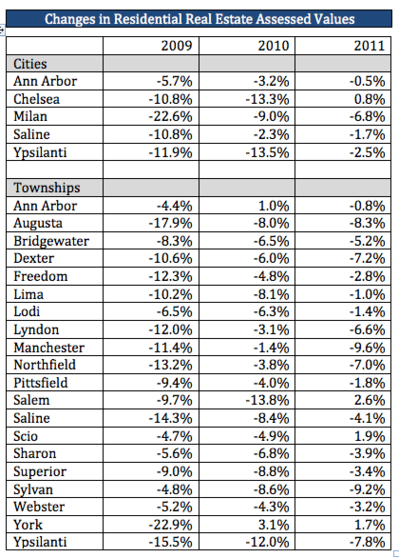 However, since the assessment changes reflect community averages, they are not indicators on individual homes or neighborhood trends, local appraisers caution.
The county data also excludes foreclosure and short sales, as well as any sale determined not to be "at arms' length," said Kurt Schmerberg of Affinity Valuation in Ann Arbor.
That means that homeowners in neighborhoods particularly affected by foreclosures would find more intense pricing pressures if listing a home for sale.
"There are pockets that are pretty heavily impacted by a tremendous amount of foreclosures," said Peter Hendershot, also of Affinity.
More pricing pressure will come this year as banks reactivate foreclosure proceedings, he added.
"There's a whole wave of foreclosures that have been pretty much mothballed" by banks, Hendershot said. "They're in the shadows. When they're going to hit, we don't know."
Hendershot said other market trends also point to local real estate stabilization in many communities. He's seeing high-end homes starting to sell, and the most active part of Ann Arbor is the west side.
He said he's watching three-year sales trends — including foreclosures and short sales — because the first-time homebuyer credit in 2009 and early 2010 yielded many sales at the lower end of the market.
In Washtenaw County, the average price per home in 2008 was $232,426. That fell to $201,264 in 2009. Then in 2010 it climbed to $209,353. That data represents 6,775 sales.
Meanwhile, last year's data from the Ann Arbor Area Board of Realtors show a median home sales price of $150,000, equal to the 2009 overall data. The median condo price in 2010 was $112,000, down from $115,000 in 2009.
Vance Shutes, a Realtor at Real Estate One, said he's seeing the overall stabilization in the market.
"There are some local regions that are doing better than others," he said. "And some neighborhoods that are flourishing and some that are languishing.
"But we seem to have arrested the slide of the last couple of years."
Shutes cited the example of Saline, where the average sales price is up 1.3 percent — following 2006-2009, when it dropped 25 percent.
He also said that homes priced to the market are selling, even with the foreclosure pricing pressures — yet he cautioned that homeowners can't yet expect to see overall prices climb.
The economy and jobs outlook will have to improve further before that happens, he said.
"There's steady demand and reduced supply, which economics say mean the price will go up," Shutes said. "But the wages (in the county) aren't there to support that."
Paula Gardner is Business News Director of AnnArbor.com. Contact her at 734-623-2586 or by e-mail. Sign up for the weekly Business Review newsletter, distributed every Thursday, here.