Posted on
Sun, May 29, 2011 : 5:58 a.m.
Why Detroit's revitalization is important to Ann Arbor (and how Ann Arbor can help)
By Nathan Bomey
The revitalization of Detroit is not a philanthropic initiative.
Dmason2006 | Dreamstime.com
Sure, Detroit would probably benefit from an influx of philanthropic dollars to force changes in the public school system — similar to efforts in
Washington, D.C.,
and
Newark, N.J.
And, yes, private investment in corporate infrastructure — much like investments by the DeVos, Van Andel and Meijer families in Grand Rapids — is also needed, and surprisingly missing, in Detroit.
But perhaps the most important element to sparking a turnaround in Detroit is regional collaboration.
And a key catalyst in that turnaround is Ann Arbor — its business community, its nonprofit leaders and, yes, the University of Michigan.
Regional business leaders, politicians, nonprofit executives and educators will gather Wednesday through Friday on Mackinac Island to discuss a variety of issues, including the revitalization of Detroit, at the Detroit Regional Chamber's annual Mackinac Policy Conference.
The conference's marquee panel event - historically called the Big Four —usually features the region's top four political executives: the mayor of Detroit and county executives from Wayne, Oakland and Macomb.
But for the first time this year, the panel is adding a fifth participant: Conan Smith, chairman of the Washtenaw County Board of Commissioners. It's a clear acknowledgment of Washtenaw County's role in leading a regional recovery.
Ann Arbor, to be sure, is a beacon of metro Detroit's economy — and that's not going to change. U-M is a constant source of world-class talent and technology, the entrepreneurial community is growing, the health care industry is rapidly adding jobs and the housing market seems to have finally stabilized.
Nonetheless, Ann Arbor stands to benefit from Detroit's recovery — a reality we need to grasp. And Detroit stands to benefit from a stronger Ann Arbor.
"By far the most important thing by far is for folks in Washtenaw County to understand that they're part of the metro Detroit region because that's still a struggle here," said Lou Glazer, president of Ann Arbor-based nonpartisan think tank Michigan Future. "That's No. 1. No. 2 is to understand that successful, prosperous regions are anchored by vibrant, central cities. What happens in the city of Detroit matters to the economic well being of people in the entire region, not just the city of Detroit."
In other words, we need to care about Detroit if for no other reason than our futures are intertwined.
"Ann Arbor is fantastic at drawing talented young people to Michigan," Smith said. "And yet we lose them all the time to Chicago, to New York, to L.A., to Austin, to D.C. And one of the big reasons we lose them is we don't have a strong core city that can offer them the vital urban experience that they're craving."
2011 Mackinac Policy Conference

The Detroit Regional Chamber of Commerce is hosting its annual Mackinac Policy Conference on Mackinac Island from Wednesday through Friday. One of the key issues to be discussed is the revitalization of Michigan's distressed urban environments, including Detroit. Watch AnnArbor.com for coverage of the conference by Business News Director Nathan Bomey.

Conference speakers include Michigan Gov. Rick Snyder, United Auto Workers President Bob King, Meijer Inc. President Mary Murray, Wayne County Executive Bob Ficano, Oakland County Executive Brooks Patterson, Michigan Future President Lou Glazer, U.S. Sens. Carl Levin and Debbie Stabenow, Detroit Mayor Dave Bing, Michigan Economic Development Corp. CEO Michael Finney and Ford Motor Co. Executive Chairman Bill Ford Jr.
Consider these 5 reasons why the future of Detroit matters to the future of Ann Arbor:
1. The physical restoration of Detroit means more jobs for Ann Arbor.
The construction industry is the obvious example of a sector that will benefit significantly from Detroit's revitalization, which will include demolition of thousands of abandoned homes and commercial buildings and construction of new developments.
But other companies — such as marketing firms, consulting agencies and technology service providers — could reap more business from a stronger Detroit.
Skeptical? Imagine this: What would happen to companies based in Evanston, Ill., home to Northwestern University, if Chicago were in disrepair? They'd be doomed.
If Detroit is "on the path to being a great city," as former Ann Arbor venture capitalist and Gov. Rick Snyder likes to put it, Ann Arbor's job market will improve.
Construction firms like entrepreneur Stewart Beal's Ann Arbor-based Beal Inc. — which is demolishing abandoned homes in Detroit, renovating houses and winning contracts for various renovation projects in Detroit — are already taking advantage of opportunities in the Motor City.
"That's the reason that my company has grown from one employee to now more than 150 employees," Beal said. "It's directly correlated with work that's going on in Detroit."
2. The construction of a new international bridge spanning the Detroit River and connecting Detroit and Windsor is critical to the vitality of the Ann Arbor area's manufacturers and shipping industries.
If we have any hope of fostering the creation of an "Aerotropolis," a cluster of shipping and logistics businesses surrounding Willow Run Airport and the Detroit Metro Airport, we need a second bridge over the Detroit River to manage projected increases in truck traffic.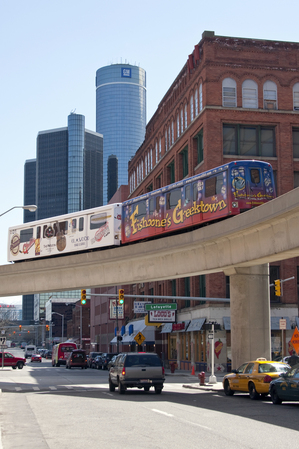 Steve Pepple | AnnArbor.com
And Canada has agreed to give us up to $550 million to pay for Michigan's half of the bridge — funding that can count as Michigan's required matching funds to ensure the continued delivery of U.S. roadwork dollars.
Companies in U.S. Rep. John Dingell's 15th Congressional District in 2009 sold $6 billion in goods to Canada, which underscores the importance of a new Detroit-to-Windsor bridge to the Ann Arbor region's business community.
3. The Detroit school system needs to be reinvented — and the Ann Arbor area's nonprofits, universities and businesses can help.
It seems blatantly obviously that the U-M School of Education, for example, could play a role in reshaping the dreadful Detroit public school system.
Other Ann Arbor groups are already contributing to the public school system's reinvention.
Michigan Future is launching eight new college-preparatory high schools in Detroit. It's a case study in how innovative thinking and a comparatively small pot of philanthropic funding can provide an alternative for students who are typically relegated to failing schools.
4. There are sure to be many opportunities for public-private partnerships, collaboration and consolidation of government services — and there's no reason why Ann Arbor and Detroit can't work together to achieve these.
The U-M Medical School recently revealed that it's in talks to provide forensic medical services for the Wayne County Medical Examiner's Office, which performs more than 2,000 autopsies a year. The deal — which must be approved by the Wayne County Commission — would save millions and provide invaluable skills to U-M students.
Ben Erulkar, the Detroit Regional Chamber's new senior vice president for economic development, said collaboration opportunities are abundant.
"The idea of regional collaboration needs to be moved in this region beyond lip service and towards programs with measurable results," Erulkar said. "One of my great goals is to ensure that happens between Ann Arbor and Detroit and vice versa. That would be — for me, for the chamber and for the region — something that could change the game in terms of Detroit's rebuilding and recovery and Ann Arbor's growth and reputation for being a hotbed for innovation and top-notch economic development."
5. An economically healthy, safe and cool Detroit would help Ann Arbor area companies attract talent because young professionals want to live in a region that has a vibrant major, urban destination.
Research conducted by Michigan Future shows that about 11 percent of Michigan's top college graduates leave for Chicago — our top regional nemesis by far.
But if Detroit could channel just a bit of Chicago's allure, it would be easier for Ann Arbor tech companies to convince talented young people to stick around to work here.
"People in Ann Arbor have got to understand that that having a vibrant Detroit matters and the main reason it matters is young professionals' increasing preference, before they have kids, to live in central cities," Glazer said. "So if Detroit doesn't work, they're going to Chicago. Period."
Contact AnnArbor.com's Nathan Bomey at (734) 623-2587 or nathanbomey@annarbor.com. You can also follow him on Twitter or subscribe to AnnArbor.com's newsletters.