Posted on
Fri, Jun 3, 2011 : 1:24 p.m.
A view from a front-row seat as 'Five Year Engagement' hits Ypsilanti
By AnnArbor.com Freelance Journalist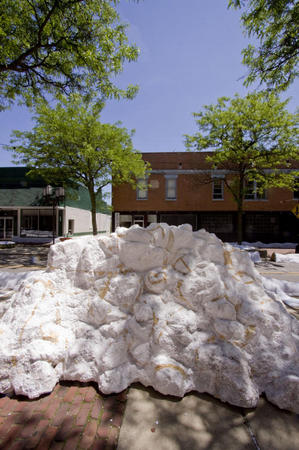 photo by Jordan Griffin | For AnnArbor.com
Related story: "Five Year Engagement" prepping for evening shoot in downtown Ypsilanti
AnnArbor.com contributor Jordan Griffin has an up-close view of the "Five Year Engagement" movie filming in Ypsilanti this week:
While many Michiganders have acclimated to the burgeoning film industry in the state, a full-fledged set production outside your bedroom window is still quite an enthralling surprise.
Early Thursday morning, flatbed trucks delivered dozens of wooden barrels covered in cottony Christmas fluff and lined the curbs of Washington Street between Peal Street and Michigan Avenue in downtown Ypsilanti. Although the film crew of "The Five Year Engagement" used the genuine Michigan snow back in March for winter scenes, there's clearly no authentic powder these days.
I live in a loft apartment on this block, and my lucky geographic location has provided me a unique bird's-eye view of the entire production.
Mid Thursday afternoon I went for my mail and snapped a few discreet shots of the snow scape installation before I was coaxed away by vigilant security personnel. Many passers-by were intrigued, as well as diners enjoying the free show at Beezy's Cafe.
Ann Arbor has had its fair share of the limelight in this particular film over the last few months, and I was curious if this was Ypsilanti's big debut. Although many local companies are employed to help with movie productions, a snow-installer offered a simple answer to my inquiry: "This is my first time here…I'm from L.A."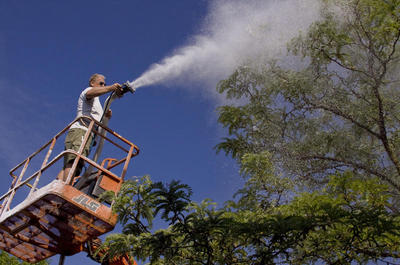 photo by Jordan Griffin | For AnnArbor.com
Friday morning, a lift hoisted a man armed with a hose that sprayed hundreds of gallons of pulverized white paper onto trees lining the street. The wind driving the snow made for a glittering, winter wonderland feel as it floated to the sidewalk. Patrons from Beezy's huddled together outside in flip flops and tank tops for group photo ops in the Washington Street snow globe.
The snow scene will be filmed this evening and is projected to last until early Saturday morning. In case you weren't aware, Pub 13 would have offered a perfect vantage point (aside from my apartment, of course), but its doors have been closed since late last November due to an outstanding debt to DTE. Thankfully, the Tap Room could be a viable option to get close to the action, and the Bacardi and Bell's beer specials aren't too shabby either. Try to get there early to nab a table outside and watch the show.
Jordan Griffin works in Ann Arbor and resides in Ypsilanti.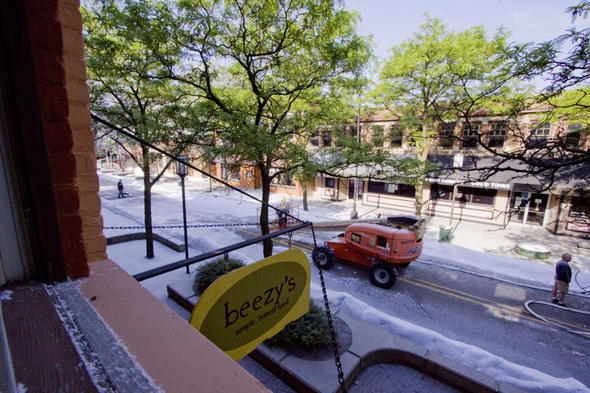 Jordan Griffin | For AnnArbor.com