Posted on
Wed, Feb 29, 2012 : 8:59 a.m.
Ayse's offers delicious, satisfying tastes of Turkish cuisine
By Kim Bayer
Entering Ayse's Turkish Cafe, just off Plymouth Road in Ann Arbor, is a moment of cognitive dissonance. Your eyes are telling you that you're at the back of a low-slung strip mall, but your nose is telling you that you're in the Cappadocian home of someone cooking onions, exotic spices and savory meat for dinner. Both are correct.
As you walk in, you'll notice art on the walls, fresh flowers on the tables and a refrigerated case filled with home-cooked desserts and vegetarian dishes (like eggplant stew and pasta with cheese) in front of you. The whiteboard above the case lists about a dozen of the day's specials, things like eggplant karniyarik, red pepper lamb dolma, sultan's moussaka and macaroni with ground lamb. This is where you place your order with the smiling and friendly owner, Ayse Uras.
Ayse's Turkish Cafe doesn't have printed menus because Uras, also head chef, writes out what she's cooking just before lunch and before dinner. The list on the whiteboard is a representative subset of what's on the website. Uras says she likes to cook according to what's she able to get from her butcher and the market. From April to the end of October, she says she prefers to shop at the farmers market, basing her menu on what's in season. But always there's eggplant — in eggplant moussaka, stuffed baby eggplant and a kind of Turkish ratatouille.
RESTAURANT REVIEW
Ayse's Turkish Cafe
1703 Plymouth Road, Ann Arbor, Michigan 48105
734-662-1711
http://www.aysesturkishcafe.com
Hours: Monday thru Friday: Lunch: 11 a.m.-2 p.m. Dinner: 5-9 p.m., Saturday 5-9 p.m., Closed Sunday
Plastic: Visa, Mastercard
Liquor: Wine, beer and Turkish Raki
Prices: Moderate. Entrees are $10-$23 for dinner
Noise level: Quiet
Wheelchair access:Yes
As a secular Muslim, Uras doesn't cook pork. Instead, many of the dishes at Ayse's include lamb, with a few beef, chicken and fish dishes too. She says she buys her lamb from the Jerusalem International Market next door, and from the local Hannewald Lamb farm in Stockbridge. Because Uras does the shopping herself, she's able to tell customers if the meat that day is halal or not.
It's clear that Uras takes pride in knowing every ingredient in her dishes. Not only can she say whether the meat is halal, she can also tell customers with food allergies whether a dish, many of which are already gluten free or vegan, is safe for them.
A traditional Turkish meal begins with soup, and Ayse's offers two vegetarian soups daily. One of those is always the house red lentil soup, of which Uras says, "Every customer loves it!" The texture of the mildly spiced vegan red lentil and rice pottage is soft and creamy. A sprinkle of warm, brick-red sumac powder on top contrasts nicely with the soft orange color and nutty taste of the soup.
The cold yogurt soup with chopped cucumber and lots of garlic was not quite as appealing. It's a simple soup, perfect for hot weather. But the day I tried it there was a mild plastic flavor that detracted from the fresh cucumber and lactic tang of the yogurt.
The entrees we had were delicious. As I ordered the moussaka, Uras was careful to tell me that this was the Turkish version of the eggplant and lamb casserole, and that it did not have the white sauce of the traditional Greek version.
Indeed, it was a lighter version of the Greek classic but every bit as good. Thick slices of silky eggplant were layered with ground lamb in a tomato based sauce with hints of warm spices and olive oil, sprinkled on top with parsley.
Uras had recommended the bulgur pilav as the proper accompaniment for the Moussaka, and she was right. The pilav, tender grains of wheat cooked with sauteed bits of peppers and onion and a little tomato paste, was spiked with just a little mint — enough to surprise your tongue.
Uras explained to us that she used to only make the long-cooked lamb shank on the weekends, but it was so popular that she decided it deserved a spot during the week. I'm glad she did.
The shank is rubbed with a secret mix of herbs before slow cooking to melting tenderness. The mild, falling-off-the-bone lamb is served in classic combination with white beans in a tomato-based sauce. In fact, those fat little beans were my husband's favorite part of the meal — he said they were so savory it was like having another meat on the plate. Uras recommended the rice pilav, long grained white rice mixed with vermicelli, to accompany the lamb.
At dinner, each entree is served carefully, unadorned with extraneous sprigs. Portions are so generous that I had to restrain myself from finishing the moussaka to save room for more desserts.
I love it when restaurants have interesting desserts. My low bar for "interesting desserts" is anything other than chocolate mousse, creme brulee and tiramisu — that tired triumvirate on nearly every menu.
Ayse's has a lot of interesting desserts. Many are pudding-ish, though not necessarily milk-based, and served cold in a cup or a bowl. We didn't get to try Alice's Pudding, made with chocolate and figs but learned that Uras named it after a longtime customer who comes in nearly every day.
Noah's Pudding is a classic Turkish dessert, vegan, with many ingredients, like cracked wheat, chickpeas, figs, apricots, walnuts, rosewater and pomegranate seeds. Uras told us that "Noah" refers to Noah's Ark, and the pudding is supposed to reflect the collection of everything in the Ark. Like a granola bar in a cup, it was very sweet, packed with dried fruit, grains, and nuts. I enjoyed the hint of rosewater and the novelty of flavors and textures I don't expect together.
The House Pudding was a mild milk pudding thickened with nubbly semolina and swirled with cocoa. This dessert made me think of the best-ever cream of wheat marbled with Cocoa Wheats.
Since we don't usually eat uncamouflaged members of the squash family as dessert, I thought the most unusual sweet for the American palate was the butternut squash, large chunks of tender butternut almost candied in a clove-scented syrup with walnut pieces on top.
Perhaps my favorite of the desserts we tried was the kadayif. Reminiscent of baklava, squares of Ayse's kadayif are made up of thin, shredded wheat-like pastry strands which Uras called "shredded phyllo." In Turkish recipes, a portion of the string-like kadayif pastry is spread on a metal plate, covered with crushed nuts, usually walnuts or pistachios, and topped with the remaining pastry. After a sprinkling with melted butter, it's baked until golden, and finally soaked in a sugar syrup. Uras says she adds lemon to her sugar syrup. I loved the combination of rich, gooey crunchiness.
Like all the food, the desserts are cooked in-house and very fresh. The pride and enthusiasm for home-style cooking is one of the things that impressed me most about Ayse's Turkish Cafe. Uras told me "the food we're trying to make is very, very home cooking. The things we grow up with. I don't make the kebabs or grilled things that you find in the restaurants. These are the things we can find in the houses. That's how I grew up."
The attempt to give an authentic experience of Turkey extends also to the beverage selection. Ayse's offers a selection of Turkish tea, coffee, juices, sodas and Turkish Raki, an anise-flavored liquor sometimes called the national drink. Uras's home region of Central Anatolia is known for grape-growing, and Ayse's offers Turkish wine and beer options as well.
Not only was the service at Ayse's prompt, courteous and thoughtful, but it is very clear that it's not the typical generic experience where you have no idea who is in the kitchen. Uras says, "Sometimes people call and say they're coming in this day, and ask if I'll have something in particular. Often, I can make it for them — it's fun, and more personal that way."
While we were there, my glass of Turkish tea was refilled every time it was empty and the young servers were helpful in answering questions. Though not necessarily experts in the traditions and cuisine of Turkey, they were quick to get answers if they were unfamiliar.
Ayse's Turkish Cafe is far from the Central Anatolian "land of fairy chimneys and underground cities" where Ayse Uras's hometown of Cappadocia is located. But after cooking in her location in back of the Courtyard Shops off of Plymouth Road for the past 18 and a half years, she still says, "If my customers knew how much I love cooking, they would ask me to pay them."
It's easy to tell that the food at Ayse's is made with love, but I hope that her customers don't find out just how much.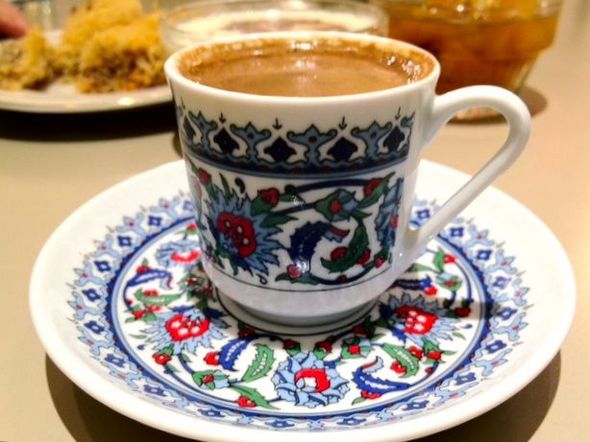 Photo | Kim Bayer
Kim Bayer is a freelance writer and culinary researcher. Email her at kimbayer at gmail dot com.