Posted on
Sun, Jul 10, 2011 : 5:52 a.m.
Reading light summer romance without Asians, Asian Americans, or people of color
By Frances Kai-Hwa Wang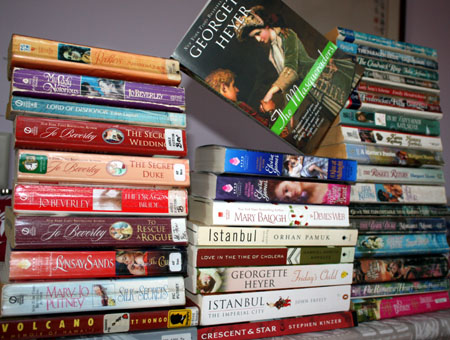 My daughter's library books for this week. | photograph Frances Kai-Hwa Wang
While looking for light reading material for a recent airplane ride, I grabbed a pink book with a naked male torso that I vaguely recalled picking up at the King School Book Fair for 50 cents. I read the back cover, I read the first page, I randomly flipped through the book, and I could conjure up no memory of actually having read the book, so I stuck it into my carry-on, well within my 22-pound limit.
Although I usually prefer writers like Richard Rodriguez and Andrew Lam, not to mention Literature with a capital L, it's summer, it's an airplane, and I want something light and easy and with a happy ending. I have an equally embarrassing secret weakness for watching bad romantic comedies on the plane this time of year, too.
(I was sorely disappointed to realize at 35,000 feet that I had indeed read this book before, but it was so terrible that I could not remember how it turned out, so I had to read it all the way to the end a second painful time).
Summer is the season for light romantic comedies, and because there typically are no Asians cast or written into these stories, I can, ironically, go "off-duty" regarding race and culture for a moment and indulge myself in the great American illusion that the white experience is "universal." It can actually be extra-hurtful to accidentally encounter an "Asian" character (like Mickey Rooney's character in "Breakfast at Tiffany's") when I am in this mode because I thought I was safe.
When one of my daughters was recently criticized for the sexy content in the Japanese manga she read, her response was, "Have you seen the romance section at Borders lately?"
Unable to resist a challenge (hereditary?), she started reading bad romance novels with a vengeance — historical romances set in mid to late 1800s England with titles like, "Love is in the Heir," "Taming of the Duke," "Sin and Sensibility," "Just one of those Flings," "The Naked Viscount," "The Naked Marquis," "The Naked Earl," etc. She has huge stacks of these books standing guard around her bed, and she plows through them at torrential speed, all the while complaining about their poor comma usage and bad grammar mistakes.
Sometimes I sit on her bed and flip through them, and I am shocked at how risque these books are. I never read anything so dirty in my entire life. Even while my breathing quickens and my bosom begins heaving, I groan to think how much time women spend trying to unlearn these fairy tale fantasies, and here she is filling up her brain with all the worst romantic illusions at such an impressionable age. (Update: Oh no! In a recent academic journal, romance novels are now blamed for women's relationship problems; they are said to be as addictive for women as pornography is for men. Now they tell me #romancekills.)
I bemoan all those years I read her empowering stories of powerful and active girls — able to tame the dragon, save the kingdom and rescue the prince. I wonder about all that time we spent searching for smart and spunky Asian American heroines like herself.
And yet, my children have learned how to read and interpret even the most bizarre characterizations. They show me the Asian and Asian American characters in "Grapes of Wrath" and "Catcher in the Rye" that I never noticed when I was in high school. When I show them Neelanjana Banerjee's review of Jonathan Franzen's heralded Great American Novel, "Freedom," criticizing his portrayal of an Indian American woman character, they understand.
At the Ann Arbor Book Festival last month, the incredible Laura Pershin Raynor and the Family Learning Institute received awards for being "Leaders in the Literary Arts." Pioneer High School teacher Jeff Kass said that there was no one citizen more important in our city than Laura Pershin Raynor, librarian and storyteller extraordinaire who teaches our children to love stories and the importance of storytelling. Thanks, Laura.
This article has been updated with a photo and to correct a typo.
Frances Kai-Hwa Wang is a second-generation Chinese American from California who now divides her time between Michigan and the Big Island of Hawaii. She is an editor of IMDiversity.com Asian American Village, lead multicultural contributor for AnnArbor.com, a contributor for New America Media's Ethnoblog, and a contributor for Chicago is the World. She is on the Advisory Board of American Citizens for Justice. She team-teaches "Asian Pacific American History and the Law" at University of Michigan and University of Michigan Dearborn. She is a popular speaker on Asian Pacific American and multicultural issues. Check out her website at franceskaihwawang.com, her blog at franceskaihwawang.blogspot.com, and she can be reached at fkwang888@gmail.com.