Posted on
Tue, May 14, 2013 : 5:21 a.m.
Carol Dunitz's 'Bernhardt on Broadway' to be staged at Vinology
By Jenn McKee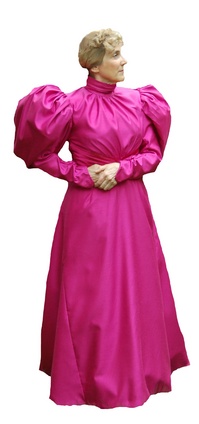 Ann Arbor resident
Carol Dunitz
will perform her one-woman musical,
"Bernhardt on Broadway"
- which Dunitz last
staged locally in January 2012
- at
Vinology
on Sunday, May 19 at 4:30 p.m.
Full details appear in the press release:
Vinology will host a performance of "Bernhardt on Broadway," the musical about Sarah Bernhardt, starring Ann Arbor resident Carol Dunitz on Sunday, May 19th at 4:30 p.m. Tickets are $25 with a two drink minimum and are available by calling Vinology at 734-222-9841. This performance will be followed by the Manhattan Premiere in June at the Metropolitan Room.

Before mass media and modern travel, Sarah Bernhardt ingeniously master marketed her meteoric rise to superstardom. She was the world's first superstar. Before Lady GaGa and Marilyn Monroe posed nude for national magazines, and Janet Jackson "accidentally" bared one breast at the Super Bowl XXXVIII halftime show, Sarah Bernhardt shamelessly posed nude for renowned 19th century photographer Felix Nadar while still in her teens.

… Mark Twain punctuated Sarah Bernhardt's Avant Garde status when he identified five kinds of actresses: "bad, fair, good, great - and then there is Sarah Bernhardt." Nicknamed 'The Divine Sarah' by Oscar Wilde, Bernhardt was the undisputed queen of theatre during her lifetime. It is said she almost single-handedly revolutionized the place of women in the theater. Her bravery and bold abandon has become the archetype of successful women to this day.

"Bernhardt on Broadway" is a no holds barred expose about the daughter of a courtesan who overcame countless obstacles to become the most famous woman in the world. Now, almost a century after her last apearances in the United States, audiences can once again experience the wonder of Madame Sarah in the one-woman musical, Bernhardt on Broadway. The show opens with Bernhardt welcoming the audience to her drawing room, a warm and cozy setting for the audience to become rapt in intimate self-disclosures via story and song about the actress' legendary life.

Playwright, composer, lyricist and lead Carol Dunitz read close to 100 books and countless articles and reviews on Sarah Bernhardt before writing Bernhardt on Broadway. Ann Arbor resident Dunitz graduated from the Universtity of Michigan and holds a Ph.D. in Speech Communication and Theater from Wayne State University. She is the author of nine books in addition to Bernhardt on Broadway. Her love of musicals dates to her childhood when her mother, who often told her she was 'a little Sarah Bernhardt,' took her to see Gypsy.
Jenn McKee is an entertainment reporter for AnnArbor.com. Reach her at jennmckee@annarbor.com or 734-623-2546, and follow her on Twitter @jennmckee.