Posted on
Fri, Jun 7, 2013 : 8:25 a.m.
Cinetopia gets postive reviews on opening night, continues all weekend
By Jennifer Eberbach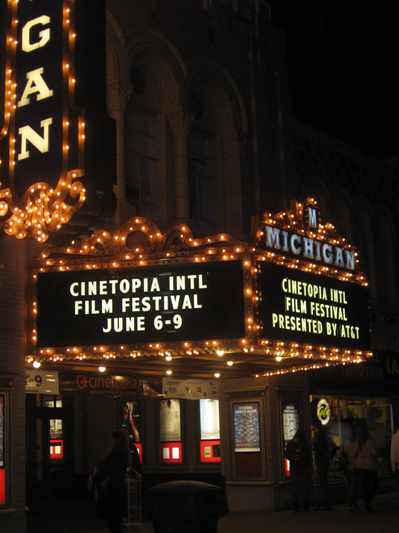 Opening night of
Cinetopia International Film Festival
was a hit. The growing annual event, just in its second year, is already drawing a large and enthusiastic audience. And it was only day one.
Over the course of the weekend, through June 9, more than 40 feature-length films selected from big film festivals around the world will be screened at Ann Arbor's Michigan Theater, State Theater, UM's Angell Hall, and the Detroit Film Theatre at the Detroit Institute of Arts.
At an opening night after-party hosted by the Michigan Theater, audience members sounded off their impressions. They all had really positives things to say about their Cinetopia experience. The general vibe was that people want more where that came from.
Friends Martin Fischhoff and Milton Curry, who work at U-M, saw French comedy "Let My People Go!" at UM Angell Hall on opening night. The film will play again at the State Theater June 9 at noon.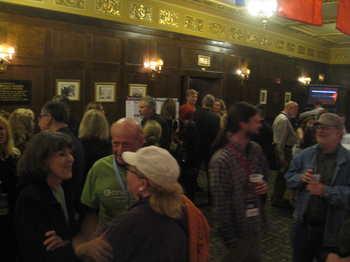 Looking around the packed Michigan Theater lobby, Fischhoff commented; "There is obviously a lot of demand for something like this. People want to have a choice of dozens and dozens of independent and art-house movies. I hear a lot of buzz about it. It's only in its second year and it's already a big tradition."
Fischhoff was out of town last year, "but I heard nothing but great reviews when I got back. I made sure my schedule was clear this weekend to get the total Cinetopia experience."
Curry added; "I came last year, and I think Cinetopia is developing well. It went from 20-some odd films to over 40. And they are engaging Detroit. I think, as they engage more of the region, it will be incredible to expand the number of films and the number of sites with potential audiences."
Mary King of Ann Arbor saw 11 films at last year's debut. Now she is shooting for 14.
King is impressed with the variety—dramas, comedies, love stories, documentaries, and more. "These are polished films, but they're still cutting edge. They haven't been big releases yet. So, I get the feeling that we're getting to do a sneak preview of something that just might hit the masses," she said.
King, along with David Reynolds of Ypsilanti and Shirley DuPrey of Belleville saw one of the 3 films screened on opening night—Canadian thriller "Haunter", starring Abigail Breslin. It showed at the State Theater, on Thursday night, including a special Q & A session with writer Brian King.
"Haunter" will screen again on June 8, beginning at 7 p.m. at the Michigan Theater.
Reynolds came back for more after attending last year. "My hope was that it would grow enough to continue. It was so much fun that I wanted this to be something I look forward to every single year. There was a lot of variety last year, and I'm really looking forward to that this year," he said opening night.
As for the ghost story "Haunter," DuPrey liked that "it was the subtle things that scared you, like in old time horror movie techniques," she said. Nothing is gory, they said.
Tom and Kathy Cotter came from Dexter to relive the memorable Iggy and the Stooges concert, "A Tribute to Ron Asheton," which was filmed live at the Michigan Theater in 2011. The recently released DVD of the show made its world debut there this Thursday. Sister of the late musician Kathleen Asheton made a special guest appearance.
"A Tribute to Ron Asheton featuring Iggy and the Stooges" will screened again, on June 9 at 7 p.m. at Detroit Film Theatre at the DIA.
The Cotters' first time at Cinetopia, they were drawn in because they were at the historic 2011 reunion concert. "It was awesome to relive it," Kathy Cotter said after the screening. The incredibly high-energy, ruckus show (one of the best I myself have ever attended, hands down) was mostly as she remembers it, "except I remember more crowd surfing. Maybe it got cut or maybe I just remember it that way," she laughed. She brought her copy of the DVD just in case Iggy Pop were to show up and give out autographs, but no luck.
Coming to opening night made them interested to see more of the over 40 films showing this weekend.
"We have been looking at the line-up," leading up to opening night, Tom Cotter said at the after-party. "I wasn't aware it was such a big festival with so many venues and so many films," he says. But now that they are in the know, they plan to return for more.