Posted on
Tue, Feb 28, 2012 : 11:29 a.m.
Yahoo! Screen launches with Bill Maher's snarky, political, funny 'CrazyStupidPolitics'
By Ryan Levin
Bill Maher's comedy is divisive, partisan stuff. The comedian and HBO talk-show host wades waist-deep into national politics and splashes around gleefully, mixing current events and vitriol, firing arrows at the well-dressed figures on our political stage. He's unabashedly forward about his views and rails stalwartly against the people with which he disagrees.
Maher's not a satirist. And in his stand-up specials, he's not an especially convincing arguer or debater of finer points. He's not trying to be.
His is cathartic comedy for people of a particular political mind. If you're listening, chances are you'd align yourself politically somewhere alongside Maher's lefty, progressive views.
Otherwise I can hazard a guess you'll not find this very funny.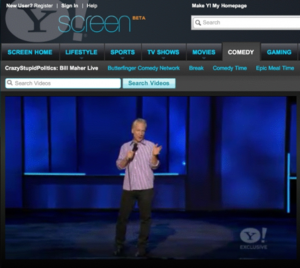 Maher's newest hour-long stand-up special is "
CrazyStupidPolitics
," airing originally live on Yahoo's new video streaming service,
Yahoo! Screen
, and
now available in its unedited, NSFW entirety
on that same network. Yahoo! is aiming to compete in the video on-demand market in part as an effort to make itself relevant again, in an age where their primary competitor is so pervasive its brand name has
become a verb
.
The service, Yahoo! Screen, is a mix of original programming and linked video content. It's a hub of Internet video, similar to Hulu.com and the various video streams available on ABC.com, ComedyCentral.com and others. Maher's comedy special was part of the page's launch celebration.
Maher and Yahoo! might be part of a growing trend of moving original programming onto the Internet (particularly comedy), set in motion, in part, by Louis CK earlier this year with "Louis CK: Live at the Beacon Theater." Or it's a coincidentally similar marketing scheme to differentiate their particular product from their previous efforts and the cacophony of stand-up comedy being released these days. You decide.
Either way, "CrazyStupidPolitics" is a free hour of Maher's political stand-up comedy, designed to titillate fans and amuse those with which he'd agree and irrationally anger whomever identifies with the antagonized side of his political spectrum.
This may be the easiest criticism of Maher's work: how it's so ingrained in national politics that if you hate political discourse you'll have no taste for him. And I reinforce my qualification of "anger" with "irrationally" because, seriously, it's just comedy. While Maher presents more nuanced—if no more friendly—arguments on "Real Time," his stand-up specials are an hour of jabs and scorn heaped upon his political enemies.
No punches land lightly but you wind up with some great lines like: "you can have my freedom when you pry it from my jobless, cancer-ridden body" in regards, obviously, to conservative critics of President Obama's health care and stimulus initiatives.
Comparisons to Jon Stewart and, to a lesser extent, Stephen Colbert of Comedy Central are inevitable and, I'd venture, revealing. To break out of my pseudo-objective reviewer veneer for a second, I am a die-hard supporter and cheer-leader for the satirical, political work the Stewart/Colbert team puts on the air. Though they follow in a long-tradition of American satirists, the programs they air four times a week are one-of-a-kind and one of the few cultural products I can say I am glad to have been alive to see in their prime (among moments I wish I had been alive earlier to witness are, say, the heydays of musicians Bob Dylan and Tom Waits).
Stewart and Colbert are masters of the montage. On their shows, they let absurdity and fraud speak for themselves by putting them up against the video evidence of contradictory reality. They are astoundingly powerful critics of cable news as can be seen here, in a video that, though edited for TV, is like a lot of modern American satire and comedy, very probably NSFW.
Bill Maher, in comparison, is to my taste a touch too acidic. He joins wholeheartedly in the political fray, mocking, demonizing and generalizing his opponents without an attempt to find common ground or partial reconciliation.
Still, though it's feisty and though its point of view is unapologetically uncompromised, I found myself laughing in spite of my qualms about "CrazyStupidPolitics." And that, I think, speaks to the comedic prowess of Bill Maher and the psychological impact of one speaking his or her own mind without reservation. Agree or vehemently disagree, Maher knows makes an impact. And makes it funny.
Ryan Levin is a film and television blogger and a graduate of the University of Michigan's Screen Arts and Cultures program. Find his previous review of "Ghost Rider: Spirit of Vengeance" here on AnnArbor.com.