Posted on
Wed, Feb 10, 2010 : 10:36 a.m.
Ellen comes to Idol; Aerosmith's future; local Bad Plus video; and more
By Bob Needham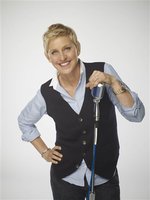 Last night, the highly anticipated, earth-shaking moment finally arrived as
Ellen DeGeneres
started her stint as a regular host on "American Idol."
EW.com's thorough and nicely opinionated recap is here, and People.com weighs in here. And it turns out Ellen has quickly made a convert of MTV.com's "Idol" blogger. Meanwhile, Sarah Silverman, who's suddenly very talkative now that her show is back on TV, says she's worried about the end of the Simon Cowell era.
All this, and only the first night of judging. Can you stand it?
Believe it or not, that's not all the entertainment news this morning:
MORE TELEVISION
• Tuesday night is also "Biggest Loser" night, and the final episode before the Olympics take over NBC had an Olympic theme. Here's our AnnArbor.com recap, and here's the video recap on MLive from Pete Thomas, an Ypsilanti resident and former contestant. And EW.com's extensive rundown is here.
• But wait! That's not all! Another new episode of "Lost" premiered last night as well, and here's a quick summary of the action. Given the episode's focus on Kate, the Los Angeles Times' "Show Tracker" blog has some thoughts on missed opportunities for the character, while BuddyTV has some comments on the episode itself. If you missed anything, catch up on the show's official site.
• What's the over-under for how long this will last? Tiger Woods mistress Rachel Uchitel has landed a job on "Extra."
• MLive.com reports on a new Snickers commercial featuring Aretha Franklin that was filmed in the Detroit area.
• "Deadliest Catch" captain Phil Harris has died after a stroke.
MUSIC
• The White Stripes aren't happy about the use of a rerecorded "Fell in Love with a Girl" in a commercial for the Air Force. But the Air Force says it was supposed to be an original composition, and they've now pulled the ad. And in an equally bizarre function for White Stripes music, it's going to be used in a ballet.
• Lil Wayne's sentencing scheduled for yesterday was postponed, due to ongoing dental treatment. What, no dentists in jail?
• The initial lineup for Tennessee's summer Bonnaroo festival has been announced, including Jay-Z and Stevie Wonder.
• Things continue to be ugly between Steven Tyler and the rest of Aerosmith. A SodaHead blogger thinks carrying on without him is just nuts. But even if they do, rest easy: Sammy Hagar's not interested.
• AP reports that Beyonce and Alicia Keys are filming a video in a slum in Rio de Janeiro.
MOVIES
• Tom Cruise will star in Mission: Impossible IV, with a release date planned for Memorial Day 2011.
• Fox has OK'd a movie version of "24." What I don't get is — will it be 24 hours long?
BOOKS
• Anne Rice is working on a video-book version of "The Master of Rampling Gate." Meanwhile, the author thinks angels are the new vampires.
ONLINE
Finally today, a fantastic video to share, thanks to the University Musical Society: Backstage in Ann Arbor with the Bad Plus, who played two shows here last week (and here's the review from AnnArbor.com, if you missed it). A couple of highlights from the video: lyrics for the "Hill Street Blues" theme song and a talking bear-shaped honey jar.
Renee Tellez contributed to this roundup. Bob Needham is director of entertainment content for AnnArbor.com. Reach him at bobneedham@annarbor.com or 734-623-2541, and follow him on Twitter @bobneedham.