Posted on
Sun, Jul 11, 2010 : 5:43 a.m.
Paul Klinger's Easy Street Jazz Band marks 40 years of Dixieland
By Roger LeLievre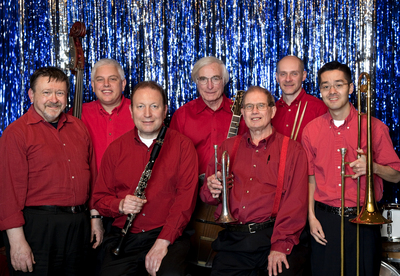 In the world of jazz, musical groups come and go, form, reform and shuffle players with amazing regularity. So it's especially remarkable that Ann Arbor's Easy Street Jazz Band is gearing up to celebrate its 40th anniversary.
The traditional jazz / swing ensemble, led by cornetist / soprano saxist Paul Klinger, will play a celebratory show of Dixieland music Tuesday at Zal Gaz Grotto.
"Jazz bands don't last that long," Klinger observed. "It's pretty noteworthy. We don't know exactly the particular day the band was formed. I'm sure there was a first gig, but nobody remembers it.
"We were all involved in other bands. I played at (downtown Ann Arbor bar/restaurant) Bimbo's for many years; I was part of a Detroit based band called Mother's Boys that started about 1965. And everything overlapped. Sometime in 1970 was the start; we just generated a date to celebrate it," he added.
Klinger said the group took its name from the Ann Arbor thoroughfare where he lived. "My folks built the house on Easy Street when I was in junior high. Then I went to the University of Michigan. I've always been in Ann Arbor; I never lived anywhere else. I'm a real townie, but a gownie too, because I worked for the U-M (he retired as a research associate at Mental Health Research Institute in 1999).
PREVIEW
Easy Street Jazz Band 40th anniversary party
Who: Paul Klinger, Paul Keller, James Dapogny, Rod McDonald, Pete Siers, Chris Smith and Mike Jones.
What: Dixieland music from this popular, long-running Ann Arbor jazz band. Expect tunes by Jelly Roll Morton, Scott Joplin, Fats Waller, Duke Ellington, George Gershwin, Hoagy Carmichael and more. A dessert buffet is also planned in honor of the group's 40th anniversary.
Where: Zal Gaz Grotto, 2070 West Stadium Boulevard.
When: 5:30- 8:30 p.m. Tuesday, July 13.
How much: $10. Info: 734-663-1202.
He estimates that as many as 150 musicians have played or sat in with the band over the years, and said he expects several of them to be on hand Tuesday.
The Easy Street band continues to draw on the work of their musical heroes, Jelly Roll Morton, Scott Joplin, Fats Waller, Duke Ellington and James P. Johnson, as well as composers of great American popular songs such as George Gershwin, J. Fred Coots, Hoagy Carmichael, and Walter Donaldson.
Its regular spot, for 10 years beginning in 1988, was Friday afternoons at the Bird of Paradise jazz club. They continued this successful Friday Dixieland happy-hour tradition for another 10 years at the Firefly Club. Last year, after the Firefly Club closed, the ESJB moved to a new home and now play Tuesdays from 5:30-8:30 p.m. at Zal Gaz Grotto.
In addition to Klinger, the original 1970 Easy Street Band included pianist Ed Metz Sr., drummer Ed Metz Jr., trombonist Al Winters, and clarinetist Pete Ferran. Pianist James Dapogny and guitarist Rod McDonald joined the ensemble shortly thereafter.
After all these years, Klinger, Dapogny and McDonald remain active charter members of the ESJB. Today's version of the Easy Street Jazz Band also includes string bassist Paul Keller, drummer Pete Siers, trombonist Chris Smith and clarinetist Mike Jones, all familiar names to jazz lovers throughout Michigan. Other musicians who have enlivened the ESJB over the years are trombonists Chuck Moss, Dennis Wilson and Terry Kimura; drummers Van Hunsberger, Cary Kocher, and Steve Fentriss; and vocalist / Firefly Club owner Susan Chastain.
Keller, who has played in the Easy Street Band for 15 years, agreed that is unusual for a jazz band — or any band for that matter — to stay together for so long.
"Sometimes (bands) last a few weeks or a few years, but 40 years of keeping something like this together says not only a lot about Paul Klinger and his devotion to the music, but it also says a lot about the Ann Arbor community and how much they love and appreciate what Paul is doing," Keller said.
Klinger, Keller added, always tries to keep the show fresh and long-time fans happy.
"He's tried to always add new repertoire of old tunes from the '20s and '30s while still recycling a few of the obscure oldies — prehistoric jazz — and making sure that (fan) Dale Magee gets her Charleston every once in a while, and (fan) Hank Muir hears 'Struttin' with Some Barbecue' — he always makes sure these people get their favorite tunes." Listen to Easy Street Jazz Band "Blues My Naughty Sweetie Gives To Me" (MP3).
Magee said she has been following the Easy Street Band for 15 or 16 years, starting at the Bird of Paradise.
"Paul Klinger is always friendly and he picks good music," Magee said. "It's different every week. Maybe he has new charts. Sometimes there's a sub (player) or a friend who stops by and plays interesting things. … There's a certain amount of banter between the audience and the bandleader, and the music makes you feel so good," she added.
Meanwhile, Muir and his wife estimate they have been to 300 of the Easy Street Band's shows since 2003, when the couple moved to Michigan.
There are many reasons for the band's success and popularity, Muir said. "One is the fact that several of the long-time regular members, such as James Dapogny, Paul Keller, Mike Jones, and Rod McDonald, are among the world's best on their instruments — kind of like the 1927 Yankees. And it is easy to make friends with like-minded fans, so every show is a social event.
"But I think the chief reason is the superb leadership of Paul Klinger, a great musician who is just universally loved and admired by fans and fellow musicians," Muir said.

Roger LeLievre is a freelance writer who covers music for AnnArbor.com.
Getting to Zal Gaz Grotto:
View Larger Map