Posted on
Tue, Aug 20, 2013 : 12:05 p.m.
Elmore Leonard remembered by locals as a good guy who wrote about bad guys
By Jenn McKee
Though prolific, Detroit-based crime (and western) writer Elmore Leonard - who died Tuesday morning at his Bloomfield Township home at age 87 - carved out a legacy by writing about bad guys, he seems, from all accounts, to have been the consummate good guy.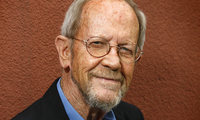 "He was good to me," said
Loren Estleman
, a fellow
crime and western author who lives in Whitmore Lake
. " … Dutch was a good friend. He helped out my writing career tremendously by providing several quotes for my books. … He almost always came through. I'm deeply saddened. I knew he couldn't live forever, but he was a good guy."
Jamie Agnew, co-owner of Ann Arbor's mystery bookstore Aunt Agatha's, had tried to bring Leonard in for an event for many years. "If you sell mystery books in this area, you want to do an event with Elmore Leonard," said Agnew. "We tried to in different ways, but we're so small, and we weren't plugged in to his publisher."
However, after Aunt Agatha's hosted a book event for Leonard's son, Peter, Agnew ran into Peter Leonard and said the store would love to host an event for his second book.
"Peter said, 'Can I bring along Elmore?'" said Agnew. "I said, 'Well, OK. You can drag the old guy along if you want.' The event ended up at the library, with Elmore and Peter, and Loren Estleman acting as moderator, asking questions, and it was definitely the highlight of our career. He was an unfailingly gracious and nice guy. … There was this long line (of people waiting for his autograph), and he stayed until the line was gone, even though, at the end, you could tell he was worn out."
Estleman and Leonard, meanwhile, shared a mutual love of movies.
"They had a great influence on our writing," said Estleman. "I think, if Raymond Chandler created the language of crime film in the '40s, Leonard did the same for crime films in the early 20th century. You hear echoes of his dialogue everywhere."
You may also, of course, witness the way Leonard painted the city of Detroit as an important character in many of his works.
"He was definitely prescient about the direction that Detroit was going in, but he also captured the humanity of its people, and the gritty courage of Detroit," said Agnew. "You look at something like (the Detroit-set AMC series) 'Low Winter Sun' and you definitely see his influence."
"He always had an upbeat attitude toward Detroit, which I always admired," said Estleman. "Mine is more downbeat, and our styles are very different, but I learned a lot about dialogue from his books."
Estleman last saw Leonard a couple of years ago, after accepting a lifetime achievement award on Leonard's behalf, and then delivering it to him. "He paused to grin over that," said Estleman, who also admired Leonard's lesser-known work in the western genre. " … He changed western writing, though that's not celebrated as often."
But why and how, in a sea of published mystery writers, did Leonard distinguish himself from the crowd?
"He really cut to the chase," said Agnew. "And I think people respected his craft, the simplicity of his writing, and his intelligence. He was uncompromising. He wrote what he wanted to write. He didn't follow trends or worry about political correctness. He did what he did, and he did it really well."
Jenn McKee is an entertainment reporter for AnnArbor.com. Reach her at jennmckee@annarbor.com or 734-623-2546, and follow her on Twitter @jennmckee.