Posted on
Wed, Sep 5, 2012 : 2:30 a.m.
Gimme Shelter, the Alpha House fundraiser, features a silent auction and giant paella
By Mary Bilyeu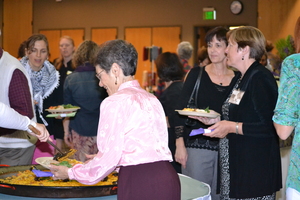 Photo courtesy of IHN @ Alpha House.
Interfaith Hospitality Network @ Alpha House
— one of my very favorite organizations, which offers shelter to homeless families while assisting them in settling into homes of their own — is hosting its annual fundraiser, Gimme Shelter, on Saturday, Sept. 22. Despite the seriousness of the mission, the event itself is quite the party, and you should go!
A silent auction will feature a wide variety of fabulous items for any budget: vacations, tickets to sporting events and other entertainment venues, gift certificates for local restaurants, and many different types of services. (I've donated a gift certificate offering an opportunity to join me for a Frugal Floozie Friday adventure. Let's go eat!) A wine pull will give you a chance for some lovely new varieties to try.
There will be a strolling dinner, with complementary beer and wine; musical accompaniment will be provided by local pianist Brandy Sinco. And, as the invitation itself states, "Don't fret, there will be coverage of the UM game that evening," so you can even support this great cause while not missing out on the Notre Dame match-up.
One treasured tradition at Gimme Shelter has been the paella that Gabriel Nunez and his wife, Eloisa Guerrero, donate to the dinner. Not only is it a delicious contribution to the meal; according to Helen Starman, director of development at Alpha House, it "is just spectacular — it is so big that he has to cook it in his garage over a special gas flame." The couple also donates an auction item: coming to your home to cook a paella dinner for 12 guests, which is supplemented with Spanish wine and with a dessert from a different donor.
Ann Arbor Tailgates, the charity cookbook Alpha House published last year, will also be for sale at Gimme Shelter. It costs only $20, and $15 of that is a charitable donation which may be tax deductible.
Tickets to this exceptional event cost $55 in advance or $60 at the door; a table of 10 is available for $500, or you can offer support as an Honorary Chair for $125.
Helen states that "last year was our most successful Gimme Shelter ever, netting over $100,000 to fund our programs supporting parents and children in crisis. We want this year to be even more successful!" So please do whatever you can to support this tremendous event and exceptional organization.
Please contact Helen Starman or Bernadette Quist at Alpha House 822-0220 for tickets or for more information.
Gimme Shelter 2012 Saturday, September 22 6-9:30 p.m. Washtenaw Community College - Morris Lawrence Building 4800 E. Huron River Drive.
Silent Auction: 6-9 p.m. Wine Pull: 6-9:30 p.m. Strolling Dinner: 6:15-7:30 p.m. One Child One Night Program: 7:45 8:15 p.m.

Mary Bilyeu writes for AnnArbor.com on Tuesdays, Wednesdays, and Fridays, telling about her adventures in the kitchen - making dinner, celebrating holidays, entering cooking contests, meeting new friends ... whatever strikes her fancy. She is also on a mission to find great deals for her Frugal Floozie Friday posts, seeking fabulous food at restaurants on the limited budget of only $5 per person. Feel free to email her with questions, comments, or suggestions: yentamary@gmail.com.

Go visit Mary's blog — Food Floozie — where she enthuses and effuses over all things food-related; and look for her monthly articles in the Washtenaw Jewish News. "Like" her on Facebook, or send a tweet on Twitter, too.

The phrase "You Should Only Be Happy" (written in Hebrew on the stone pictured in this post) comes from Deuteronomy 16:15 and is a wish for all her readers - when you come to visit here, may you always be happy.