Posted on
Sun, Sep 11, 2011 : 6:12 a.m.
Making Mooncakes the modern traditional way for the Mid-Autumn Moon Festival
By Frances Kai-Hwa Wang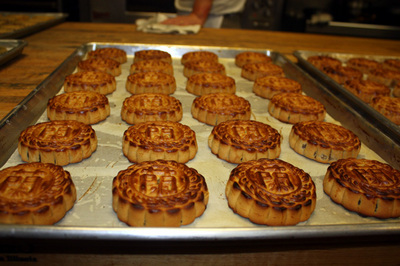 photograph courtesy of my daughter Margot
The Mid-Autumn Moon Festival is this Monday. That means mooncakes!
A harvest festival, the Mid-Autumn Moon Festival is a Chinese (Zhong Qiu Jie), Vietnamese (Tet Trung Thu) and Korean (Chusok) festival that celebrates the end of the harvest, family and food. It's sort of like Thanksgiving (without the turkey), Octoberfest (without the beer) and Sukkot (without the tent). It is always celebrated on the largest full moon of the year, the Harvest Moon.
Mooncakes are the centerpiece of this festival, as much for eating as for giving to other people. They are round like the full moon and symbolize family unity. To call mooncakes "cakes," though, is a bit of a misnomer. They are not light, fluffy, frosted, candle-studded confections. Rather, imagine a giant Fig Newton, the size and shape and weight of a hockey puck, dense and heavy and rich with red bean, date, lotus seed, dried fruit or pineapple filling.
One legend surrounding the origin of mooncakes comes from the Yuan dynasty (1279-1368), when Chinese statesman Liu Po-Wen baked messages of revolt and battle plans into mooncakes, which were then distributed to villagers and rebel forces, right under the noses of the Mongol soldiers. The Chinese people rose up at the appointed time on the night of the Moon Festival and successfully overthrew their much-hated Mongol rulers.
Some people also say that this is where the Asian American inventors of fortune cookies got the idea.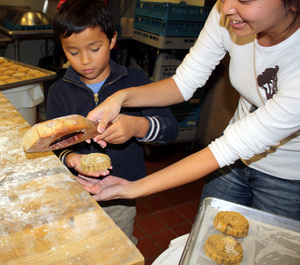 Frances Kai-Hwa Wang | Contributor
The children and I were thrilled last year to be invited to join some friends at a local nonprofit and help with their annual fundraiser in which they bake and sell mooncakes.
We spent the day together talking and laughing and learning more about each other while rolling out the dough; wrapping big balls of red bean, lotus seed, and pineapple filling; pressing them into carved wooden molds; brushing the tops with an eggwash; then baking the mooncakes under the watchful eye of Eastern Accents owner Ben Sun until they turned a deep golden brown.
Ironically, I first thought of this as a way to help my children learn more about their heritage, to bake mooncakes the traditional way, like "real" Chinese people from China and Taiwan. What we learned was that these days, almost nobody bakes mooncakes the old-fashioned way any more.
Most people buy them from a store, pumped up full of shelf-stable ingredients and baked in a factory. Eastern Accents is the rare jewel where one can find freshly baked, wholesome, hand-made mooncakes. Awesome.
Funny the things we can learn by looking at old things with new eyes and new things with old eyes.
The "Multiple Impressions: Contemporary Chinese Woodblock Prints" exhibit at the University of Michigan Museum of Art through Oct. 23 similarly takes an old tradition and showcases "the extraordinary innovations, in both technique and conception, which have transformed this long-established art form in recent years…. [and] provides an important framework for understanding both contemporary art from China and contemporary Chinese society."
The Moon Festival is also a love story about a family separated by circumstances — the beautiful fairy Chang Er lives on the moon and her husband Hou Yi the heavenly archer lives on the sun — who come back together again this one night every year. It can be a story of power, greed, impetuousness, sacrifice, responsibility, love, or foolishness — depending on how you tell it.
On this somber tenth anniversary of 9/11, my hope is that the Moon Festival themes of family unity and togetherness cast their light across our nation to help us get past the Islamophobia and race-baiting to come together again, and in the process, better understand each others' cultures, histories, perspectives.

Note: On Wednesday, Sept. 21, 6-8 p.m., Frances Kai-Hwa Wang will be teaching a course through Rec and Ed at King School about the Chinese Mid-Autumn Moon Festival, which takes place on Sept, 12 this year. The course will feature the great mooncakes of Eastern Accents, a Chinese paper cutting craft, stories, history and tradition. (Appropriate for all ages, but children must be accompanied by an adult).
Frances Kai-Hwa Wang is a second-generation Chinese American from California who now divides her time between Ann Arbor and the Big Island of Hawaii. She is editor of IMDiversity.com Asian American Village, lead multicultural contributor for AnnArbor.com, a contributor for New America Media's Ethnoblog, and a contributor for Chicago is the World. She is on the Advisory Board of American Citizens for Justice. She team-teaches "Asian Pacific American History and the Law" at University of Michigan and University of Michigan Dearborn. She is a popular speaker on Asian Pacific American and multicultural issues. Check out her website at franceskaihwawang.com, her blog at franceskaihwawang.blogspot.com, and she can be reached at fkwang888@gmail.com.