Posted on
Mon, May 9, 2011 : 5:55 a.m.
Call it organic growth: St. Joe's considers expanding its farm to include orchard, community gardens
By Juliana Keeping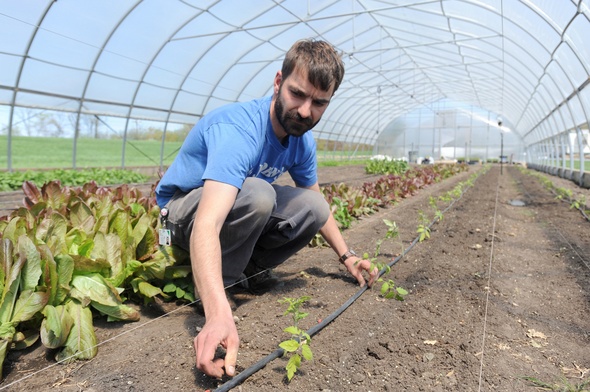 Angela J. Cesere | AnnArbor.com
There's talk of a fruit orchard at
St. Joseph Mercy Ann Arbor
.
In April 2010, St. Joe's became one of the first hospitals in America to start its own farm. It hired a manager, tilled what used to be a grassy field, and built hoop houses — environmentally friendly greenhouses that make it possible to grow out-of-season produce. The land and the hoop houses have yielded tomatoes, peppers, as well as varieties of lettuce, herbs and other vegetables.
Discussions taking place now include ideas like an orchard and community gardens. The farm occupies 15 acres of the 364-acre Superior Township campus. The hospital eventually wants a 30-acre farm.
Hospital officials are discussing what a bigger farm might include, and what it would take to continue to operate it, said Lisa McDowell, manager of clinical nutrition at St. Joe's.
In light of the fruit orchard idea — and deer that have been pilfering veggies grown outside — McDowell and others are trying figure out how to keep the deer off the farm. Deer jumped a tall electric fence and ate 50 heads of broccoli in a single night last summer, McDowell said.
"We're trying to figure out how to coexist with the wildlife on our campus," McDowell said.
Meanwhile, the hospital's farm manager, Dan Bair, is investigating what types of fruit-bearing trees and bushes would do well on the campus, McDowell said.
Under consideration are apriocots, plums, peaches, pears, apples, blueberries and raspberries.
Another idea is a community garden, with about eight plots available to outside groups. It's too early to sign up, but those interested can check back for news with the hospital's blog, stjoefarm.wordpress.com.
More food produced at the St. Joe's farm would mean more donations to charities like Food Gatherers, the recipient of the 1,500 pounds of fresh produce in the farm's first year of production.
St. Joe's hosts a public farmer's market most Wednesdays in the hospital lobby, donating what hasn't been sold to Food Gatherers.
The fresh, healthy food the farm is providing fit in well with the hospital's goals to help those in need and improve the health of patients, staff and visitors, McDowell said.
"It's very difficult to change the landscape for food, and it's' so easy for people to just get the processed boxed food as opposed to the fresh," she said. "We're really committed about sending the message as to how to use fresh food." St. Joe's signed a healthy food pledge recently under a new Michigan Hospitals Association program aimed at attacking obesity, starting with improving the health of hospital food all over the state. Part of the criteria under the four-star program includes sourcing 20 percent of hospital food from local producers.
The farm is a step in the right direction toward that goal, said Rob Casalou, the CEO of St. Joseph Mercy Health System's Ann Arbor, Saline and Howell hospitals
Casalou said last week more fresh, healthy food will help the hospital take on the obesity epidemic, starting at home.
"We're attacking the obesity issue by starting with ourselves first," Casalou said. "What can we do with our own people that visit our campus? What can we provide? Good food. We've got to start at home, and then spread the word."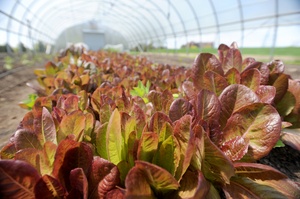 Angela J. Cesere | AnnArbor.com
The staff is looking for ways to fund a bigger farm, McDowell said, by seeking grant and community partnerships to keep the farm running and to keep costs neutral. Now, students studying nutrition from Eastern Michigan University and public health at the University of Michigan receive course credit through an internship program linked to the farm. More partnerships like that would help keep the volunteer base strong.
The farm needs more equipment as well. Bair is in desperate need of a tractor, McDowell said. Whole Foods Market, 990 West Eisenhower Parkway, has agreed to donate 5 percent of its profits on May 26 to the hospital.
Hospital officials haven't yet recuperated the start-up cost of the operation, but McDowell said the overhead is low. The hoop houses cost $16,000 each. St. Joe's doesn't typically share budget information for its programs, hospital spokesperson Lauren Jones said.
Volunteers play a big role in keeping the farm running. Anyone over 14 is welcome to help out. Email Bair at carefulfarmer@gmail.com. The St. Joe's Farmer's Market is held 11 a.m. to 1 p.m. Wednesdays in the main hospital lobby at 5301 McAuley Drive from May through Dec. 22.
Juliana Keeping covers general assignment and health and the environment for AnnArbor.com. Reach her at julianakeeping@annarbor.com or 734-623-2528. Follow Juliana Keeping on Twitter