Posted on
Tue, Mar 20, 2012 : noon
The HomeGrown Local Food Summit - one of many gatherings creating change in the food system around the state
By Kim Bayer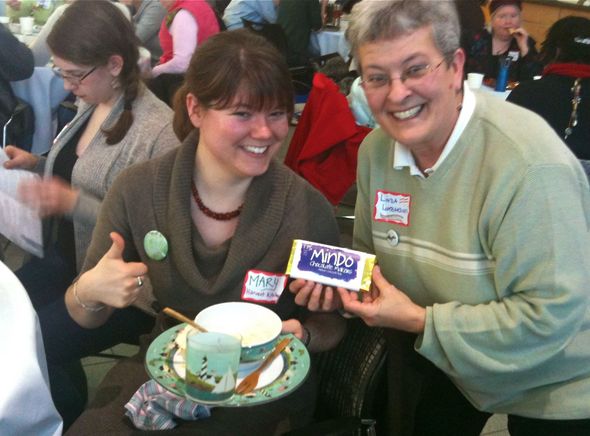 Photo | Kim Bayer
On Monday, April 2, for the fourth year in a row, a grassroots group of volunteer organizers (including me) will bring together about 300 people to talk food systems all day long at Washtenaw County's HomeGrown Local Food Summit. This event, taking place at Washtenaw Community College, is the strategic, action-oriented sister of the HomeGrown Festival, the annual fall harvest celebration of our food community, held at the Ann Arbor Farmers' Market in September.
Monica Patel, Policy Specialist for the Ecology Center, says the Local Food Summit is "brilliant for networking across sectors, as well as for growing and nurturing our local food movement by providing a consistent yearly opportunity to get together around food issues. The fact that we're a community that has a Food Summit every spring and a local food Festival every fall allows us to evolve in a wonderfully sustainable — and delicious — way. I'm excited to participate in an event that is directly related to creating so many food victories and accomplishments for our community."
This year's Local Food Summit will feature local food victories, along with community organizing and culinary history among its themes. The program includes sessions such as:


"Using food hubs to build healthy, resilient communities," Rich Pirog, director of the Center for Regional Food Systems


"Food Sovereignty: Let's Make it Work," Gary Cox, general counsel for the Farm to Consumer Legal Defense Fund


"School-to-Farm: A Dietitian's Journey and Vision for Connecting Food to Health," Diana Dyer, dietician, author and farmer


"Power to the Pollinators! Local Honey Project is sweet on sustainability," Lisa Bashert, founder of a Local Honey Project


"Book Clubs? Gardening Clubs? How about Investment Clubs!" Angela Barbash, "slow money" financial advisor


"Secrets of Successful Agricultural Grantwriting: A Beginner's Guide," Jeff Holden, grant writer


"Scaling Up Local Food Access: What do institutional buyers want and what do mid-size farms have?" Randy Burns, senior buyer, and Jon and Karlene Goetz, farmers


"Edible forest gardens and the transition to perennial agriculture," Nate Ayers, director of Chiwara Permaculture


"Getting a Fair Farm Bill in 2012," Jennifer Fike, director Food System Economic Partnership, and Lindsay Scalera, grassroots organizer for Michigan Voices for Good Food Policy


"Lessons learned on starting up your local food business," Mary Wessell Walker, David Klingenberger, and Stefanie Stauffer, entrepreneurs


"The State of Farm-to-School in Washtenaw County," Michaelle Rehmann, FSEP Farm to Food Service Program, Neha Shah and Elissa Trumbull, educators


"Farm Real Estate Options and Micro Loan Opportunities," Rosanne Bloomer, senior financial service officer with Greenstone Farm Credit Services and Ginny Trocchio, director of the Conservation Fund


Food Summits that bring together a wide swath of food system stakeholders (farmers, chefs, educators, health professionals, elected officials, nonprofits and eaters) have been happening for the past few years across the state in places like Detroit, Traverse City, Flint, Lansing, Benton Harbor and even the U.P., eh!
Like our own Local Food Summit, these events have aims of drawing together a comprehensive network of people interested in health, economic opportunity and support for farms, environmental sustainability, and social justice, using the avenue of food to ask, "How can we do better at caring for our place on the planet and for each other?"
Malik Yakini, executive director of the Detroit Black Community Food Security Network, wrote about the first Powering Up the Local Food System Summit in Detroit in May, 2011: "There is a movement exploding across the U.S. of people wanting more local control of their food systems. That movement manifests itself in many ways, including the hundreds of new urban gardens in Detroit and other cities every year, the farm to school cafeteria movement, the increase in the number of farmers' markets and the creation of food policy councils…
"We have the opportunity, the ability and the responsibility to make Detroit the model. A city with policies and practices that provide access to healthy food to all; that grows a significant percentage of the produce it consumes; where gardens and green spaces are treasured as essential aspects of our community's intersection with and embrace of nature; a Detroit in which the millions of dollars we spend weekly on food isn't subject to the current wealth extraction strategies, but is recirculated in our neighborhoods to create hope, jobs and creative business owners; a Detroit that grapples with the hard but necessary questions of how to deal with the continuing legacy of white privilege and its resulting injustices."
More recently, on Feb. 17, the Farm Route to Prosperity Summit held by the Northwest Michigan Food & Farming Network in Traverse City announced goals in alignment with the Michigan Good Food Charter, an "effort regionally and statewide for increasing the consumption of locally grown foods as a way to invest in health and Michigan's economy." As part of this effort, the Traverse City Area Chamber of Commerce established a new policy "to require at least 20 percent of food at its catered events to come from local sources, and to encourage other chamber business members to do the same."
According to Laura Oblinger, chief operating officer at the Traverse City chamber, "Our goal is that by making this a requirement of doing business with the chamber that it will get our vendors to start buying local food as part of doing business... Hopefully over time we won't even need to make the request. The broader goal for the chamber goes beyond just local food, but retaining our local dollars in our community."
The late Chris Bedford, filmmaker and food activist from Muskegon, wrote of the Benton Harbor Local Food Summit: "The sustainability triangle postulates an equal concern for its three corners: economy, environment, and equity (social). But, in reality, equity receives far less attention than the other two corners, particularly as the real costs of environmental degradation, global warming, peak oil, financial speculation, and subsidized and unfair global trade begin to dominate the world's balance sheets….
"Community is the most important natural resource of the 21st Century. (Our) future lies not in the arrival, like a visitor from outer space, of some new corporate offices or revolutionary manufacturing technology or even federal grant, but in the resources that already exist within its human community, in the resources that could develop within its human community."
Chris Bedford was a friend and staunch supporter of our Local Food Summit here in Washtenaw County, traveling to attend and speaking as a volunteer at each previous Summit since 2009. We lost a fierce ally when he passed away last year.
We are remembering Chris with a screening of his last film, called "Getting Real about Food and the Future" and with a spoken word performance titled "Thought for Food" at this year's Pre-Summit event at WCC's Towsley Auditorium on Sunday, April 1.
At our first Local Food Summit in 2009 Chris said, "We succeed or fail together." If our goal is having food that is healthy, just and secure, we must "trust each other, know each other, work with each other and love each other in our communities."
Here in Washtenaw County, the core group of grassroots organizers that put the Summit together is crucial to moving Chris' words into action. This group, made up of U-M students, farmers, non-profit leaders, grocery store staff, chefs, teachers and more(!) lays the groundwork for the day-long event that seeks to engage and call to action people from all parts of the food system. The organizers come to their volunteer positions for different reasons, but each is enthusiastic about the goals and the impact of the summit, and of the power each of us has to make a difference in our communities.
Liz Dahl MacGregor, a mother and lawyer says, "As a mom of two young kids, it's hard for me to find the time to be as involved in my community as I'd like. But what we eat, how we fuel our bodies is one of the most essential keys to health and well being. As recent news illustrates, the best way to know you're getting healthy food is to know where your food comes from. Working with the Local Food Summit helps me build the community, and the food system, that we need to grow healthy kids and communities."
Stefanie Stauffer, PhD student and owner of Nightshade Army Industries (a salsa business), says, "I got involved in planning the content for this year's Local Food Summit to help bring more diverse voices to the table while also highlighting the amazing things happening with urban farming and local food in Ypsilanti. As an urban farmer, artisan food business owner, writer, cook, eater, and sociologist studying the local food movement since 2007, I do many things in the name of locally-grown food. I appreciate the Local Food Summit for the forum it provides for us to meet our neighbors, learn about exciting local initiatives, and get to work on local food victories of the future."

Reflecting on the effect of the Local Food Summit over time, teacher (and AnnArbor.com contributor) Patti Smith says, "I think the greatest impact has been to bring people together in a way that might not normally happen. How often can a farmer actually have time to sit down and talk about an idea that a teacher has, and then also recruit a government worker and a gardener to help out? It's all about bringing community together."
Marketing and community relations director Mary Anne Nisley says, "Since my first Local Food Summit (in 2010) I have seen many changes. My friends now are raising chickens and are part of the Real Time Farms website. The Farm at St. Joe is a reality. Tilian Farm has sprung up as yet another ray of hope that we are going in the right direction. More people now know what CSA means. My hope is in a few more years the place I work will be selling locally raised baby greens year round instead of stuff shipped from California."
Susie Stearns says, "I am coordinating food service volunteers on the day of the event. I volunteer for this and other similar causes because I got sick and tired of corporations pushing their agenda onto my plate. Farm and food jobs are good jobs that are good for the economy and hit at essential human needs. The summit is one way of acting in community and learning from and with one another."
Artist and farmer Angela Madaras says, "The impact of the Local Food Summit is seen through the realization of Real Time Farms, through food-centered businesses springing up the last two years, with more year-round hoop farms, more CSAs and a wider variety, size, shape and type of CSA (from meat to root crops).
"More local chefs are buying directly from producers now. There are newly formed food groups and gatherings in our community, more farm-barn dinners, more awareness of the importance of biodiversity. I have seen a growth in smaller sustainable farm operations, a rise in cottage businesses and 4-H seems to be growing in membership.
"When I attend the farmers' market I can see new producers and more attendance. New winter markets have sprung up as well, in Saline and Ypsilanti. I notice every grocery store is selling local and Michigan made products and produce."
Our community further understands the need to know from where food comes. Our awareness as a society has grown in the area of food security. We understand the need to have in place a local food system that is able to feed all of our citizens (should we need to rely solely on producers in our region). I feel that folks now more clearly understand the connection between health, well being and how it relates to our food and soil health as demonstrated with the Farm at St. Joe's.
That being said, the Local Food Summit touches on all aspects of our food-agri-culture and offers many areas for which to learn, understand, grow, teach, get involved and become an integral part of our community. In this way our bodies are fed and the local economy wins! I say, "Be your own food advocate."
Co-chair of the Local Food Summit (and volunteer coordinator for the Huron River Watershed Council), Jason Frenzel, says, "Although it's really hard to put a finger on what or why, and it's hard to touch on the moment when change happens, I can definitely look back at all sorts of different moments between people that were facilitated by the conversations at the summit. Exciting things are now happening because of the opportunity to engage with each other at previous summits.
"It's not that I heard this amazing speaker and now I'm going to go forth and save the world (although that happens too). It's that I see a lot of really amazing things changing because of those conversations at the Summit, and that's why we have these events."
Mary Beth Wyllie says, "I so enjoyed the summit the last two years, I started looking around for information for this year's event. When I realized I would be really disappointed if it didn't happen again, I thought I better step up and help make it happen!"
As Chris Bedford liked to say, "The government is not going to come and save us. We are the ones we've been waiting for."
Kim Bayer is a freelance writer and culinary researcher. Email her at kimbayer at gmail dot com.