Posted on
Thu, Mar 1, 2012 : 11:36 a.m.
FoolMoon announces this year's theme, date, and open workshops
By AnnArbor.com Staff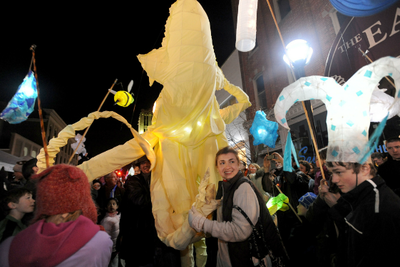 Angela J. Cesere | AnnArbor.com file photo
This year's
FoolMoon
public art procession and street celebration will take place in downtown Ann Arbor on Friday, March 30, from dusk to midnight, at the intersection of Washington and Ashley streets.
Revelers will enjoy hundreds of illuminated lantern sculptures inspired by the University of Michigan's LS&A theme semester, "Language: the human Quintessence." The producers of FoolMoon announced the theme for this year's spectacle just in time for their popular building workshops, which take place at Workantile Exchange (118 S. Main Street) every Sunday in March.
Interested members of the community are encouraged to drop in anytime between 10 a.m. and 5 p.m. to create their own luminary sculpture, or just come watch the sculptures come to life. Guest artists will be on hand at Workantile to help community members create the hundreds of luminous floating sculptures that will be featured in this year's FoolMoon celebration. Refreshments will be provided by Sweetwaters and Whole Foods Market to the first 50 participants. Luminary making supplies, tools, and LED lights are being donated by ACE Barnes Hardware stores again this year to help make this a truly local community created and sponsored event.
Lots of fun and creative camaraderie was shared last year, with more than 250 people dropping in to make luminaries of their own. (For those who can afford it, FoolMoon organizers are asking for a suggested $10 donation this year to offset the costs of the workshops and related public art events). FoolMoon and its sister event, FestiFools, are always free and open to the public.
For FoolMoon, participants will gather at dusk on Friday, March 30 at one of three different "Constellation Stations"—Kerrytown, Slauson Middle School, or the U-M Museum of Art—to begin the fantastic processional that winds its way through the sidewalks of Ann Arbor, culminating in a celebration at the downtown intersection of Washington and Ashley streets.
The second annual FoolMoon event will feature entertainment by the eclectic and expressionist percussion ensemble Juice, followed by the Third Coast Kings, a funk and soul dancin'-in-the-streets party machine.
Mark's Carts will be open for business, and a special brew called "FoolBrew" (proceeds to benefit FestiFools and FoolMoon productions) will be on tap at the Grizzly Peak beer tent.
Special artists exhibitions will appear throughout the evening, including roving shadow puppet shows by shadow puppet artist Patrick Elkins, creative displays at Downtown Home and Garden, new outdoor experimental films featuring U-M students' original works, and the return of the hugely popular "Crazy Luminary Hair Salon," featuring stylists from Orbit Hair and Massage. (New this year: A "live human interactive video game" created by local artist Trevor Stone.)
FoolMoon is an outgrowth of FestiFools, a parade of oversized puppets through downtown streets that will take place this year on April 1.
For more information go to http://FestiFools.org, and follow FoolMoon on Facebook and Twitter. And check out the FoolMoon blog: http://relish.myraklarman.com/foolmoon-2011