Posted on
Thu, Jan 5, 2012 : 12:20 p.m.
Live and Gracie sale leaves concern about the future of live music in Ann Arbor
By Bob Needham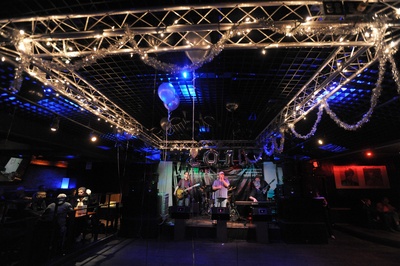 The
abrupt ownership change at Live at PJ's / Goodnite Gracie
has left some on the local music scene hanging — unhappy about a loss of regular gigs, the handling of the change and, especially, an apparent reduction in live music in Ann Arbor.
Despite the clubs' shift toward more DJ music in recent years, they did still host live acts on a regular and semi-regular basis. And while the new owners have told AnnArbor.com they hope to continue some live music, it's clear their focus will be on DJs for the prime Thursday-Saturday nights.
"It's a significant loss," said Laith Al-Saadi, an acclaimed multi-genre guitarist whose band played at Live each Thursday. "For me as a lover of blues, jazz, rock and roll … there really aren't very many venues that support live music in town.
"I find it remarkable that we can't support a jazz and blues venue. I think it's everybody's loss in the community that we don't have something like that."
Al-Saadi is also unhappy about the way the change was handled; rumors about the sale have been flying for weeks, but he said the outgoing management denied them and even asked him to remove a Facebook post saying last Thursday was his final date at the venue. Performers were notified of the change in a mass email this week directing questions about future bookings to the new management.
Another regular event left hanging is the live-music happy hours. For the last couple of years, Live at PJ's has hosted established local bands on Fridays from 6-9, in an event aimed at a middle-aged crowd. Chris Goerke of the country-rock band Drivin' Sideways has lately been organizing the happy hours, which feature other bands as well as his own.
The concept, with various people organizing it, dates back to the 1980s at different venues including Mr. Flood's Party, the Blind Pig and the Heidelberg Club Above.
Goerke is talking to at least one venue about possibly continuing the happy hours, but he's sad to leave Live, where the concept seemed to work out well for both the club and the bands.
"It was a great place," he said. "It was a great run … We went out with a bang New Year's Eve.
"People don't seem to want to cater to our demographic … I can't quite figure it out."
Randy Tessier, leader of the local band FUBAR and a longtime member of George Bedard & the Kingpins, also laments the loss of a venue for the event: "There's a history of happy hours, and it goes way back," he noted. "It's essentially always been a venue for some of the older musicians in town, and they're good ... It upsets me.
"Where's a place for these older musicians and their fans?"
Other regular live-music dates at the venue have included the classic jazz sounds of Phil Ogilvie's Rhythm Kings, which moved its regular Sunday evening gig to Live/Gracie after the Firefly Club closed. The future of that series appears to be uncertain at this point.
WEMU, the public-radio station at Eastern Michigan University, has hosted its 5:01 jazz series at the clubs on the first Friday of the month for several years now. The station has announced that this Friday's show will take place at the Ravens Club on Main Street. It will feature the Ron Brooks Trio with guest vocalist Edie Hyde.
WEMU General Manager Mary Motherwell said when the station was approached about bringing a jazz series to Goodnite Gracie, "We saw it as an opportunity to reach out to people who worked downtown by having a monthly 'after work' party on the first Friday. It started slowly but, within a year, we outgrew Gracies and had to move upstairs to Live.
"The series has worked well there and our crowds have been steadily building. Like any live music series, it's had its bumps; we had a difficult time convincing them to put on more bartenders and waitstaff until just recently, so patrons often had to wait a long time to be served, but, overall, I'd say it's been a positive experience for WEMU.
"And the 5:01 shows will live on—we're just not sure where."
Economics clearly had something to do with the decision to sell the business. Derek Aldridge, the outgoing owner of the clubs, said the finances simply did not work for live acts.
"It just didn't pay the rent. Ann Arbor is a great music town, but … it's tough for live music to survive in downtown Ann Arbor," he said.
DJs can be cheaper than live acts—although the bands at the happy hours were paid primarily on a pass-the-pitcher basis (plus a share of the bar take).
Al-Saadi played at Live for around 10 years in two different stints, and over time he said he saw a loss of community at the venue as it focused more on DJs and became more of a club than a music venue. It parallels a broader shift in the culture, he said: "The less we support music education and the less we care about virtuosity … The more you're going to see DJs take over."
Motherwell, Tessier, Goerke and Al-Saadi all expressed hope that things will all work out, either with different venues, the new ownership or some combination.
"I do remain hopeful that there will be another venue for live music in the future," Al-Saadi said. "People really do, if they care about it, have to go out and support it."
Lizzy Alfs contributed to this story. Bob Needham is director of entertainment content for AnnArbor.com. Reach him at bobneedham@annarbor.com or 734-623-2541, and follow him on Twitter @bobneedham.