Posted on
Wed, Jan 16, 2013 : 2:29 p.m.
Milan's Stephanie Jass to appear on 'Jeopardy!' Tournament of Champions
By Bob Needham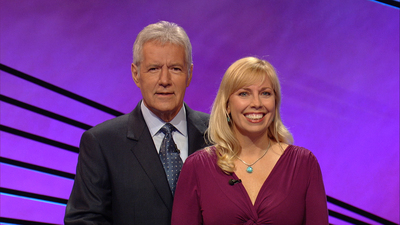 photo courtesy of Jeopardy Productions
Following a
record-setting run
on
"Jeopardy!,"
Milan resident
Stephanie Jass
will return to the show as part of its next Tournament of Champions.
Jass will be one of 15 former winners of the syndicated TV game show who will return and compete for a $250,000 grand prize, the program announced Wednesday. In October, Jass, a history professor at Adrian College, become the first woman to win seven straight competitions, earning almost $150,000 in the process.
The Tournament of Champions will take place over two weeks starting Feb. 13.
"Aside from the prestige and high stakes inherent to the Tournament of Champions, the sense of familiarity with the contestants is what makes this event unique among our various tournaments," said "Jeopardy!" host Alex Trebek in a news release. "It's a welcome opportunity for me to catch up with returning players, a treat for our viewers to see their favorites return to the stage, and a challenge for the contestants, some of whom have watched their competitors' shows and know what they're up against."
Jass was pretty much a lock to be invited to the Tournament of Champions, which features the contestants who won the most matches since the previous tournament (November 2011). Winners of two teachers tournaments and a college tournament also get automatic berths.
The rest of the Tournament of Champions field:
• Colby Burnett, a high school World History teacher from Chicago, Ill., $100,000 (teacher tournament winner)
• David Gard, a retail horticulturist from Jamaica Plain, Mass., $84,700
• Jason Keller, a tutor from Highland Park, N.J., $213,900
• Dave Leach, a game merchant from Atlanta, Ga., $98,054
• Dan McShane, a bartender from West Islip, N.Y., $62,001
• David Menchaca, a law student from Long Beach, Calif., $115,503
• Kristin Morgan, a NASA strategic analyst from Huntsville, Ala., $69,098
• Paul Nelson, a senate staff aide for Senator Chuck Grassley (R-Iowa) from Iowa City, Iowa, $54,900
• Joel Pool, a real estate developer from Oakland, Calif., $116,800
• Ashok Poozhikunnel, an underwriter from Wheaton, Ill., $69,002
• Patrick Quinn, a high school German teacher from Chesterfield, Mo., $100,000 (teacher tournament winner)
• Jason Shore, a medical student from Plano, Tex., $85,200
• Monica Thieu, a psychology student from Dallas, Tex., $100,000 (college tournament winner)
• Keith Whitener, a research chemist from Charlotte, N.C., $147,597

Locally, "Jeopardy!" airs at 7:30 p.m. weeknights on WDIV-TV, channel 4 in Detroit.
• Check out past coverage of Stephanie Jass' run on "Jeopardy!"
Bob Needham is director of entertainment content for AnnArbor.com. Reach him at bobneedham@annarbor.com or 734-623-2541, and follow him on Twitter @bobneedham.