Posted on
Sun, Jan 24, 2010 : 4:48 a.m.
Nervous But Excited thrilled to be opening for Folk Festival headliners
By Roger LeLievre
As the big day approaches, the prospect of playing the Ann Arbor Folk Festival finds the members of the local duo Nervous But Excited living up to its name.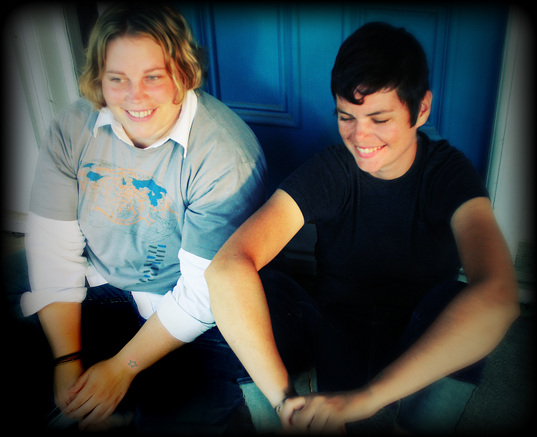 Leah Schew
"This is one of those events that makes the name even truer than smaller the shows do," said Sarah Cleaver who, with Kate Peterson, constitute the self-described "pleasantly aggressive" folk twosome.
The Folk Festival is the biggest show they have ever played, and Nervous But Excited is the only local act on a bill that contains heavyweights like Iron and Wine, Rosanne Cash and Richie Havens. If you want to catch them, make sure to arrive at Hill Auditorium on time — they are up first at 6:30 p.m. Friday.
The gig came about, Cleaver said, in part because of their previous shows at The Ark, and because of their experience opening for other folk-acoustic notables including Catie Curtis, Lucy Kaplansky, Utah Phillips, Melissa Ferrick and Cheryl Wheeler.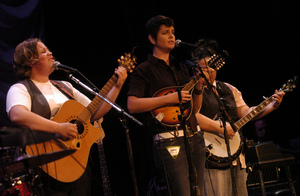 Melanie Maxwell | AnnArbor.com
"Our manager, Susie Giang, of Fleming Artists and Wood Grain Music, arranged the gig with (The Ark's) Anya Siglin," Peterson explained. "Anya was able to see our set opening for Ani (DiFranco), and I think that was part of it as well. It seems like she is definitely willing to give us a chance and we are definitely appreciative."
The pair agrees that the festival appearance could give their career a boost.
"We're hoping it will do wonders for us in the Ann Arbor and mid-Michigan market for sure," said Cleaver, "and just to have the networks and connections and meeting all those folks that will be playing there will be invaluable to us."
"Just to have our name on the same bill as a lot of the folks who will be playing feels pretty special, added Peterson. "It is an honor to be part of the institution that is the Folk Festival."
The two — who share writing, singing and instrumentation — met around 7 years ago in Michigan. Their original repertoire ranges from introspective narratives to the tactfully political, and they still dabble a bit in the love/post-love song every now and then.
Nervous But Excited cover Wyclef Jean's "Sweetest Girl" during a 2009 concert:
"We started singing together, playing together, and discovered what harmony was. We discovered it was a lot easier to do this with another person than it was by yourself," Cleaver recalled. "People just kept saying 'you have something together that a lot of people don't have together.' So we kept touring and touring, now we just love it. It just makes sense."
In the great folk tradition, Cleaver and Peterson aren't afraid to get political with their music.
"We try to use the fact that we are touring singer-songwriters who do get in front of people to use that as a platform to be able to talk about social issues of the day that people need to be aware of to make a difference in their world and in their own lives," Peterson said.
"We try to have 1 or 2 songs on each record that are political. And we are out lesbian singer-songwriters, so I feel like that in itself is a political act, although we don't push that perspective on anyone. I feel that makes the music even more of a political gesture than we even realize," Cleaver added.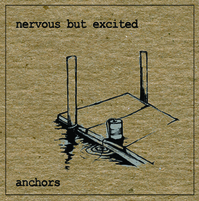 They are also staunchly anti-war, and strongly pro-environment. In fact, they proudly say their current CD, "Anchors," is the first ever 100 percent carbon-neutral release. In tandem with their indie label Riot Grrrl Ink, Nervous But Excited tracked all the energy used in the project, from the gas to get to the studio and the energy needed to power and heat it. All promotional paper items were produced using 100 percent post-consumer materials. All energy that could not be avoided was offset through renewable energy credits.
"At first it felt inaccessible in a way," Peterson said. "At the end we realized it was totally doable on any budget." Listen to Nervous But Excited "The Leaving" (MP3).
---
PREVIEW

Nervous But Excited

Who: "Pleasantly aggressive" local singer-songwriters Kate Peterson and Sarah Cleaver.

What: First night of the Ann Arbor Folk Festival, with a lineup that also includes Iron and Wine, Jay Farrar and Benjamin Gibbard, Band of Heathens, Hoots & Hellmouth, Po' Girl, Jer Coons and emcee Patty Larkin.

When: Friday, 6:30 p.m.

Where: Hill Auditorium, 825 North University Avenue.

How much: $30-$75 (Single night).

Details: 734-761-1451, 734-763-TKTS, AnnArbor.com calendar.
---
"Anchors" is actually the duo's third full length CD, with a disc of cover tunes on the way this spring (look for songs made famous by the Righteous Brothers, K-Ci & JoJo and Indigo Girls).
Although some might think their early Folk Festival spot might be less than ideal, Peterson and Cleaver don't see it that way.
"We have the first slot, and I think we'll do a good job warming up the crowds," Cleaver said.
Roger LeLievre is a freelance writer who covers music for AnnArbor.com.