Posted on
Mon, Apr 2, 2012 : 5:57 a.m.
New line of T-shirts recalls bygone Ann Arbor icons
By Bob Needham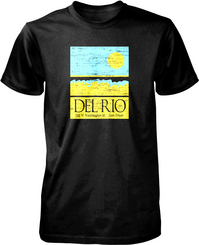 Even some newcomers to Ann Arbor have probably heard the names:
Drake's Sandwich Shop
. The
Del Rio
bar.
The Pretzel Bell
restaurant.
Those iconic businesses from Ann Arbor's past—along with Mr. Flood's Party, Bicycle Jim's and the 1972-era Blind Pig—have been memorialized in a new line of T-shirts.
The shirts came about thanks to an association between Tim Redmond, a longtime local resident, and Markham McGill of Key West-based company Long Lost T's. Redmond—the organic food pioneer and entrepreneur who helped found Eden Foods and now co-owns Eat Local Eat Natural—worked with McGill at Blue Horizon Organic Seafood Co.
After McGill relocated to Florida and started a line of T-shirts memorializing bygone locales in various cities around the country, his background and his friendship with Redmond meant an Ann Arbor-themed line was only natural.
"There's some great old places here in Ann Arbor," said Redmond, who graduated from the University of Michigan in 1970. "We probably had 15 or 20 places on the list" of possible subjects.
They narrowed the list down to six initial designs, but "We can broaden that out if we want to, and we probably will," Redmond said.
"Tim and I worked long and hard on what places to include from Ann Arbor's past. There are so many beloved old Ann Arbor haunts, and Tim seemed to know them all. The tees are very high quality, 100 percent lightweight cotton, screen-printed by hand using water-based inks. We're really proud of them and feel like they do justice to the places," McGill said in a press release announcing the new line.
The first batch of shirts will go on sale this week, exclusively at Bivouac on State Street, a longtime locally owned independent business. They will be available in both men's and women's styles and in various colors.
Redmond said they will probably retail for around $30. Each shirt comes with a card explaining some background on the place it memorializes.
When pressed, Redmond says of the initial six places, his favorite might be the Del Rio, the legendary townie bar on West Washington in the space that now houses Grizzly Peak's Den. But "I have memories from all those," he added.
See all the designs on the Long Lost T's website.
Bob Needham is director of entertainment content for AnnArbor.com. Reach him at bobneedham@annarbor.com or 734-623-2541, and follow him on Twitter @bobneedham.