Posted on
Wed, Mar 7, 2012 : 7:24 a.m.
'Grey Gardens' at Ann Arbor Civic, 'Dead Man's Shoes' at Performance Network
By Carla Milarch
With one exception, this week's listings are all about the American experience, which seems appropriate with so much of the 2012 election rhetoric already in full swing. Theater, in its truest form, provides a civic dialogue on the issues that unite or divide us.

From the idiosyncrasies of one of America's royal families in "Grey Gardens," to a hot and sultry exploration of fading Southern gentility in "A Streetcar Named Desire," to a down and dirty romp across the Wild West's baddest lands in "Dead Man's Shoes," each of these plays takes a different look at that expansive genre, Americana.

Even Beckett's existential masterpiece "Waiting for Godot" originally penned in French, and translated by the author into English, seems topical in this day and age. An exploration of humans in relation to God, for whom they wait, they claim he's an acquaintance when in fact they hardly know him, and admit that they would probably not recognize him if they saw him.

Theater listings for the week

Show: "Waiting for Godot" by Samuel Beckett, one-time event, March 9 at 8 p.m.
Company: Residential College Drama Concentration
Type of Company: Higher Education
Venue/Location: Keene Theater, East University Ave., Ann Arbor
Recommended Ages: 12+
Description: This tragicomedy about the meaning of human existence and our relationship to God was revolutionary when it was first produced in the 1950s and remains one of the most intriguing plays of the modern theater. It will be performed by students from the RC Play Production Seminar on Beckett and Pinter and directed by Kate Mendeloff and Martin Walsh.
Fun Fact: Beckett refrained from elaborating on the characters in Godot beyond what he had written in the play. He once said when Sir Ralph Richardson "wanted the low-down on Pozzo, his home address and curriculum vitae, and seemed to make the forthcoming of this and similar information the condition of his condescending to illustrate the part of Vladimir ... I told him that all I knew about Pozzo was in the text, that if I had known more I would have put it in the text, and that was true also of the other characters."
For tickets and information: 734-647-4354

Show: "A Stone Carver" by William Mastrosimone, through March 10
Company: Purple Rose Theatre Company
Type of Company: Professional Equity SPT
Venue/location: Purple Rose Theatre, 137 Park Street, Chelsea
Recommended ages: 13+
Description: "A Stone Carver" tells the story of a retired stonemason who clings to the past, and his son who refuses to look back. When Agostino, a seventh-generation stone carver, is evicted from his home to make space for a highway, he barricades himself in his house, determined to outlast the bulldozers. In a last-ditch effort to save his father from jail, Agostino's only son, Raff, arrives at the house with his new fiancée. A battle of wills ensues, putting their already-rocky relationship to the test. Can Raff convince his father to move forward before it's too late?
Encore Michigan article
Fun fact: The barrel stool on the set is from the Dexter Cider Mill, the oldest continuously operating cider mill in Michigan.
For tickets and information: www.purplerosetheatre.org or 734-433-7673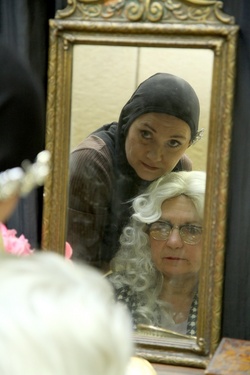 Photo by Caleb Newman
Show:
"Grey Gardens" by Doug Wright, Scott Frankel, and Michael Korie, through March 11
Company:
Ann Arbor Civic Theatre
Type of Company:
Community
Venue/location:
The Arthur Miller Theatre, 1226 Murfin Ave., Ann Arbor
Recommended ages:
10+
Description:
A hilarious and heartbreaking story of Big Edie and Little Edie Bouvier Beale, the eccentric aunt and cousin of Jacqueline Kennedy Onassis, once bright names on the social register who became East Hampton's most notorious recluses. Based in part on the cult-classic documentary "Grey Gardens" the musical--focuses first on the pair in 1941, when they were the cream of East Hampton society. Behind the glittering and glamorous exterior of Grey Gardens and the family's social whirl, we see cracks in the foundations. The second act takes place in 1973, where the pair is living reclusively among cats and raccoons in the squalor that once was the beautiful estate, Grey Gardens.
Preview article from AnnArbor.com
Fun fact:
The actress playing young Lee Bouvier is the real-life daughter of
Kathy Waugh
, who is playing Little and Big Edie.
For tickets and information:
www.a2ct.org/
, 734-971-2228
Show:
"The Carol Burnett Show: Your Favorite Sketches," through March 11
Company:
Saline Area Players
Type of Company:
Community
Venue/Location:
Stone Arch Arts and Events, 117 Ann Arbor St., Saline
Recommended Ages:
12+
Description:
"The Carol Burnett Show" brought an original brand of wacky comedy into American homes every Saturday night from 1967 to 1978. Featuring notoriously unpredictable sketches performed by a stellar ensemble, it was one of television's most successful variety shows of all time. The Saline Area Players, under the direction of
Tami Hindes
, brings these classic sketches to the stage.
Preview article from AnnArbor.com
Fun Fact:
Carol Burnett, Tim Conway, Harvey Korman, Vicki Lawrence, and Lyle Waggoner were among the beloved ensemble members of the hit television comedy.
For tickets and information:
www.salineareaplayers.org/cbs.html
Show: "What Corbin Knew" by Jeffrey Hatcher, through March 14
Company: The Penny Seats Theatre Company
Type of Company: Equity Special Appearance Contract
Venue/location: Performance Network's Second Stage, 120 East Huron, Ann Arbor
Recommended ages: Adult (language, some mature themes)
Description: Corbin, an architect and affable fellow, invites two very different couples to join him for a show. Things go from uncomfortable and snarky to frenzied and violent and, by the end of the first act, someone gets shot. But Act Two turns the same events around, showing that what Corbin—and the audience—thought they knew is only half the story.
Preview from AnnArbor.com
Fun fact: In addition to his most well-known works, "Compleat Female Stage Beauty," which he later adapted into a screenplay, and "Tuesdays with Morrie," co-authored with Mitch Albom, Jeffrey Hatcher also wrote the screenplay "Casanova" for director Lasse Hallström as well as contributing to the Peter Falk TV series "Columbo."
For tickets and information: 734-663-0681, www.performancenetwork.org/index.php, or www.pennyseats.org
Special ticket offers: $10 per ticket for the entire run

Show: "A Streetcar Named Desire" by Tennessee Williams, through March 17
Company: PTD Productions
Type of Company: Pre-Professional
Venue/location: Riverside Arts Center, 76 N. Huron St., Ypsilanti
Recommended ages: Adult
Description: There is a very short list of 20-century American plays that continue to have the same power and impact as when they first appeared. Tennessee Williams' Pulitzer Prize winning masterpiece is one. The story of the fading Southern Belle Blanche DuBois, driven in desperation to stay in her sister Stella's New Orleans apartment, with her brutal and sensuous brother-in-law, Stanley Kowalski, is considered one of the great American classics.
More information
Fun fact: Of the original 1947 performance, Arthur Miller said, "A writer's soul, a single voice was almost miraculously enveloping the stage...this play made it possible for the stage to express any and all things and to do so beautifully."
For tickets and information: www.ptdproductions.com, 734-483-7345
Special ticket offer: Thursdays are Pay-What-You-Can

Show: "Dead Man's Shoes" by Joseph Zettelmaier, through April 8
Company: Performance Network Theatre
Type of Company: Professional Equity (SPT)
Venue/location: Performance Network Theatre, 120 East Huron, Ann Arbor
Recommended ages: 16+, Contains adult themes and language.
Description: From the playwright of the smash hit "It Came From Mars" comes a dastardly comedy, based on fact, but steeped in the tone of a good old-fashioned outlaw movie. Injun Bill Picote and Army deserter/camp cook Froggy wander the wild west in search of a man who done a truly despicable deed. Filled with true grit and dark humor, it's a fast-paced and panoramic journey to the dark side of American history. Winner of the Edgerton Foundation New American Play Award.
Preview from AnnArbor.com
Fun fact: Local boy and PNT Associate Artist Joseph Zettelmaier is featured in this month's issue of American Theatre magazine: www.performancenetwork.org/ATMarch2012.php
For tickets and information: 734-663-0681, www.performancenetwork.org/