Posted on
Wed, Feb 1, 2012 : 7:53 a.m.
'Smokey Joe's Cafe' at the Encore and 'Once Upon A Mattress' at Burns Park Players
By Carla Milarch
With titles like "Once Upon a Mattress," "Dead Man's Cell Phone," "Smokey Joe's Cafe" and "God of Carnage," this week's listings sport titles as unusual as their storylines.
From silly, to raucous, to bizarre, their respective plots include an over-the-top adaptation of a fairy tale, a bizarre trip through the afterlife, a rock-n-roll tribute to the '50s, and a wickedly funny look at the dark side of human nature.
So, if your life is feeling a little mundane, there's no better way to step out of the ordinary than a trip to the theater. Let the talented thespians of Washtenaw County transport you to climes exotic and lands neurotic, with laughter and music galore.
No need to get out your visa, just sit here… and go anywhere.
Theater listings for the week

Show: "Smokey Joe's Cafe" by Jerry Lieber and Mike Stoller, through Feb. 26
Company: The Encore Musical Theatre Company
Type of Company: Equity Special Appearance Contract
Venue/location: 3126 Broad Street, Dexter
Recommended ages: 8+
Description: Leiber and Stoller, as much as anyone, virtually invented rock 'n' roll, and now their songs provide the basis for an entertainment that illuminates a golden age of American culture. In an idealized 1950's setting, the classic themes of love won, lost and imagined, blend with hilarious set pieces and slice-of-life emotions in this rocking musical revue.
Preview article from AnnArbor.com
Fun fact: "Smokey Joe's 39 songs are presented revue style (no written storyline) and include "On Broadway," "Love Potion #9," "Jailhouse Rock" and "Charlie Brown."
For tickets and information: www.theencoretheatre.org, 734-268-6200.

Show: "Ladies Night and Night of the Fights" by Wendy Wasserstein, Mary Louise Wilson, Lynn Nottage, Christopher Durang, David Ives, and Jesse Peri, through Feb. 5
Company: Basement Artss
Type of Company: Higher Educatiion
Venue/location: Studio 1 of the Walgreen Drama Center, 1226 Murfin Dr., Ann Arbor
Recommended ages: 122+
Description: "Ladies Night" is a collection of female-driven one-acts directed by the women of the senior BFA Acting class at the University of Michigan. The show features a collection of short comedic plays centering on female themes, female playwrights and strong female roles. Smart, sassy & hilarious, these plays will leave men and women laughing. "Night of the Fights" is a developmental stage combat show highlights the precision and art of stage combat within a storyline of high stakes drama. Through the rehearsal process, the cast, director, and design team have crafted characters, scenes and most importantly fights, into an evening of conflict, blood, and ooos and aahhs."
Fun fact: Basement arts shows are always free admission.
For tickets and information: www.basementarts.org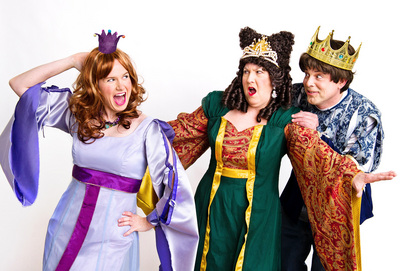 Photo by Myra Klarman
Show:
"Once Upon a Mattress" by Mary Rogers, Marshall Barer, Jay Thompson and Dean Fuller, through Feb. 11
Company:
Burns Park Players
Type of Company:
Community
Venue/location:
Tappan Middle School Auditorium, 2251 E. Stadium Blvd., Ann Arbor
Recommended ages:
Family
Description:
This musical comedy adapted from Hans Christen Andersen's fairy tale "The Princess and the Pea," introduces us to silent King Sextimus and his awful, talkative wife Queen Aggravain, who decrees that only the princess who passes her test can marry her son -- and that no one in the kingdom may marry before Prince Dauntless does. This presents a problem for Sir Harry and his fair maiden, Lady Larken, who is pregnant. Harry sets out to help the goofy, unrefined Winnifred the Woebegone win the Prince's heart and pass the Queen's impossible test, so that everyone can live happily ever after.
Preview from AnnArbor.com
Fun fact:
Carol Burnett
made her Broadway debut in the role of Princess Winnifred.
For tickets and information:
734-478-0449
Special ticket offer:
Tickets for all AAPS teachers and staff are $5 Thursday, Feb. 9.
Show:
"Dead Man's Cell Phone" by Sarah Ruhl, through Feb. 16
Company:
Eastern Michigan University Theatre
Type of Company:
Higher Education
Venue/location:
Sponberg Theatre, EMU
Recommended ages:
Mature audiences only
Description:
Q: When a dead man's cell phone won't quit ringing what should you do? A: Answer it. Follow one woman's beautifully twisted adventure as she dares to answer the phone and jumps into a series of events that have her questioning life's ideals and complications. This play contains material and language that may not be suitable for all audiences.
Preview article from AnnArbor.com
Fun fact:
This production is running in modified repertory with another social commentary piece, NO CHILD by Nilaja Sun.
For tickets and information:
734.487.2282,
www.emich.edu/emutheatre
Show:
"God of Carnage" by Yasmina Reza, translated by Christopher Hampton, through Feb. 19
Company:
Performance Network Theatre
Type of Company:
Professional Equity
Venue/location:
Performance Network Theatre, 120 East Huron, Ann Arbor
Recommended ages:
16+, Contains adult themes and language.
Description:
Boys will be boys, but adults will be worse! In this 2009 Tony-winner for Best Play, two couples meet at one of their homes to discuss a playground altercation between their young children. Hostility rumbles just under the surface, as their civilized battle of wits and words devolves into a hilariously chaotic evening, where nothing is safe, not even the furniture. This comedy of (bad) manners will change the way you look at polite conversation. Contains adult themes.
Review from AnnArbor.com
Fun fact:
"Le Dieu du Carnage" was first performed in Zurich, and received the Viennese Nestroy-Theatreprize for the best German-language performance of the season. It was translated and opened in London in 2008 winning the Laurence Olivier Award for Best New Comedy, then moved to Broadway in 2009 where it won the Tony Award for Best Play.
For tickets and information:
734-663-0696,
www.performancenetwork.org/
Show:
"A Stone Carver" by William Mastrosimone, through March 10
Company:
Purple Rose Theatre Company
Type of Company:
Professional Equity
Venue/location:
Purple Rose Theatre, 137 Park Street, Chelsea
Recommended ages:
13+
Description:
"A Stone Carver" tells the story of a retired stonemason who clings to the past, and his son who refuses to look back. When Agostino, a seventh-generation stone carver is evicted from his home to make space for a highway he barricades himself in his house, determined to outlast the bulldozers. In a last-ditch effort to save his father from jail, Agostino's only son Raff, arrives at the house with his fiancée. A battle of wills ensues, putting their already-rocky relationship to the test. Can Raff convince his father to move forward before it's too late?
Review from AnnArbor.com
Fun fact: The granite angel on the set was lent to the Purple Rose by Arnet's Cemetery Monuments in Ann Arbor.
For tickets and information:
www.purplerosetheatre.org
or 734-433-7673