Posted on
Wed, Jan 25, 2012 : 7:07 a.m.
'A Stone Carver' at the Purple Rose, 'Under the African Sky' at Towsley Auditorium
By Carla Milarch
It is generally agreed that arts and culture enrich our lives here in Washtenaw County, with so much variety in places to see wonderful performances, experience new things, learn and grow, and just generally enjoy ourselves.
But did you know about all of the other benefits that arts and culture provide our fair state? A recent study by ArtServe Michigan has some pretty impressive stats:
• More than $2 billion is generated in arts and cultural tourism for the Michigan economy each year. That's more than golf, winter skiing, boating/sailing, hunting/fishing, and sporting events combined!
• For every $1 invested in nonprofit arts and cultural groups, those organizations pump more than $51 into Michigan's economy through spending on rent, programs, travel and salaries.
• Arts and culture in Michigan provide 15,000 jobs a year, paying out $152,000,000 in taxable income to Michigan artists and administrators.
• 1.8 million schoolchildren experience arts and culture every year, sparking their imagination, interest, creativity, and spirit. In a job market that values creativity and innovation above all else, fostering these traits in our youth is vital.
• More than 12.6 million people attend arts events in Michigan each year.
In short, the arts are an absolutely irreplaceable, fundamentally vital, and positively wonderful addition to life in this great state. But we already knew that, didn't we?
Theater listings for the week

Show: "Comic Potential" by Alan Ayckbourn, Jan. 26, 27
.
Company: Basement Arts

Type of Company: Higher Education

Venue/location: Studio 1 of the Walgreen Drama Center, 1226 Murfin Ave., Ann Arbor

Recommended ages: 12+

Description: "In a future where acting is done by lifelike androids, one soap-opera "actoid" discovers something impossible. She has a sense of humor. When an ambitious young writer spots her, he decides to write a comedy based on her potential. Alan Ayckbourn's fast comedy is also a romance, a satire of the entertainment world, and hard look at what it means to be human."
Fun fact: Basement Arts shows are always free!
For tickets and information: www.basementarts.org

Show: "Under the African Sky" adapted for the stage by Hilary Cohen and Sandy Ryder, through Jan. 28
Company: Wild Swan Theater

Type of Company: Professional theater for children and families

Venue/location: Towsley Auditorium, Morris Lawrence building, Washtenaw Community college, Ypsilanti

Recommended ages: 4-10

Description: A delightful, humorous collection of African tales performed through storytelling, acting, and drumming. Colorful costumes, masks, and traditional music will delight and teach our littlest fans, with lots of opportunities for audience participation! Young children will delight in the talking vegetables who teach Spider a lesson about hard work in "The Talking Vegetables." Another important lesson is learned in "Why the Sky is Far Away," when the sky teaches the villagers about not wasting. All performances include American Sign Language interpreting, by Jennifer Head and Tamara Wright.
More information from AnnArbor.com
Fun fact: Drummer Jaclyn Morrow will perform traditional music on the drums. Morrow has performed and studied West African drumming and dance with Like Water Drum and Dance and is currently with the Tree of Life Drum and Dance Society. As well as drumming Morrow joins other ensemble cast members Sandy Ryder, Sineh Wuri, and Satori Shakoor as a storyteller and actor.
For tickets and information: www.wildswantheater.org, 734-995-0530.

Show: "Much Ado About Nothing" by William Shakespeare, through Jan. 29
Company: Ann Arbor Civic Theatre
Type of Company: Community
Venue/location: The Arthur Miller Theater, 1226 Murfin Ave., Ann Arbor
Recommended ages: 10+
Description: Set in the American West of the late 19th Century, this production of "Much Ado About Nothing" opens with Miss Leona welcoming Marshal Pedro and his posse back from a skirmish on the plains. With Pedro is a young cowboy, Claudio, who falls in love with Leona's daughter, Hero, and plans to wed her. Also with Pedro is Pedro's estranged brother John, whose bitterness and envy propels him to create mischief and mayhem in the sleepy, frontier town. Witty and commitment-phobic Beatrice, Hero's cousin, and equally marriage-shy cowboy Benedick match wits throughout, and the residents of Mesa are thrown into a compendium of mistaken identity, love, and trickery.
Preview article from AnnArbor.com
Fun fact: An homage to TV Westerns of the '60s, this production has at least three characters who are patterned after beloved characters from the show Gunsmoke.
For tickets and information: www.a2ct.org, 734-971-2228.

Show: "A Body of Water" by Lee Blessing, through Jan. 28
Company: Threefold Productions
Type of Company: Pre-professional
Venue/location: Mix Performance Space, 8 N. Washington St., Ypsilanti
Recommended ages: 16+
Description: Lee Blessing's tragic tale of Moss and Avis, a middle-aged couple who wake up one morning in an isolated summerhouse high above a picturesque body of water with a perplexing problem—neither of them can remember who they are. When a young woman named Wren arrives, information starts to flood in. But will it help? Her explanations seem only to make Moss and Avis' world—as well as ours—more terrifying.
Article from Encore Michigan
Fun fact: Home schooled through middle school, Actress Luna Alexander fell in love with acting after appearing in a Huron High School production of "Wit." She turned down a soccer scholarship at EMU to study theater—.
For tickets and information: www.facebook.com/l/3AQAgnG3mAQAuF4On_-AfRCHnwhUnlesGrR-Ck2J3nTTTxA/www.threefoldproductions.org

Show: "God of Carnage" by Yasmina Reza, translated by Christopher Hampton, through Feb. 19
Company: Performance Network Theatre
Type of Company: Professional Equity (SPT)
Venue/location: Performance Network Theatre, 120 East Huron, Ann Arbor
Recommended ages: 16+, Contains adult themes and language.
Description: Boys will be boys, but adults will be worse! In this 2009 Tony winner for Best Play, two couples meet at one of their homes to discuss a playground altercation between their young children. Hostility rumbles just under the surface, as their civilized battle of wits and words devolves into a hilariously chaotic evening, where nothing is safe, not even the furniture. This comedy of (bad) manners will change the way you look at polite conversation. Contains adult themes.
Review from AnnArbor.com
Fun fact: In a new twist on the Kevin Bacon game, Sarab Kamoo, who plays Veronica in "God of Carnage" at PNT can be connected to Jodie Foster, who plays Veronica in the movie version, "Carnage," in just four steps. Here's how it works: Kamoo was in "Stone" with Robert DeNiro, who was in "Sleepers" with Kevin Bacon, who was in "Wild Things" with Marc Macauley, who was in "Contact" with Jodi Foster. Therefore, Kamoo has a Bacon rating of 2, and a Foster rating of 4.
For tickets and information: 734-663-0696, www.performancenetwork.org/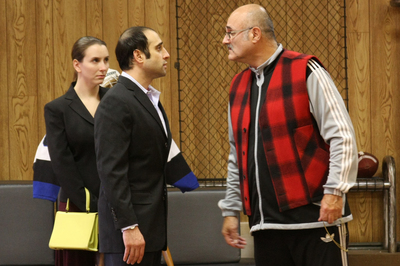 Show:
"A Stone Carver" by William Mastrosimone, through March 10
Company:
Purple Rose Theatre Company
Type of Company:
Professional Equity SPT
Venue/location:
Purple Rose Theatre, 137 Park Street, Chelsea
Recommended ages:
13+
Description:
"A Stone Carver" tells the story of a retired stonemason who clings to the past, and his son who refuses to look back. When Agostino, a seventh-generation stone carver is evicted from his home to make space for a highway he barricades himself in his house, determined to outlast the bulldozers. In a last-ditch effort to save his father from jail, Agostino's only son Raff, arrives at the house with his new fiancée. A battle of wills ensues, putting their already-rocky relationship to the test. Can Raff convince his father to move forward before it's too late?
Preview from AnnArbor.com
Fun fact:
Fight Choreographer, Nate Mitchell and actor Matthew David spent last summer training at the A2 Fight Club in order to make the boxing match in "A Stone Carver" authentic.
For tickets and information:
www.purplerosetheatre.org or 734-433-7673