Posted on
Sat, Feb 2, 2013 : 5:05 p.m.
Perfect acoustics celebrated as part of Hill Auditorium's 100th anniversary event Saturday
By Lisa Carolin
Editor's note: Scott Pfeiffer's name has been corrected in this article.
The University of Michigan's Hill Auditorium has long been celebrated for its superior acoustics. An audience gathered Saturday to mark the facility's centennial got a chance to see why.
Scott Pfeiffer, the lead consulting acoustician on Hill's 2004 renovation, first demonstrated the sweet spot of the stage (the center) to the audience with the help of a violinist. Then, with nothing to amplify his voice, he sang a verse of "Fly Me To the Moon." The audience burst into applause.
Pfeiffer's appearance was part of a collaboration between the University Musical Society and the Saturday Morning Physics series and part of a free, daylong celebration of the beloved venue's 100th birthday.
First on stage was James Kibbie, U-M professor of organ and co-chairman of the organ department, playing variations on "The Star-Spangled Banner."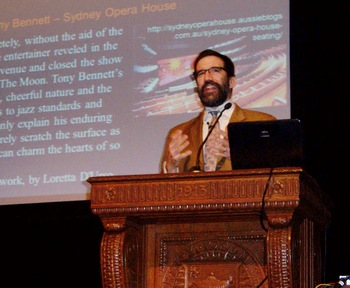 Lisa Carolin | For AnnArbor.com
Pfeiffer was introduced by UMS President
Ken Fischer
, who told the audience that filled the auditorium's main level, "Hill Auditorium has stood the test of time and still is as vital and important to our community as the day it first opened. It is a 'Big House' for the arts."
Pfeiffer said that one of the things that makes Hill Auditorium known world wide, "is that you can gather this many people (3,709) to see and hear an unamplified performance. You feel that an artist is closer to you acoustically than in almost any hall. It's important to be acoustically perfect."
He said that the 2004 restoration of the auditorium on North University Avenue succeeded in "making the sound warmer and more full frequency."
When asked what the best seat in the house is, Pfeiffer said that it is the front of the first balcony.
Esther R. Rubin of Ann Arbor, a long-time participant in Saturday Morning Physics, called Saturday's lecture "A cultural crossroad of physics and performing arts."
Nancy Sweet of Ann Arbor was happy to be part of the event, having first visited Hill as a child in 1957.
"When I was in sixth grade at Burns Park Elementary, my class came here and sang with the Philadelphia Symphony," she said.
Emma Mayhew attended the lecture for a different sort of class.
"This is for extra credit for my physics class at Community High School," she said, with her notebook in hand.
The University Musical Society hosted Saturday's events, which included self-guided tours about the history and architecture of Hill. Also, the documentary film "A Space for Music, A Seat for Everyone: 100 Years of UMS Performances in HIll Auditorium" made its world premiere.
The activities were scheduled to conclude with a reception from 4:30 to 5:30 p.m. at which visitors were invited to share their Hill Auditorium experiences.