Posted on
Fri, Mar 30, 2012 : 10:14 a.m.
Rainy forecast not deterring plans for FoolMoon tonight
By Bob Needham
A little rain isn't going to stop Ann Arbor from acting Foolish.
Organizers of FoolMoon, the parade of homemade luminary sculptures / street party set for this evening in downtown Ann Arbor, have announced plans to deal with a somewhat iffy weather forecast.
The forecast calls for a near-certainty of rain today, with rainfall up to a third of an inch. A chance of rain remains throughout the evening. Weather Underground's hourly forecast currently lists a 100 percent chance of rain at 8 p.m., with a temperature of 39 degrees.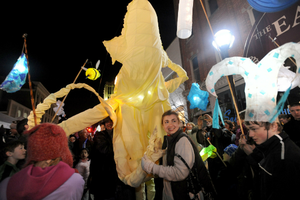 Angela J. Cesere | AnnArbor.com file photo
Not a problem, according to an announcement from FoolMoon guiding light
Mark Tucker
: "FoolMoon organizers have decided to issue a new dress code for the evening: Clear plastic bags for everyone!!''
"That's right—they'll be handing out fashionable plastic rain gear and fancy little umbrellas to everyone who brings their lovely luminary sculptures to any one of three 'Constellation Stations' Friday night. At 8:15 p.m., revelers meeting in front of Kerrytown Market, the University of Michigan Museum of Art, or Slauson Middle School will join hundreds of luminescent friends heading downtown towards the Grizzly Peak Tent on Washington Street in Ann Arbor.
"Foolhardy souls will be warmed by dancin' in the rain, munching MoonPies, quaffing FoolBrews, and generally indulging in an evening of wet and wonderfully glowing surprises!"
FoolMoon, introduced to great success last year, is an outgrowth of FestiFools, a parade of large puppet-like creations set for 4-5 p.m. Sunday on Main Street downtown. Sunday's weather forecast is more favorable, with just a 30 percent chance of rain and a high temperature of 64 degrees.
This year, a third event has been added to the weekend, a benefit concert at the Blind Pig on Saturday night. (Saturday's forecast is for clouds giving way to sun, with high of 54.)
Check out past coverage of FoolMoon / FestiFools here, including a preview article on all this year's plans. And for more information, check out the FestiFools website.
For full weather information, see the AnnArbor.com weather page.
Bob Needham is director of entertainment content for AnnArbor.com. Reach him at bobneedham@annarbor.com or 734-623-2541, and follow him on Twitter @bobneedham.