Posted on
Fri, Oct 12, 2012 : 3:31 a.m.
Theatre de la Ville-Paris' 'Rhinoceros' is a visual stunner
By Jenn McKee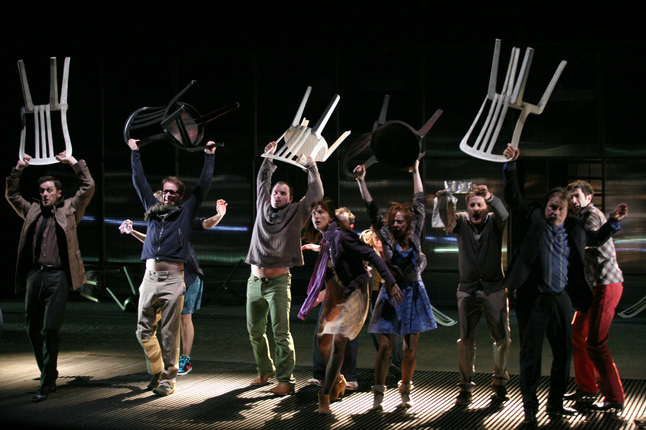 Photo by Jean-Louis Fernandez
What did you think of the show? Leave a comment and / or vote in the poll at the end of this post:
A primary source of humor in Eugene Ionesco's "Rhinoceros" - now being staged by Theatre de la Ville-Paris, presented by the University Musical Society - concerns the way we constantly fail to keep our eye on the ball, even in the most dire circumstances.
For instance, in the play's first scene, when two rhinoceroses storm through a village square and shock a group of cafe patrons, the villagers have protracted discussions (perhaps a smidge too protracted, actually) about whether the African rhino or the Asian rhino has two horns, and indulge in some silly logic problems involving cats. Later, when a rhino damages a building and traps several office workers, the employees speak of union policy and kvetch about what management will think of their handling of the situation.
Tangents like these, it would seem, allow us all to temporarily escape what we fear. But Ionesco's absurdist classic slowly strips away even this potential release valve, leaving the play's central character, Berenger (Serge Maggiani), to face a menacing future without reprieve. For as everyone in Berenger's world turns into a rhinoceros, he either can't, or won't, join them. And this ambiguity gives the play its timeless resonance.
What's interesting about Berenger is he's hardly the prototypical "chosen one." A heavy drinker in a frumpy suit, Berenger is a perpetually late, passive figure that's as baffled by his own "left behind" status during the crisis as he is by people turning into pachyderms around him.
Director Emmanuel Demarcy-Mota's production is a stunning visual marvel. After Maggiani recites an opening monologue (added by Demarcy-Mota, drawn from Ionesco's novel, "Le Solitaire") that describes passersby on the street as ghosts, the lights come up on rows of cafe chairs facing the audience, with translucent panels behind them. The design inevitably calls up another Ionesco classic, "The Chairs"; and while actors move in slow motion behind the panels, the ghost imagery is made manifest.
When the first rhinos come hurtling through the town, the actors fling themselves to one side and then the other, a la "Star Trek" (albeit far more convincingly). In the second scene, Demarcy-Mota meticulously choreographs the busy-work happening in the office - it's like a rhythmic, bureaucratic ballet - and, when the rhino destroys part of the building, the two ends of Yves Collet's set slant upward, leaving the actors to cling frantically to each other and claw for purchase. (The feel of the office is that of a chaotic classroom of children, thanks in part to the small desks and Corinne Baudelot's school uniform-like costumes.)
The third scene, which features the transformation of Berenger's friend Jean (Hugues Quester), is somewhat problematic in that Berenger mentions, in his dialogue, that Jean is "sick in bed," yet Demarcy-Mota instead has Jean prowling every corner of the two-level set. The choice is understandable, however: The scene, as written, feels static, while Demarcy-Mota's cat-and-mouse game builds in energy and tension until a haunting final image brings it to a close.
Rhinos become visible only in the play's fourth and final scene, their giant heads looming and bobbing behind a screen. In this scene, Berenger, the woman he loves, Daisy (Celine Carrere), and coworker Dudard (Philippe Demarle) are seemingly the only humans left, and they talk of resistance.
The production runs nearly two hours, without an intermission, thankfully—for "Rhinoceros" steadily tightens its grip like a noose, and a disruption would shatter its hold. For this production, mood is critical, and Yves Collet's lighting design—which often surrounds the action in darkness, and reinforces the play's ghost story nature by initially lighting the office workers' faces from directly below—and Jefferson Lembeye's ominous music and sound design play a huge role.
Because the play is performed in French, audience members must read supertitles above the stage, or, if they can read from a much smaller screen, at the side, and naturally, this requires a few moments of adjustment; initially, in fact, because the production's so visually rich and arresting, one's tempted to forgo the dialogue altogether. But taking in both is definitely worth the effort.
And while the whole cast is exceptionally polished, executing Demarcy-Mota's vision with exacting precision, the show ultimately rests on Maggiani's slumped shoulders. With wit, restraint, and seeming physical ease, the actor makes Ionesco's bewildered slacker Everyman sympathetic and engrossing. By way of his nuanced performance, Maggiani makes us see Berenger as a man who signals, by his habits and actions, a wish to disappear within the crowd of humanity, but instead, ironically, finds himself to be a reluctant rebel.
So catch this "Rhinocerous," if you can, while it's rumbling through our own town.
"Rhinoceros" continues through Saturday. For background, check out this interview with the director. For tickets, see ums.org.