Posted on
Sun, Nov 25, 2012 : 5:33 a.m.
Sing along with 'White Christmas,' then head to Kerrytown for the Annual Tree Lighting Festival
By Ann Dwyer
FILM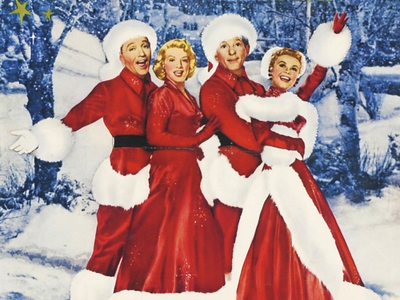 Why just watch when you can join in on Sing-Along "White Christmas." Movie starts at 4 p.m. Carol along with the historic Barton Organ from 3:30-4 p.m. If you've never been to one of these events, just do it! You generally get to toss things. Every audience member will receive a free goodie bag full of special items tied to key scenes within the film, and Michigan Theater staff will lead the crowd through all songs and activities. Start at 3:30, sing along with carols on the theater's historic organ. $16 for adults; $13 for children 12 and under, students, seniors, and U.S. veterans; and $11 for Michigan Theater members. Tickets are available at
ticketweb.com
and at the door 60 minutes prior to showtime. 603 E. Liberty St., Ann Arbor. 734-668-8397.
HOLIDAY
Take your festive mood to the Kerrytown Market & Shops for the "Annual Tree Lighting Festival." 5-6 p.m. Join in to welcome the holidays in the courtyard where you can sing Christmas carols, enjoy the candle luminaries and see Santa light the tree. Free. 407 N. Fifth Ave., Ann Arbor. 734-662-5008.
MUSIC
Local legends of the elementary school set, Gemini, will play their annual Thanksgiving concert at The Ark. 1 p.m. You can say you're going to see them for the kids' enjoyment, but the truth is you want to see them as badly as the kids do. Who doesn't want to re-live the days when Gemini would come to your school? And their Thanksgiving concerts benefit Mott Children's Hospital. $10. 316 S. Main St., Ann Arbor. 734-761-1800.
COMEDY
Today is your last chance to see Heywood Banks at the Ann Arbor Comedy Showcase. 7 p.m. This is a family-friendly show. Children 10 years and older will be welcomed with a responsible adult. Equal parts genius and buffoon, this songwriter-comic-singer-poet-musician has become a cult hero and a pop icon, with a show that appeals to a wide range of people. $20. Downstairs at 314 E. Liberty St., Ann Arbor. 734-996-9080.
MUSIC
Take in a marathon today—a musical one with very little sweat involved. The PhoenixPhest marathon at the Kerrytown Concert House is offering 26 hours of music all for PhoenixPhest scholarships. The event ends at 10 p.m. Like runners in charity events asking for donations for each mile they complete, the performers will ask for pledges. But there are raffles for attendees! Admission ranges from $10-$50 depending on how much of the marathon you attend. Visit phoenixensemble.com for lineup and event information. 415 N. Fourth Ave., Ann Arbor. Read about it here.