Posted on
Fri, Mar 26, 2010 : 11:35 a.m.
Swipple collective aims to support art outside the establishment
By Tom Perkins
Swipple founder Jason Wright might come off as a bit jaded if his colorful critiques of the art world weren't matched by a glowing appreciation for the 99 percent of artists he says aren't part of that elite group.
His Web-based art collective started in Ypsilanti as a somewhat pioneering alternative forum in which artists can show and get their work out to a wider audience. The project was born out of Wright's disillusionment with the select few dealers, collectors, critics and gallery owners he says tightly maintain the boundaries of the art world, which takes the enjoyment out of producing and showing art.
Swipple, to put it simply, is more fun for everyone involved.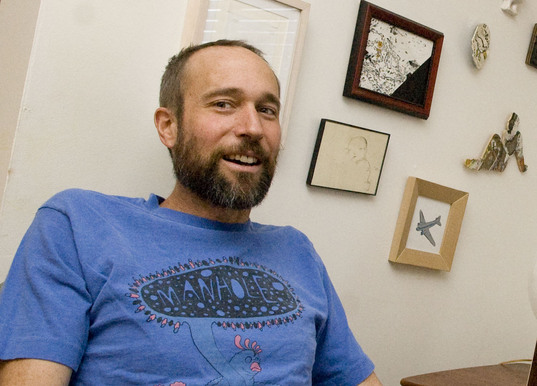 Tom Perkins | AnnArbor.com Contributor
Wright explained that for an artist's work to receive significant attention or achieve a high degree of success, they must be accepted and sanctioned by the art world he finds "ethically and aesthetically bankrupt."
He explains the art considered "great" by that world is rooted in economics, not aesthetic value — art with higher economic value is better, but only because of its market value.
"If I'm on a mission, the mission is to counter the assumption that the only art that matters is in the art world — I think that's BS," he says. "I think most art that gets created doesn't necessarily have anything to do with the art world, and my primary interest is artists and makers of all stripes who aren't a part of it."
"There's absolutely zero effort to break into the art scene with Swipple," he said. "It's the Island of Misfit Toys with artists."
Wright's opinions formed and evolved while living and working in the center of the art world in New York's Lower East Side from 1987 to 1996. He supplemented his income as a painter by bartending at Max Fish, a popular Lower East Side artist hangout, and regularly showed at galleries around the city.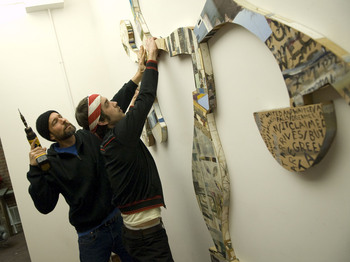 That experience provided witness to the toxicity of the art world as artists compete with one another for a "a rare prize of success."
"People don't realize just how extreme it is," Wright says. "I had enough exposure and involvement with the art world to see that it wasn't for me and it wasn't for 99.9 percent of artists out there, and I love that 99.9 percent that gets ignored by the art world."
In 2001 he moved to Ypsilanti with his wife, started Swipple, and has since worked as part-time faculty at Eastern Michigan University and Washtenaw Community College. Currently Wright, who also has an MFA in painting, is a full-time lecturer at the University of Michigan. There he teaches a studio course and lectures on self-taught art in American culture.
At its outset, Swipple maintained a small roster and was dedicated to Wright's own art and that of a few friends, but its numbers quickly multiplied as friends of friends and acquaintances took notice of Swipple's approach and M.O.
Ypsilanti artist John Hoder met Wright while taking one of his courses at EMU. Hoder's instincts initially led him to send his work to more than 50 galleries around the country, yielding discussions with several owners.
His work showed at established galleries, but the grind and hassle involved in getting his paintings out left little time or drive to produce more work. One Los Angeles gallery owner told Hoder if he was serious about getting involved with the gallery, then Hoder needed to relocate to Los Angeles and attend the graduate school at which the professor taught.
Hoder called the experience "disillusioning."
"It felt like I wouldn't have a lot of freedom if I went that route, and I wanted to do my own thing, which Swipple allowed me to do," Hoder said. "It was pushing me more and more toward Swipple, which is a lot more fun. Swipple allows me to get my work out immediately and to a more diverse population."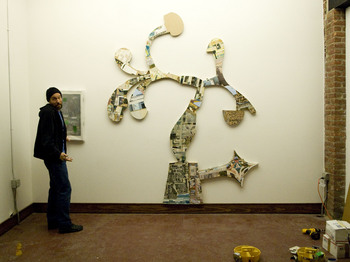 Fifty artists nationwide with a recent international addition now show their work on Swipple's website, and interest continues to grow. Wright partly attributes this to the self-representation the artists maintain and enjoy.
He provides the artist access to the site. They then decide what is uploaded, when it's uploaded, produce at their own pace and set their own prices.
"In the art world that doesn't happen — artists can't represent themselves because that's taboo," Wright said.
Hoder found this to be one of Swipple's more attractive components.
"It allows me a lot more freedom and ultimately makes my experience with art a lot more enjoyable," he said. "I looked for alternative outlets and there weren't a lot of equivalents to Swipple out there. I liked the fact that there were affiliations across the country, and it boils down to the fact that I'm given administrative access to the website — I don't have to schmooze anybody to get my art out there."
No overt aesthetic jumps off Swipple's galleries, but Wright says the common thread is below the surface. It's comparable in some ways to the ever-popular independent record label in this regard. Wright says there is a low-fi, anti-elitist undertone — the work is much more personal compared to "sterile, media-based art".
"There are some connections between the artists and a sensibility that comes through," he explains. "There are a couple of characteristics, like the artists are very independent — they like to create their own path.
"They make the work because they love the work. Few, if any, are making much money off it."
Beyond the web, finding Swipple art on a wall is easier in Ypsilanti and Ann Arbor as Wright and several Swipplers — Hoder, Jessy Butts, Canton Belanger, Rob Kolomyski, Ruth Marks, Frankie Davis and Larry Cressman — are based locally. The Swipple booth is up at each Shadow Art Fair and Wright gets the group involved at other random galleries and exhibits around town.
Each year Swipple also holds a show in New York City, and one recently ran in San Francisco. Not all Swipplers have work up at each show. Wright generally puts out an open call for pieces and hangs what the artists send him.

Jim Damron is one of the early collaborators in Swipple who regularly sends work to the shows. Although he could cut out on his own, he stays with the group for the "adventure factor" and excitement that comes with having a range of people doing their own thing under one "circus tent."
"It's like being in a band," he said. "I'd feel lonely at shows with only me. I like the vibe and having the other Swipplers at it."
He likened any given Swipple show and the varying roles each Swippler plays to the contents of a Mexican dish.
"You have rice, you have beans and you have tacos on a plate — sometimes I'm the rice, sometimes I'm the taco and sometimes I'm the beans in this combination plate that is Swipple," he explains.
The pieces at Swipple shows usually go for anywhere between $50 to $5000, staying in line with Wright's conviction that art remain accessible to everyone, not just to an elite group, on multiple levels.
"I think that's why people are turned off by art — because they don't relate to it or even worse, it makes them feel stupid," he says. "I'm of the mind all people can understand art and it's something that is for all people. You don't have to have a degree to understand it.
"Swipple is art that's interesting and unique and accessible — you don't have to know some theory. Someone who takes a little time to look at it is going to be able to get it."
Growth will not affect Swipple's core values, and Wright doesn't envision much in the way of change immediately. When asked about a sales component, he isn't reflexively against the business of selling Swipplers' art, but has no 5-year plan and is more interested the collective growing organically.
Anyone interested in buying Swipple art can get in touch with the artists via the Swipple web site, or check out Swipple on Facebook.
Work by several Swipple artists including Wright, Damron and Hoder will show Saturday evening at an opening at a temporary gallery space in the downtown Ypsilanti. It runs from 7-10 p.m. at the old VG Kids store at 216 West Michigan Avenue, and also includes musical performances by Ypsilanti's Manhole and Patrick Elkins.